UNCW students reflect on the life and legacy of Linda Brown
Meredith Hoffman, News Editor
April 19, 2018
On March 25, civil rights activist Linda Brown passed away at the age of 75 in her hometown of Topeka, Kansas.
In 1951, Brown was at the center of the landmark U.S. Supreme Court case Brown vs. Board of Education at the age of nine.
Growing up in Topeka, Kansas, Brown was exposed from an early age to the racially motivated Jim Crow laws, as she had to walk long distances daily to her segregated school for African American children.
When Brown's father, Oliver Brown, tried to enroll Linda Brown in the all-white Sumner Elementary School, which was only four blocks away from their home, she was turned away. This event led to a lawsuit, which was filed by Oliver Brown on behalf of Linda Brown and 13 other plaintiffs against the Board of Education of Topeka.
At the time of the lawsuit, the United States operated under the legal precedent set in 1896 by the Supreme Court case Plessy vs. Ferguson, which said that African Americans and white Americans were "separate but equal".
Brown vs. Board of Education was key in the process of desegregation of public schools in the United States. The case was taken to the Supreme Court where Thurgood Marshall, who would go on to be the first African-American Supreme Court Justice, argued on behalf of Brown.
Earl Warren was the Chief Justice of the United States Supreme Court during the Brown vs Board of Education case and he gave the remarks on the court's decision saying, "Segregation of white and colored children in public schools has a detrimental effect upon the colored children…We conclude that in the field of public education the doctrine of 'separate but equal' has no place. Separate educational facilities are inherently unequal."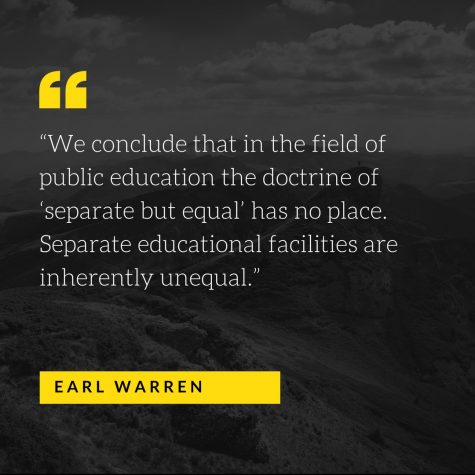 Following the success of her case, and subsequent desegregation of public schools in the years that followed, Brown used her historic platform to speak on issues of civil rights and educational equality.
Following her death Jeff Colyer, the Gov. of Kansas, released a statement via Twitter about the legacy of Brown saying, "Sixty-four years ago a young girl from Topeka brought a case that ended segregation in public schools in America, Linda Brown's life reminds us that sometimes the most unlikely people can have an incredible impact and that by serving our community we can truly change the world."
The impacts of the life and legacy of Brown can be felt throughout the nation and at home at UNC-Wilmington.
"As a political science student, I have learned about Linda Brown and Brown vs Board of Education in my classes. She was a really inspirational person and I know that it must have been hard for her to do all that she did as a child," said Robert Landman, a senior at UNCW.
Students are not the only individuals at UNCW who were impacted by Linda Brown. Tiffany Alise, a Program Coordinator with the Upperman African American Cultural Center on campus spoke with The Seahawk about the Brown vs. Board of Education and said, "If it was not for Brown vs. School Boarding ruling, I would not have been able to attend UNCW or even work here. Because of integration, African Americans have been able to get better education, meet and make friends with white students and students of other ethnicities. Although racism is still prevalent, integration has helped normalize the idea of interacting with people of diverse backgrounds. Black students now have a chance to level up on opportunities that were previously only available to white students. While we still have a lot of catching up to do, we have made great strides in closing the gap. Students have opportunities to learn and study which would not have been possible without Linda Brown and her family being brave enough to fight the system. Every black student in America owes some of their success to her and her family"
The life of Linda Brown impacted the very fabric of the American Education system and set into motion the end of the Jim Crow era.