Service Dog Training Program combines passion and responsibility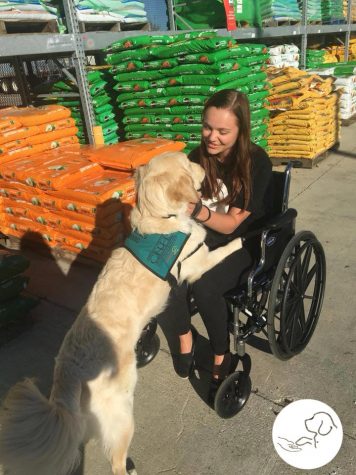 Many college students have a deep love of animals and want to take part in service opportunities in their community that make a difference. While it can be difficult to bring these two interests together in an educational context, the Service Dog Training program through UNC Wilmington's College of Health and Human Services is an excellent way to do just that.
Started in August of 2011, The UNCW/paws4people® Service Dog Training Program is "the first-of-its-kind, university service dog training program focusing on the integration of service dogs into clinical and educational practice." The program was developed and is offered in partnership with paws4people®, a non-profit organization that provides service dogs to people living with disabilities.
The Service Dog Training Program consists of four courses offered through the Recreation Therapy Department – RTH 286, 287, 288, and 289. The first two courses, RTH 286 and 287, focus mainly on the history of service dogs, how they are utilized to assist people with disabilities, as well as training theory and practice. Both classes require students to complete service learning hours.
The two upper-level classes, RTH 288 and 289, allow students to work with a service dog and to gain temporary custody of that service dog in training. Students also learn about theories in Service Dog Training and applications of those theories to different situations.
According to Kyria Henry, the instructor of the UNCW/paws4people Service Dog Training program and the founder of paws4people, "Students are getting custody of dogs who are already nine months or older, and so these dogs have already known over 100 commands. They've done all their obedience and task training work, and what the students focus is [what we call] public access training."
Public access involves students exposing the service dogs to real-world situations and allows the younger service dogs in training to acclimate to working in different places and under different conditions, such as going to class or to the movies, where there might be larger groups of people or unfamiliar sights, smells and sounds in the environment.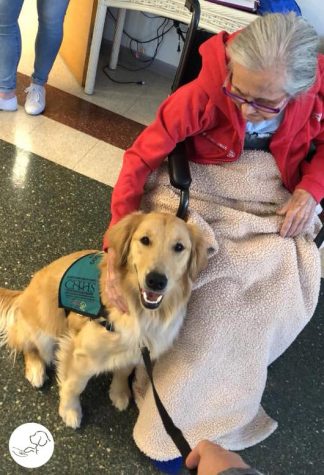 Because the upper-level classes require the program to entrust students with young service dogs in training, enrollment opportunity is fairly competitive. There are only 25 spots in each class, and to be placed in one of the upper-level classes, students must make an 80% or higher in RTH 286 and 287 and must have instructor permission.
One of the major concerns in the program is the health and wellness of the service dogs in training. Each student has a home inspection before they are allowed to gain custody of a service dog in training. This ensures a safe environment for the animal. Students also must have UNCW liability insurance to enroll in RTH 288 and 289, and they work in groups so no one person has full responsibility for the service dog at any given time.
"The class benefited me by giving me a deeper understanding of what the dogs do for their handlers and a deeper appreciation for them," said sophomore Halle Ritch, who has taken RTH 286. "They truly help their handlers become [independent] adults again and give them back their freedom, it's so rewarding. The best part of learning about the history of service dogs was the origin."
Students who are interested in completing the program but live on campus do not have to worry about being excluded from the program. If students choose to live on campus they can have partial custody of a service dog. This means that they can work with them during the day and another student will work and live with them after school hours.
Students that participate in the program get a certificate to recognize the completion of their courses, and they can attend the dog's graduation ceremony from the program. Then, thanks to the hard work of UNCW students, paws4people, and the instructors of the training program, the dogs are placed within the community where they can make a positive impact on the lives of the people who need them.
Leave a Comment