UNC System president applauds UNCW, seeks to set higher goals
The University of North Carolina System tour had its second stop with the State of the University and UNC System address by UNC System President Margaret Spellings on Wednesday, Mar. 21, in UNC Wilmington's Lumina Theater.
Spellings called this address a progress report and that she plans to be back in five years with even a better message. Chancellor Jose V. Sartarelli spoke first, stating that he was told that he has a heart now, referring to his heart surgery. He then welcomed all in attendance, including  Spellings.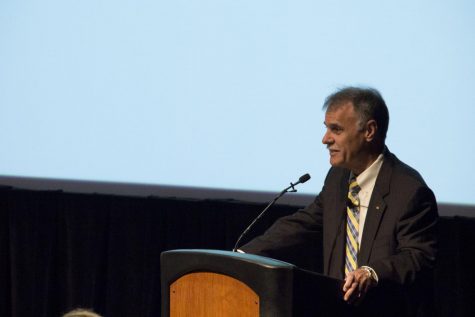 Spellings began her speech by saying that this was the second stop on a system-wide tour occurring over the next few days.
"The story of this University, now 70 years old, is one of growth in both size and quality," Spellings said. "Born in the aftermath of World War II to serve a unique population through the GI Bill, UNC Wilmington retains that character with its focus on serving all students — not just the traditional 18-year-old high school graduate."
According to the president, the UNC System has raised the graduation rate by more than six percentage points in the last five years. This means that approximately 2,000 more students have earned degrees.
Spellings also discussed how annual research funding was raised by $300 million since 2012. "And now, the UNC System nets one and a half billion dollars in research investments every single year. Those dollars drive job creation and make our state more competitive in some the world's most critical industries."
Spellings said that nearly 21,000 graduates from across the UNC System had earned degrees and certificates in "health sciences, engineering and STEM, an increase of 29 percent since 2011." She called this "filling jobs in vital fields." She also said that 20 percent more Pell-eligible students graduate each year.
The first topic Spellings discussed at length was economic mobility: she called it the "defining issue of our time." She said that the UNC System was working to bring low-income students out of poverty, whether that be through offering access to four-year universities or two-year programs.
"I'm not a believer in college-for-all," Spellings said, "and I don't know any university president who is.  But I am a believer in education and training beyond high school for nearly everyone, whether that's in school, on the job, or through military service."
Spellings said that jobs for high school graduates are steadily being lost and that work requires more education now. "Our universities must support apprenticeship programs, grant credit for military service, and partner with employers to offer on-the-job training that counts toward a degree or a certificate."
This is where Spellings applauded UNCW for their dedication to applied learning. Applied learning is education through experience rather than just based on lecture-style classes. Spellings said that it is easy in theory but hard to make happen, though, UNCW does it well and retention is up because of it.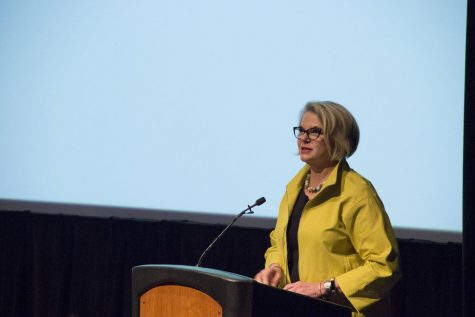 However, there are obstacles for some students who want to earn an education after high school: costs.
"Your ability to graduate should be based on your academic performance, not on your parent's resources," Spellings said. "An opportunity is meaningless if you cannot afford it."
Spellings then thanked the legislature's "commitment" to creating an affordable college education since they ruled that tuition for North Carolinians is flat or falling at every UNC System institutions.
Spellings closed the speech by stating that the university system has an obligation to "enable good work," "provide opportunity…and ensure economic mobility" and "set higher expectations for ourselves."
While holding the position of president of the UNC System for two years, Spellings said that she has seen growth but wants to hold universities accountable for attempting to reach their goals. "We're pleased but not satisfied."