Renowned scientist Stephen Hawking dies at 76
Tyler Newman, Assistant News Editor
March 14, 2018
Stephen W. Hawking, the Cambridge professor and physicist widely renowned for his contributions to the scientific branches of cosmology, relativity and the study of black holes, has died at the age of 76.
Dr. Hawking's family announced the news early Wednesday morning from Cambridge that he passed away peacefully in his home.
"We are deeply saddened that our beloved father passed away today," said his three children, Lucy, Robert and Tim, in a statement.
The statement continued, "he was a great scientist and an extraordinary man whose work and legacy will live on for many years."
"He once said, 'It would not be much of a universe if it wasn't home to the people you love.' We will miss him forever."
Born on Jan. 8, 1942 in Oxford, England, Dr. Hawking was perhaps the most well-known theoretical physicists of his time, and one of the world's most famous scientists.
He has left behind a massive legacy in the scientific world.
Dr. Hawking's intelligence and research spanned multiple fields and gained him praise amongst his colleagues and friends.
In 1963, at the age of 21, Dr. Hawking was diagnosed with a rare early-onset slow-progressing form of amyotrophic lateral sclerosis (ALS), also known as Lou Gehrig's disease. This disease would eventually paralyze him over the course of his life.
At the time, doctors gave him two years to live.
Dr. Hawking survived those two and an additional fifty-three, marrying his now ex-wife Jane and fathering his three children.
Speaking via a cheek muscle attached to a speech-generating device, Dr. Hawking maintained mobility via wheelchair for decades after his diagnosis, up until his death.
Notably, Dr. Hawking was the first to set out a theory of cosmology as a union of relativity and quantum mechanics.
He also discovered that black holes leak energy and fade to nothing – a phenomenon that would later become known as Hawking radiation, in 1974.
One of Dr. Hawking's most notable works was "A Brief History of Time," published in 1988. Written for readers with no real background in scientific theories, it quickly went on to become a bestseller, selling over 10 million copies in 20 years.
The professor was the Lucasian Professor of Mathematics at the University of Cambridge from 1979 to 2009, described by The Daily Telegraph as one of the most prestigious academic posts in the world.
The position of Lucasian Professor of Mathematics was previously held by scientists such as Isaac Newton and Charles Babbage.
In 2014, the biographical drama film "The Theory of Everything" detailed much of Dr. Hawking's rise to fame and earned numerous awards, including an Academy Award for Best Actor for Eddie Redmayne's portrayal of him.
Dr. Hawking found contributing fame and popularity outside the world of academia by portraying himself in various television shows such as "The Simpsons" and "The Big Bang Theory."
In addition to his numerous scientific awards, Dr. Hawking was an Honorary Fellow of the Royal Society of Arts (FRSA), a lifetime member of the Pontifical Academy of Sciences and a recipient of the Presidential Medal of Freedom, the highest civilian award in the United States.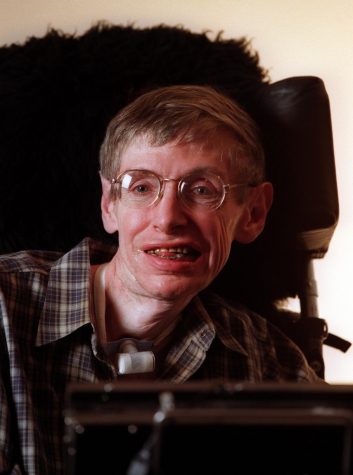 Despite being confined to a wheelchair from a progressive neurodegenerative disease, Dr. Hawking sought to understand the universe and explain the inner workings of the cosmos themselves.
Numerous social media tributes to the scientists could be seen across Facebook, Twitter and Instagram early in the morning on March 14.
"We have lost a colossal mind and a wonderful spirit. Rest in peace, Stephen Hawking," said one of the first tributes, which was written by Tim Berners-Lee, the inventor of the World Wide Web.
Notable astrophysicist Neil deGrasse Tyson tweeted a photo of himself with Hawking, stating:
"His passing has left an intellectual vacuum in his wake. But it's not empty. Think of it as a kind of vacuum energy permeating the fabric of spacetime that defies measure. Stephen Hawking, RIP 1942-2018."
With his life, Dr. Hawking did just that, defy measure. Now, he is where he always wanted to be, amongst the stars.
As the professor once said, "I'm not afraid of death, but I'm in no hurry to die. I have so much I want to do first."
And that he did.
Tyler Newman can be found on Twitter @tnewman39.
His passing has left an intellectual vacuum in his wake. But it's not empty. Think of it as a kind of vacuum energy permeating the fabric of spacetime that defies measure. Stephen Hawking, RIP 1942-2018. pic.twitter.com/nAanMySqkt

— Neil deGrasse Tyson (@neiltyson) March 14, 2018