Should I stay or should I go?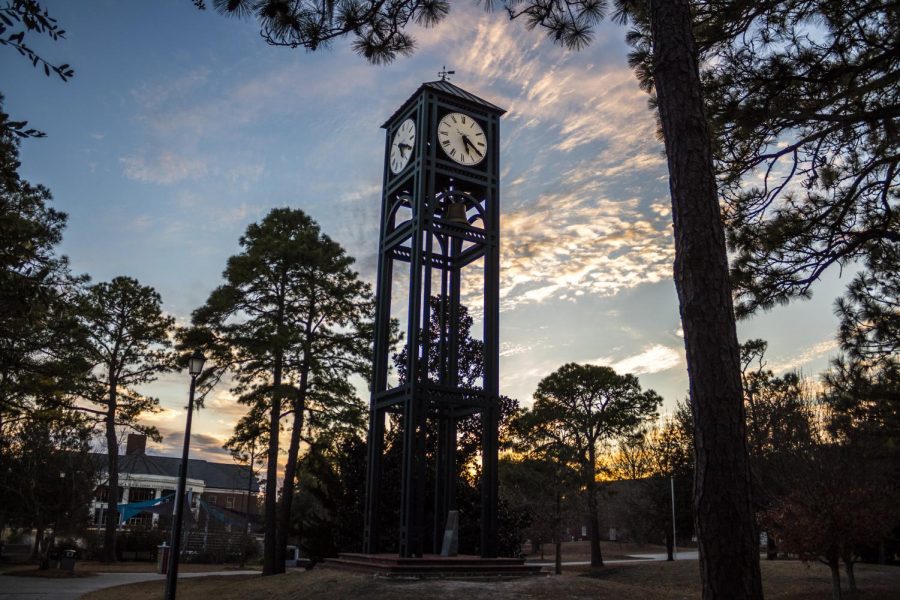 Samantha Durham, Opinion Editor
March 16, 2018
Editor's Note: Samantha Durham is a senior at UNCW studying sociology. She is the Opinion Editor for The Seahawk and enjoys concentrating her work on social issues. All opinions expressed in this article are solely those of the author. Samantha may be found on Twitter @Durham_Sam. All suggestions and inquiries may be sent via email to [email protected]
Many people all over the country dream of one day attending college at some level. We can all probably remember conversations with high school friends in the lunch room, debating over which schools to apply to or which were the best fit. Not long ago were the days of touring universities and pulling together financial aid packages to bring your college dream into reality.
It seems that one of the biggest topics discussed before attending a university or community college is whether to stay home or venture out on your own. For those that live in areas with community colleges or universities, this conversation seems to be even more relevant. The common trend, as I have found, seems to be that leaving home is the way to go. However, there is no denying many of us grappled with the "should I stay or should I go?" question.
I was one of the few from my graduating class that decided to stay in Wilmington for college. I explored universities outside of Wilmington, but I really just wanted to stay at home. I wanted to be able to keep my current job, see my family and enjoy the beach any day I saw fit.
Many people seem to have this notion that you cannot truly experience college while living in the same city as your family. I beg to differ. Of course, certain circumstances do apply.
At first, I lived at home with my family. Room and board seemed so expensive, especially with a free house to live in a few miles away. During the time I lived at home, I have to admit that my experiences with being a college student were different. My family was great in allowing me to run my own schedule and "do my own thing," but they also worried about me.
I decided that I was ready to move out but not move away, which is a big difference. I wanted to be independent but realized leaving town was not the only way to do that. I love being here in Wilmington because I can still see my family, I do not have to travel home for breaks and I can still be involved in the community I have forever called home. UNC Wilmington was the best fit for me because it already felt like home.
However, choosing to stay in town for college was not as easy as it might seem. I really struggled at first to find a place for myself at UNCW, even though I felt comfortable being here. All of my friends from high school had journeyed off on their own adventures and, for the first time in a long time, I felt a little out of place.
Having my family close by really helped me during that time. I was able to visit when I felt lonely. Also, they helped encourage me to get involved on campus. They probably would have done this if I had attended school elsewhere, but it was nice to be able to sit down with them and talk about the great things I was doing at UNCW.
I applied to one other in-state university and, while I was happy to have been accepted, I never felt much desire to go there. All I could seem to see were the negative aspects of leaving home and, for me, that made the decision pretty clear. The point is there is no shame in staying in town for school. Your education is incredibly important but so is your overall happiness while advancing your knowledge.
I completely understand the argument that leaving home for college is an adventure and a way to truly grow into an adult. It is true that you cannot rely on mom and dad to help you out in a pinch. However, the same could be said for staying in the same town.
What it really comes to is that college and the college experience is what you make it. Staying home or going elsewhere is a part of that experience but it certainly does not dictate the experience. I have not regretted even for a second deciding to stay local for school. I love being able to enjoy all the things I always have but with new people.
At the end of the day, I love UNCW and Wilmington. It has always been home and probably always will be home to me no matter how far I go. Just because you are going to college does not mean you have to abandon the things that make you feel at home. If you feel more comfortable and happy staying local for school then do it. Your experience will be whatever you make it, regardless of if you stay local or venture off.
While staying home may have its own set of cons, leaving home also has negative aspects too. Realistically, as long as you are happy and receiving a great education then it does not matter where you go. Pick the school that feels right for you, even if that is at home. You might struggle to adjust at first, but that is the same no matter where you go. College is awesome as long as you make it awesome and, for some, staying home is the way to do that.