Surviving a 30 day ab challenge: week 2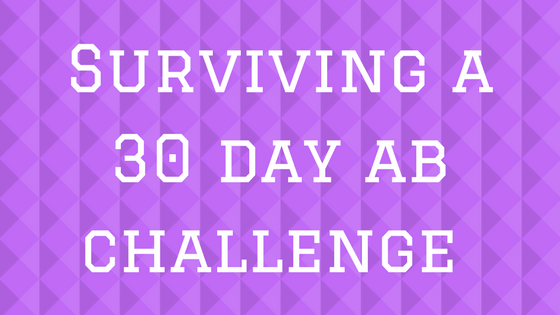 Disclaimer: I am not a doctor, and I am not trained or gifted with any type of physical fitness. I am just going to be following a popular challenge that has been said to work for many people. I have current physicals from my actual doctor, and I am a relatively healthy person, so this challenge is a way to increase my health and happiness during the school year.
Week 2 reflection:
This is my second week of the 30-day Ab Challenge. As you can image, the second week of this was just a little more difficult than the first. It added new things in to do, such as crunches, and it also held more everyday-life setbacks, such as illness.
As I stated in my first article, I have been trying to get over an upper respiratory infection, which drastically halted my workouts. When it comes to physical fitness, one thing that is very important is knowing when to stop. My illness resurfaced during this week, and I had to skip two workouts and use one of my rest days. I found that I was short of breath, and coughing very much, which makes working out more difficult. However, when I began to feel better, I caught up with the workouts.
If you feel that you are getting sick or trying to get over a sickness, it is important for you to rest. I felt like I had failed when I had to skip my workouts, but being sick does not equal failure. Also, if you fail to do one workout because you really do have too much to do or something immediate comes up, don't beat yourself up about it. Just continue to move on and try to work in a make-up workout.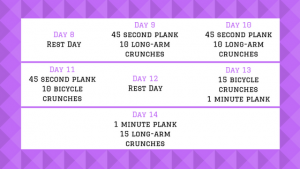 During this week, the challenge added in new moves to the workout, which were crunches. I generally don't enjoy doing crunches, and I am not great at them. The first type that the challenge offered were bicycle crunches, and for lack of a better word, they suck. I feel like this type of movement is great when you are flexible and coordinated, but I am not either one of those things, and I am not ashamed to admit it.
The movement of a bicycle crunch is shown in the pictures below. You start with your hands behind your head and your knees bent, feet off the floor. Then, you have to touch your elbow to your opposite knee and whatever leg is not touching your elbow must stick out. I feel like this works out more than just your abs. I felt like my whole body was working because I had to tighten my arms and legs.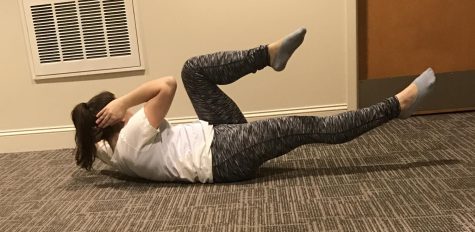 However, the next type of crunches for this week was easier. They are called long-arm crunches, and I didn't mind doing them. They were kind to my neck because the movement includes lifting your arms over your head and slightly pulling your body off the floor. It engages your upper abs and you can feel your muscles being used when you do this motion.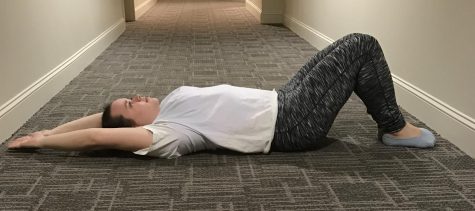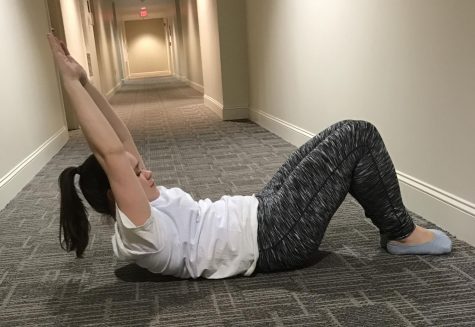 I was glad overall that the challenge finally started to change because I had gotten sick of doing planks. The crunches broke up the monotony of just staying in one position. As I get further into the challenge, I will be adding everything together to have longer workouts.