On a Budget: Valentine's Day dinner, dessert and drink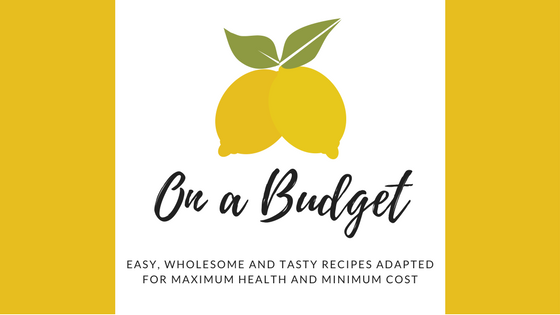 Lindsay Scott, Contributing Writer
February 11, 2018
"On a Budget" is your go-to source for easy, wholesome and tasty recipes adapted for maximum health and minimum cost. Tune in for a variety of food that's as good for your wallet as it is for your body.
It's that time of the year again: Cupid is making his rounds and chocolates, candies, big red hearts and cheesy cards are being bought and sold in stores faster than they can be stocked on the shelves. There's a lot of pressure surrounding Valentine's Day, so I thought it would be nice to have a break from the hustle and bustle of last-minute reservations and empty wallets.
Don't have enough money to go out for dinner at an upscale restaurant? Didn't book a reservation in time? Well, don't worry! I've come up with a healthy, at-home meal that's fast and priced well. As always, I cater to the gluten-free and dairy-free, but any of the ingredients I use can be substituted with foods containing gluten and dairy.
All the recipes listed below came from my family's recipe cards that we have been using for years. The exception is the chocolate raspberry mug cake, which I modified from this recipe.
Start to Finish: 45 minutes (20 minutes active)
Servings: 2
Difficulty level: Low
Effort required: Medium
Price point: Medium
Good for: Creating a special meal for your significant other, a romantic date night recipe
Ingredients
"You're My Main Squeeze" Lemon-Pepper Salmon
·2 salmon fillets
6 tablespoons lemon juice
½ teaspoon pepper
Salt to taste
"You Spin My Head Right 'Round" Spinach and Raspberry Salad
2 cups baby spinach
12 fresh raspberries
2 tablespoons lemon juice
1 cup walnuts
1 tablespoon bacon bits
Poppyseed dressing (or dressing of choice)
Salt and black pepper to taste
"You're the Icing on My Cake" Chocolate Raspberry Mug Cake [single serving]      
3 tablespoons gluten-free flour
1 tablespoon cocoa powder
1 tablespoon sugar
¼ teaspoon vanilla extract
½ teaspoon baking powder
1 egg
¼ cup almond milk
2 dark chocolate candies
4 raspberries
"I Think You're Berry Cute" Raspberry Sorbet Mocktail
1 bottle sparkling white grape juice (or sparkling drink of choice)
1-pint raspberry sorbet
2 raspberries
Directions
"You're My Main Squeeze" Lemon Pepper Salmon
Note: Depending on the type of salmon, it may need to be thawed out. Thawing out usually takes 20 minutes. The type of salmon I used in this recipe did not need to be thawed.
Preheat oven to 400° F (or as directed by the packaging of your salmon).
Line a pan with tin foil. Place two salmon fillets on pan evenly spaced apart.
Pour 3 tablespoons of lemon juice on each filet. My boyfriend likes his salmon with lots of lemon, so I doubled the amount of lemon juice on his filet.
Sprinkle each fillet with a pinch of pepper and salt to taste.
Bake for 20 minutes (or as directed).
Add more pepper and salt as needed.
Serve and enjoy!
"You Spin My Head Right Around" Spinach and Strawberry Salad
Wash spinach and raspberries separately.
Combine spinach and raspberries into a salad bowl. Pour lemon juice over the spinach and raspberries.
Toss in the walnuts and bacon bits.
Drizzle salad dressing over the salad and season with salt and pepper to taste.
Serve and enjoy!
"You're the Icing on My Cake" Black Forest Mug Cake
Pour dry ingredients into a mixing bowl. Mix until ingredients are well incorporated.
In a separate mixing bowl, combine the almond milk and egg together, gradually adding the vanilla extract as you whisk. Add the wet mixture with the dry mixture and whisk together until combined.
Add 4 raspberries into the mixture.
Spray a microwave-safe mug with non-stick spray or grease it with butter. Pour the batter into the mug and microwave for 3 minutes. Make sure to watch your mug here because cooking time depends on the microwave.
Let cool for 2-3 minutes. Top with three raspberries and a dark chocolate candy.
Serve and enjoy!
"I Think You're Berry Cute" Raspberry Sorbet Mocktail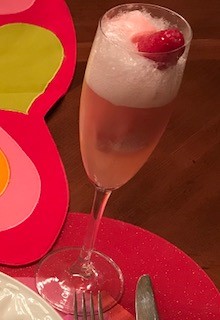 Put one scoop of raspberry sorbet and one raspberry into a glass. Pour sparkling white grape juice into glass. Garnish with a raspberry.
Serve and enjoy!