In defense of Kylie Jenner's quiet pregnancy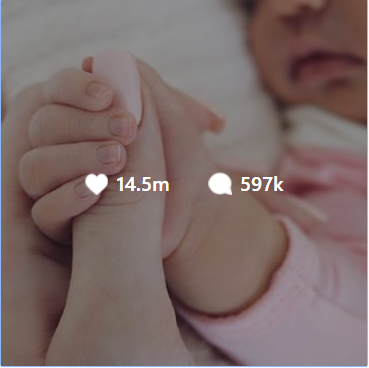 Chantai Thomas, Lifestyles Editor
February 9, 2018
Filed under Opinion
Hang on for a minute...we're trying to find some more stories you might like.
Editors Note: Chantai Thomas is a senior from Fayetteville, N.C. double majoring in Professional Writing and Philosophy. Chantai serves as the lifestyles editor for The Seahawk. She enjoys helping others share and create work they are proud of. The opinions expressed in this article are solely those of the author. All suggestions and inquiries may be sent via email to sld9240@uncw.edu.
I have technically known about Kylie Jenner's pregnancy since September of last year when the story was first reported by TMZ, but somehow it still came as a shock to finally hear that she'd popped out a baby last week.
This is because Jenner, undoubtedly one of the media circus's favorite darlings, has been uncharacteristically closed off about her pregnancy. Instead of ever outright confirming her status, Jenner and the rest of her equally famous relatives left us to wonder if the sources confirming the pregnancy were telling the truth and to cobble together the coy hints she dropped over the last few months – that in retrospect, point obviously to "yes"– like voyeuristic, social media-savvy Nancy Drews.
Then, on fateful Feb. 4, news broke on TMZ that Jenner's baby with Travis Scott came into the world three days prior on Feb. 1. Earlier that same day, Jenner released a statement to her fans on her Instagram that read, "I'm sorry for keeping you in the dark through all the assumptions. I understand you're used to me bringing you along on all my journeys. my [sic] pregnancy was one I chose not to do in front of the world…I appreciate my friends and especially my family for helping me make this special moment as private as we could."
So, there it was: After months of Jenner posting outdated selfies and pictures obscuring her midsection with baggy clothing or clever body positioning, we got an outright admission that she had, in fact, been pregnant all along.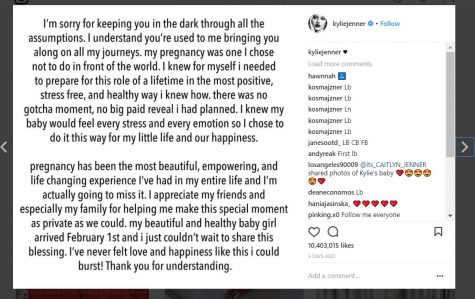 The confirmation of the existence of this baby, to me, is cathartic – not so much because I care that Jenner had a child, but because I can finally stop living in this hellish purgatory of uncertainty.
When someone like Jenner – who has over a million followers on Instagram and regularly appears on television and in music videos and models for international fashion brands and has her own makeup line – conceals a significant portion of her life from the public eye, a profound void opens in the pop culture media circuit. If you're regularly tuned into the channels that normally communicate this kind of pop culture information, the absence will be noticeable whether you are someone who is invested in that particular person or not.
But for those who are invested, how do they compensate for that emptiness, for that radio silence from what used to be a consistent source of entertainment and distraction? They fill it with their speculative chattering about what the truth of a complete stranger's life is; they contort and mangle every update they share with the world until it looks like a clue; they even complain about the celebrity's decision to keep to themselves. Like they're starving us of something they're entitled to.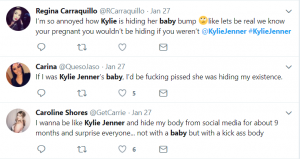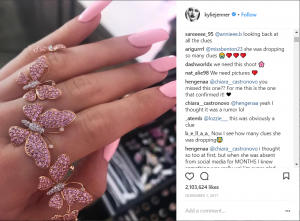 Jenner's update on Instagram also said, "I knew for myself i[sic] needed to prepare for this role of a lifetime in the most positive, stress free, and healthy way i knew how. there was no gotcha moment, no big paid reveal i had planned. I knew my baby would feel every stress and every emotion so I chose to do it this way for my little life and our happiness."
For most people, the choice between concealing a pregnancy from millions of strangers and not concealing a pregnancy from millions of strangers is a non-starter – it just doesn't come up for the average individual. Jenner, of course, is famous, so it is something she had to consider. With concern and regard for herself and her child's well-being, she chose not to put her pregnancy on display. That is not something that strikes me as hard to understand or respect. All I see is a 20-year-old woman making a decision to keep one of the most transformative, exhausting, rewarding experiences a person can have to herself and her loved ones. Why should we begrudge her that? What is it we think she owes us?
I understand the consensus on the Kardashian-Jenner clan is that these are people who have willingly subjected their lives to the scrutiny of the masses in exchange for fame and fortune. I understand that Jenner, arguably, has teased at her pregnancy for the past five months and definitely released an absurd 11-minute short film documenting her pregnancy the day of her baby's birth, but the sole thing more obnoxious than a celebrity putting their own life on excruciating display is our not respecting their right to do otherwise.