On campus construction continues progressing
Casey McAnarney, Editor-in-Chief
February 6, 2018
UNC Wilmington continues many construction projects as the spring semester is underway.
In an email to the student body, UNCW's Office of University Relations [OUR] described in detail the affected sites on campus, and safety and funding concerns. The affected building locations are RandallLibrary, the Administrative Annex, Greene Track and Field Complex and the Veterans Hall. Likewise, the concern with lack of parking is now being addressed through these construction projects.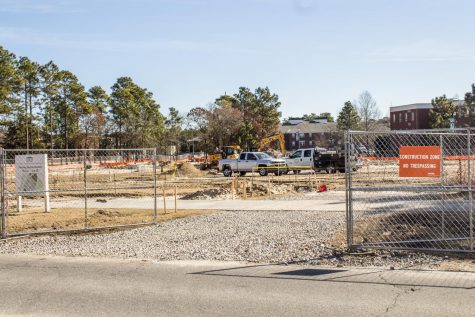 Construction Sites
Randall Library
Currently, the university plans to "replace the fire alarm system…and begin work on the restrooms" in Randall Library in order to upgrade the facility. During this semester, access to specific areas of the library may be cut off for these construction plans. However, work on the restrooms will not begin until this summer.
Administrative Annex
For those who do not know where this is, it is construction being done on to the parking lot next to Isaac Bear Early College High School. The exact address of this construction site is 620 MacMillan Avenue; on the campus map, it used to be titled Lot 1B. This new building will house "several administrative offices and programs." The funding for this project comes from endowment trust funds and construction is set to complete near the end of 2018. The Center for Innovation and Entrepreneurship and the nearby early college will be impacted by this site.
Greene Track and Field Complex
Over the summer, UNCW will refurbish the Greene Track and Field Complex, which will affect the unpaved parking lot next to the track. This project is in partnership with the City of Wilmington and New Hanover County and is financially supported by both of these as well as through philanthropic donations.
"UNCW plans to resurface the Greene Athletic Track, currently used for intercollegiate track and field events," the Office of Facilities' website said on this project. "This design will include resurfacing of the 8-lane 400 meter track, additional restrooms, storage, drainage, utilities and upgrades to the existing access, lighting, and fencing at the Greene Track and Field Complex located on the UNCW main Campus."
Veterans Hall
the 145,000-square foot project across from McNeil hall and the Teaching Labs will continue in March with the prospective completion date for the building being 2020. This project will affect sidewalks and parking lots in this area, with many of the lots being moved to other spots on campus. The university provided a map of sidewalk detours to use during this construction. This specific project is funded by the Connect NC bond, which was approved by voters in March 2016.
Parking lots
The Parking Lot 1A next to Wagoner Dining Hall and Lot 1B across from the Student Recreation Center are scheduled for completion in March.
"The spaces in these lots will be open to visitors (pay station parking), faculty/staff, and students for night/weekend parking.," OUR said. "Pedestrian/bike/skateboard traffic will be rerouted around areas near Wagoner Dining Hall, the Student Recreation Center and University Suites until the lots are complete."
Likewise, on the front side of campus, crews have completed site preparation of the new parking lots on the corner of MacMillan Avenue and Hamilton Drive; these are scheduled to be completed by late fall 2018. OUR also mentioned plans for landscaping and the spaces in these lots will primarily be used by students, faculty and staff. They said that, "Nearly all parking lot construction and enhancements are paid for using parking revenue."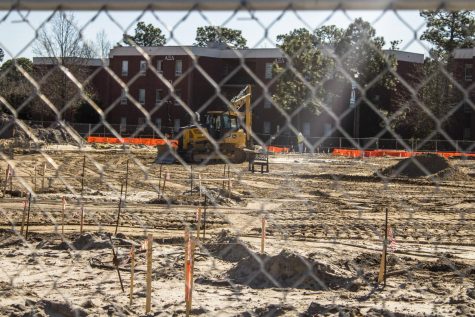 Safety Concerns
As for safety concerns, OUR urged students to be cautious around construction sites. For instance, OUR asked that students: follow safety signs; avoid "shortcuts" through work sites; do not cross construction fences; pay attention to your surroundings.
"On a related note, it is illegal, and incredibly dangerous, to cross College Road except via designated crosswalks," OUR slipped into the email. "University Police officers are taking enforcement actions for midblock crossings of South College Road."
Further safety concerns should be reported Environmental Health and Safety, according to OUR. Their contact information is 910.962.3057. They also have a "Who to Call" page.