Tapingo quietly suspends delivery at UNCW
In a sudden and surprising move, Tapingo, a food delivery service to college campuses, pulled out of delivery operations at UNC Wilmington earlier this month.
The news was delivered via text message on Jan. 15 to the active couriers employed by the company. No advance notice was given, as reported by at least three employees. These employees have been granted anonymity for this article.
The popular tech startup, based out of San Francisco, has been a staple on campus for the past two years. Its roots trace back to 2016 when it was marketed as a way to conveniently "skip the lines" at many dining establishments on campus.
The company claims to have reached nearly 250 campuses across 45 states and the District of Columbia as of January 2018. It was founded in 2012, receiving nearly $36 million in venture capital according to reports from California and Israeli-based venture capital firms.
Students and dining employees both found that Tapingo caused increased traffic and demand for food at locations such as Chick-fil-A, Subway and Hawk's Nest, as reported previously by The Seahawk. However, when the service first started, employees stated that orders were still completed on time, all of this according to a Seahawk article from 2016.
The demand for the winter months was anticipated to be high by employees, due to the decreased number of students venturing out to get food in the cooler temperatures.
However the abrupt call to close campus was made and announced soon after by UNCW Campus Manager Paola Salazar, who works out of Denver. Pickup service was reportedly not affected. Tapingo's UNCW webpage has also not been altered to reflect the announcement.
Salazar claimed in the announcement text that employees would receive an email about "future opportunities" by the end of that week (Jan. 21). On Jan. 27 an email was finally reported in the inboxes of former couriers.
This is not the first time Tapingo has come under fire for lack of professionalism; shortly after Thanksgiving, the company told employees they were closing, again with no notice. This drew criticism from some of UNCW's couriers for the way Tapingo management handled the situation. These couriers are remaining anonymous to protect their future opportunities with Tapingo and other companies.
The two text messages sent to couriers regarding closure read as follows:
"Hey we are no longer offering delivery at UNCW, you will receive an email about it this week," read the first message.
The second message said "there isn't enough demand for a positive experience for them currently, so we are going to work on increasing demand through other avenues before scheduling couriers again."
So far, no word has been given on increasing the demand on campus. Marketing has yet to ramp up and Tapingo has been quiet on public statements.
The Seahawk reached out to Tapingo's San Francisco headquarters for a statement on the ongoing situation in Wilmington.
"As you can imagine, communicating these decisions is always difficult. We did absolutely everything possible to keep delivery running as long as we could in order to sustain income for our courier team," said Vivek Wagle, Head of Brand at Tapingo.
Wagle did not address the lack of an advanced notice for laid-off employees, however, the company is not required to give any notice.
Further information was later obtained from Wagle. "I've learned from our ops team that the pause in delivery is designed to be a temporary situation, and that the text sent out only applied to couriers who were expecting orders to come in very soon. The team there is investigating ways in which we can grow order volume while maintaining a great user and courier experience."
In his final statement, Wagle told us "We are actively growing our partnership network to create more opportunities for delivery."
"In the meantime, delivery has been suspended at Wilmington for the moment."
Since Wagle's statements, The Seahawk has learned that some former couriers have been re-employed as order placers. This position essentially allows workers to sit at a computer and place Tapingo delivery orders at any campus around the country.
UNCW Tapingo employees are currently in the midst of a new manager change, the third in this academic year. Originally starting the year under the management of Alex DuPont, operating out of Atlanta, the team switched management to Paola Salazar out of Denver and as of February the order placer team is now under the management of Grant Allen, a junior business student from Oklahoma State University.
UNCW Campus Dining gave no statement on the matter when contacted.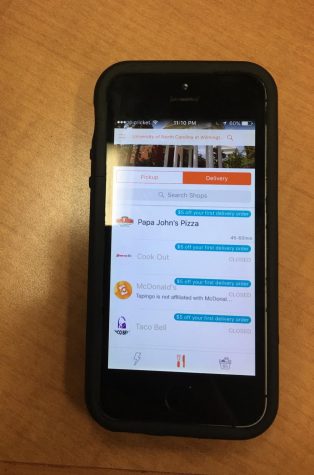 For now, only Tapingo pickup and outside delivery is available. Outside delivery involves placing an order through the Tapingo app and having a driver from another restaurant deliver it, such as Papa John's.
No official word has been given on the resuming of mainline Tapingo delivery service.
Tyler Newman can be found on Twitter @tnewman39.