On a Budget: Honey sesame chicken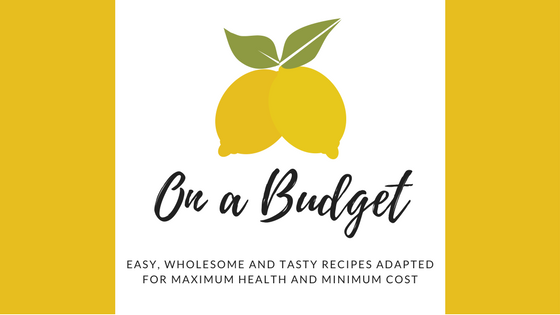 "On a Budget" is your go-to source for easy, wholesome and tasty recipes adapted for maximum health and minimum cost. Tune in bi-weekly for a variety of food that's as good for your wallet as it is for your body.
I was sitting in my apartment the other day and had a sudden urge to eat Hibachi, but it was a busy Tuesday night and as a college student, I didn't have the time or money to indulge in a meal out. Instead, I got on Pinterest and hoped to live vicariously through the meals I saw on my dashboard. Then, I came across a $5 sesame chicken recipe and knew I had to try it out over the weekend.
I used ingredients I had around the kitchen to substitute for some of the more expensive ingredients. For example, I replaced one inch of fresh ginger with ground ginger. The chicken disappeared off the plate as fast as I could put it down. My roommates loved this dish and can't wait for another recipe to cross my dashboard.
I modified this dish from this recipe for honey sesame chicken and this one for sesame chicken, both found on Pinterest.
Start to Finish: 1 hour (45 minutes active)
Servings: 4
Difficulty level: Low
Effort required: Medium
Price point: Low
Good for: Showing off to your roommates that you can cook, an effortless date night recipe
Ingredients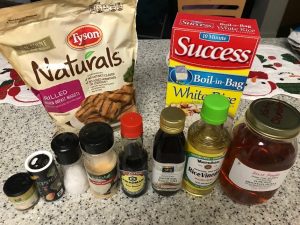 Chicken
1 bag of Tyson Naturals grilled chicken breast nuggets
Sauce
½ cup honey
½ cup soy sauce
1 tablespoon water
2 tablespoons rice wine vinegar
2 tablespoons sesame oil
2 teaspoons garlic powder
1 ½ teaspoons ground ginger
Salt and pepper to taste
1 egg (optional)
Side
2 bags of Success Boil-in-Bag white/jasmine rice
Directions
Preheat oven to 400° F.
While waiting for the oven to preheat, fill a medium pot with 2 cups of water or about halfway to the rim. Put on high heat and bring to a boil.
For the sauce, combine the honey, soy sauce, water, rice wine vinegar, sesame oil, garlic powder and ground ginger together. Stir until liquid is thoroughly mixed.
Once the oven is preheated, put desired amount of chicken on nonstick tray or line tray with aluminum foil. I cooked for 4 people, so I used the entire bag of chicken nuggets. Set a timer for 9 minutes.
Place bags of rice in the pot with boiling water. Turn to medium heat and let cook for 8 to 10 minutes.
With 1 minute left on your timer, put 2 tablespoons of sesame oil in a medium-large pan. Put on high heat until oil has a wave-like texture to it.
Remove chicken from the tray and place directly into pan with hot oil. Be careful of splatter!
Pour the sauce we made earlier into the pan. (Note: This is where you can add an egg into the chicken mixture if you want more protein.) Turn the stove down to medium-high heat and wait until sauce absorbs mostly into the chicken.
Serve and enjoy!
You're all finished! I hope you've liked this recipe as much as me; it's a favorite of my roommates and mine now.