Flu season peaks amidst government shutdown
With influenza season peaking throughout the United States, the Centers for Disease Control and Prevention reports that 63 percent of its staff was furloughed in the wake of the government shutdown.
With an estimated 100 deaths per week, primarily from the resistant H3N2 strain, the flu has been taking its toll on millions of Americans, causing hospital outpatient visits to skyrocket. The current status of outpatients reporting flu-like symptoms is "Elevated" across all regions of the country.
Between Oct. 7 and Dec. 23 the number of flu deaths was 759. The number of deaths of children however has been updated more recently and as of Jan. 13 stands at 30. No new report has been released yet due to the 69-hour government shutdown between Saturday and Monday.
In North Carolina, 42 people have been killed since the season began on Oct. 1, with 10 deaths in just the past week.
Last week, California and Alabama declared states of emergency for the flu outbreak. In addition, the entire continental U.S. reported widespread flu activity for the first time in history. As of Saturday, the only state without widespread activity was Hawaii, according to the CDC, but that is predicted to soon change.
Ten weeks of flu season remain to go and while usually the peak occurs between December and February, activity can last well into spring and begin as early as October.
The CDC has been getting the word out to Americans on the importance of obtaining a flu shot. While the dominant strain this year has proven to be somewhat resistant to the flu shot, the CDC states that getting a shot is better than no protection at all.
The most common symptoms of influenza include fever, chills, muscle aches, coughing, congestion, runny nose, headaches and fatigue.
According to the CDC, there are two major reasons as to why this season has been active. The first is attributed to the resistance of the H3N2 strain, which mutates faster than vaccines can keep up with.
The second is the lack of supplies at hospitals, including saline and other intravenous fluids. IV fluids are mostly produced in facilities in Puerto Rico, many of which were damaged during Hurricane Maria.
On Jan. 12, the CDC put out a press statement regarding the active season.
"We are currently in the midst of a very active flu season. With much of the country experiencing widespread and intense flu activity. Many of you may be have been directly impacted by this. You may have been sick with the flu yourself or caring for loved ones who are sick," said Dr. Brenda Fitzgerald, current Director of the CDC.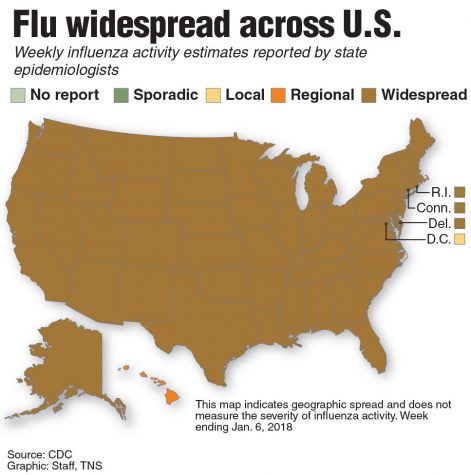 Continuing on Dr. Fitzgerald's points and discussing vaccination was Dr. Daniel Jernigan, Director of the Influenza Division in the National Center for Immunization and Respiratory Diseases at CDC.
"Vaccination is our main tool to prevent influenza infection, and CDC recommends that vaccination efforts continue as long as influenza viruses are circulating. It about takes two weeks for protection from vaccination to set in, but as I said, we have a lot of flu season to get through still," Jernigan said. The flu season in America lasts until roughly May.
Jernigan continued, "We will see other flu viruses start to circulate later during the flu season and most flu vaccines protect against all four of those circulating viruses. The B viruses are still to really show up and take off. So getting a vaccine would help cover them as well. The manufacturers are reporting that they've shipped more than 151 million doses of flu vaccine so there should be product available to folks."
Some widely circulated tips on how to protect yourself this season against the flu include: getting your flu shot, washing your hands, keeping your hands away from your face, avoiding contact with those who have the flu and taking flu antiviral drugs if your doctor prescribes them.
Answering a question from a Weather Channel reporter during the press statement conference call, Jernigan went on to say that this flu season, just like almost every other, has reached epidemic levels.
"We have very specific criteria where we can say the epidemic is beginning and ending based on when flu activity goes above a certain baseline. So we've clearly passed that baseline back in November and we're at the peak of it now, and we'll probably see it go below the baseline in several months. So, yes, definitely in an epidemic, but that's happens every year in the United States and in the northern hemisphere with influenza."
Locations in Wilmington that offer flu shots:
Harris Teeter #158
820 S College Rd, Wilmington, NC 28403-4410
Walmart Supercenter #1392
5226 Sigmon Rd, Wilmington, NC 28403
Walgreens
4521 Oleander Dr, Wilmington, NC 28403-5011
CVS Pharmacy
4600 Oleander Drive, Wilmington, NC 28403
Target – Wilmington
4711 New Centre Dr, Wilmington, NC 28405-3442
Tyler Newman can be found on Twitter @tnewman39.
Leave a Comment