Board of Trustees swear in new member, aim to focus on distance education
Casey McAnarney, Editor-in-Chief
January 20, 2018
The Board of Trustees [BoT] met Thursday, Jan. 18, to swear in new trustee, the Honorable Woody White, and to hear from the Educational Planning and Programs Committee on the development of UNC Wilmington's distance education programs.
The meeting began with the swearing in of White, who was appointed by Speaker of the House Tim Moore on Jan. 10. He is filling the expired seat of former trustee, Christopher Leonard. White was previously on the BoT for Cape Fear Community College.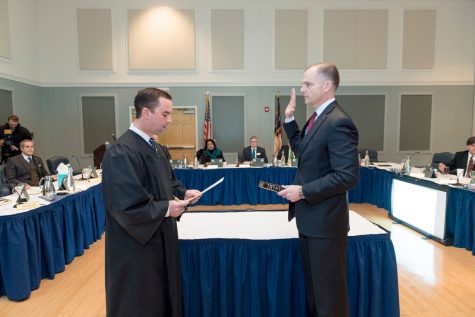 After swearing in White, the attention turned towards Provost and Vice Chancellor of Academic Affairs Marilyn Sheerer, who mentioned that the focus of today's presentation would be distance education programs. According to the presentation, distance education is "off-campus instruction for credit whether it is face-to-face, electronically mediated or a combination of methodologies."
Vice Chancellor Sheerer noted that Chancellor Sartarelli's recent op-ed in the Wilmington StarNews set the tone for this presentation. The chancellor's op-ed focused heavily on the success of UNCW's distance education programs: "two of UNCW's online bachelor's degree programs were named seventh best in the nation by U.S. News and World Report." UNCW was on a list with institutions like Ohio University and Arizona State and was tied for seventh with Penn State.
The chancellor wrote about how electronic devices are some of the best tools in which universities can reach out to students, traditional and non-traditional. According to the article, 70,000 "unique digital devices" were used on UNCW's campus over the past 90 days.
"As higher education institutions rush to fill the growing need for online degree programs — which are, in some cases, the only path for non-traditional students or professionals trying to further their careers while remaining in full-time positions — UNCW has already entrenched itself in this modality, having embraced the concept long before many of our peers," the Chancellor wrote.
Vice Chancellor Sheerer then introduced Dr. Peter Nguyen, interim associate vice chancellor of distance education. Dr. Nguyen discussed the importance of creating access for distance students since the goal is to "attract and retain high-quality, diverse" students, faculty and staff and to advance academic programming.
The two groups to focus on, according to Dr. Nguyen, are military students and distance education/ online students. UNCW is not planning to become an online university, however, they are trying to open avenues to students who otherwise would not access to higher education.
To be more specific on their goals, Dr. Nguyen said that they hope to: increase the number of courses and degrees offered at the Onslow Extension site; increase the number of online programs; and expand and enhance relationships with military bases.
UNCW currently offers 18 online degrees with two new degrees being prepped for Fall 2018: a Master of Finance and a Master of Analytics. Both of these are within the Cameron School of Business. There are six extension site degrees offered at Coastal Carolina Community College and Marine Corps Base Camp Lejeune. Sixty percent of online courses are purely online, 17 percent are face-to-face, 4 percent are in real time and 19 percent are considered "other."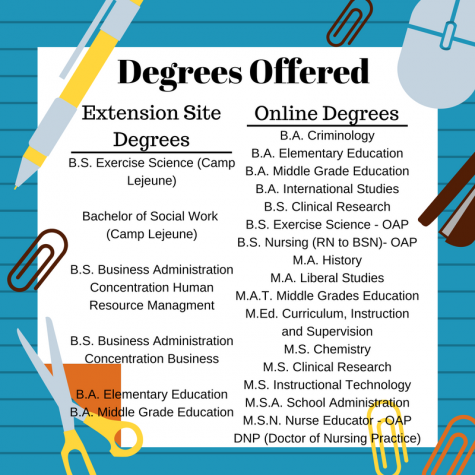 With a 30 percent increase in the number of students participating in distance education programs, Dr. Nguyen discussed the need to offer services to these individuals. In Fall 2013, UNCW had 770 enrolled distance education students compared to 2,548 in Fall 2017. Currently, the university offers an array of services that are either state or student fee funded. Some of these amenities include the career, learning, disability resource and counseling centers as well as access to Collaboration for Assault Response and Education [CARE] and Title IX.
Dr. Nguyen also answered questions about the search for new faculty to teach prospective new online courses. Seventy plus faculty searches are in the works in order to offer more online classes to distance students. These courses and current online courses are also transferable credits at other UNC system schools, especially if they are already a part of the UNC online program. Dr. Nguyen said that not all transfer, but a "good number" will qualify.