For Hoda Kotb, "Today" does not pay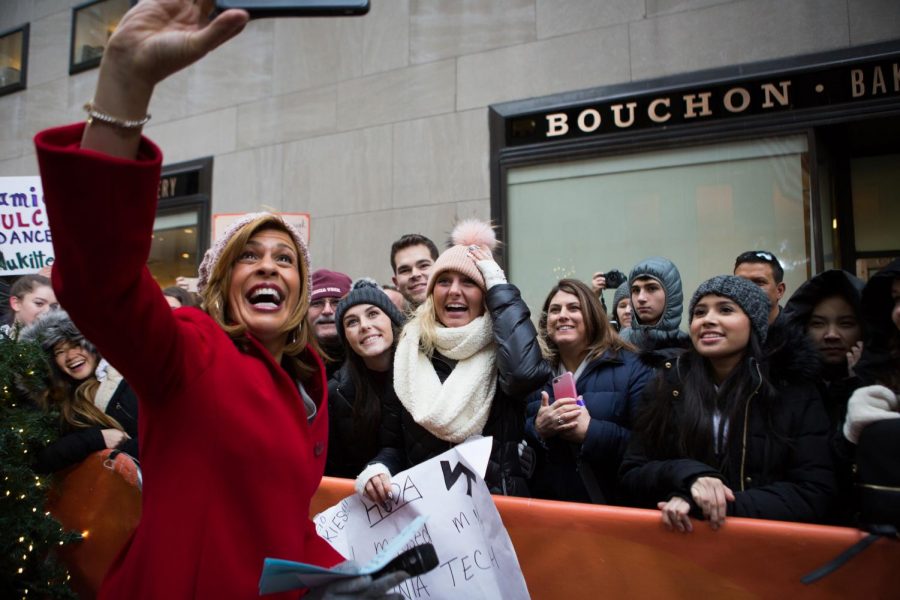 Samantha Durham, Opinion Editor
January 4, 2018
Editor's Note: Samantha Durham is a senior at UNCW studying sociology. She is the Opinion Editor for The Seahawk and enjoys concentrating her work on social issues. All opinions expressed in this article are solely those of the author. Samantha may be found on Twitter @Durham_Sam. All suggestions and inquiries may be sent via email to [email protected] 
NBC's "The Today Show" took a pretty big punch recently with the firing of Matt Lauer, who had worked for "Today" for roughly 21 years, reported The New York Times. Similar to many men in the limelight these days, Lauer was fired for sexual harassment allegations which shocked not only show's audience but also many of Lauer's co-workers.
Lauer's firing left "The Today Show" in an awkward position of trying to fill Lauer's co-host position while also maneuvering the rumors of these allegations. There has been talk of Lauer giving a sex toy to a co-worker, using lewd language when discussing female colleagues and quizzing producers about their sex lives, reported Vanity Fair.
Clearly, NBC had a big, fat mess on their hands that needed to be cleaned up fast. While The New York Times reported that "Today" hasn't lost many viewers after going "Lauerless", the allegations have been bad for the show's reputation. How does NBC come back from this? They promote Hoda Kotb but only give her some of the money.
Hoda Kotb, who used to appear on the fourth hour of "The Today Show", has formally been announced as the new co-host of the morning television show, replacing Lauer. One would think that someone with as much experience as Kotb would be making roughly the same amount as Matt Lauer. However, even though she has written several books, worked for the show for many years and also been a television journalist for some time, she still is making less than the co-host before her.
According to Fox News, Kotb will be earning $7 million per year while Lauer reportedly made $25 million a year. That is roughly an $18 million dollar gap in pay for a woman who has the experience and also is working in the exact same position. I say to NBC, shame on you.
It appears that even in 2018, women do not get paid for the work they do. Kotb, who seems to be rather excited about her new role on the show, is being given $18 million dollars less and I really cannot think of a valid reason as to why.
Fox News also reported that Megyn Kelly, another "Today" host, is making $20 million dollars per year. That is still a $13 million dollar difference in pay. Before you point fingers and claim this is strictly about the wage gap between men and women, Kotb is still getting paid less than another woman. This is not strictly about a wage gap between men and women, it is about a wage gap for all minorities.
This is not the only place that women of color are given less when it comes to earnings. According to National Partnership, African American women in the United States that work full time are paid 63 cents per every dollar paid to a non-Hispanic, white male. NBC clearly displays this gap in pay is not just between men and women but also race. I can't help but wonder if Kotb might be getting more for her efforts if she what a white woman.
It seems tasteless to me for a morning television show that seems to be all about teamwork and loyalty to only give one of their longer standing employees $7 million dollars compared to the pay of other hosts. I know most of us would be more than happy to take $7 million home every year but it is not about the amount but the difference between salaries. It leads me to believe that Lauer, who has caused some serious grief for NBC, was paid more for being a white, man and that Megyn Kelly was paid more for being a white, woman.
I understand that experience has a lot to do with salary but it is not like Kotb just started out in the industry. She is a well known face all over the country. However, I must say that while NBC and "The Today Show" have disappointed me when it comes to pay, I am proud they chose Kotb as their new co-host. This is the first time in "Today" history that two women, Savannah Guthrie and Hoda Kotb, have hosted the show.
I suppose there is something to be said for Kotb receiving the position at all. However, the logical thought process is that when someone is promoted they receive a certain salary. Of course, Kotb received a raise and it is not like she is complaining about it, but the fact of the matter is that her salary is drastically different than those before her. I cannot help but ask why.
It all comes down to equality between not only men and women but races as well. That has been an issue in the United States for quite some time not only in wages but other areas as well. Kotb's salary difference in her job is just one of many differences not only for women but for women of minority backgrounds. It is insane to me that even now we have to discuss why women and minorities deserve the same things as others.
Kotb might not be complaining about the money but I certainly am. I understand that for her it is probably not about the money. It is the principle that NBC feels it is just to give her substantially less for no good reason that I can think of. Granted I do not work for the company and maybe they do have a good reason, but from where I stand it just looks simply like inequality which is truly a shame. All I can say is that for a show who just lost a senior member due to sexual harassment claims, it does not look very good that they do not appear to favor equal pay either.