Puerto Rico's road to recovery continues, weeks after Hurricane Maria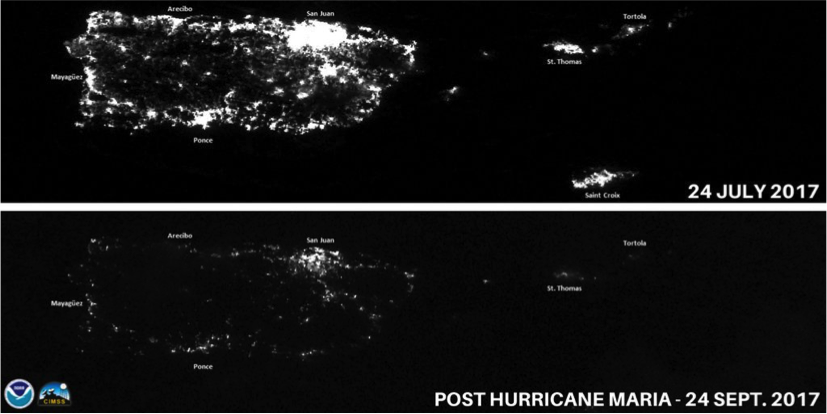 If one were to look down upon the island of Puerto Rico at night, they would see mostly darkness. A sharp contrast to what it looked like in early September. A sharp contrast to what it looked like before Hurricane Maria.
At the height of Hurricane Maria's strike upon Puerto Rico on Sept. 20, winds were gusting up to 150 miles per hour. Palm trees were bent against the furious wind, stray objects were tossed around like ragdolls, rainwater inundated streets and boulevards in cities across the island.
Today, people don't wade through water anymore. They wade through uncertainty of the future.
The Puerto Rican population has proven to be resilient through the crisis, and their calls and pleas for assistance from the United States government has not wavered in the hours and weeks following the storm.
Only 30 percent of Puerto Rico's power grid is generating energy. Most of the energy however is being diverted to critical infrastructure such as hospitals, first responders and utility crews. The energy is also being used elsewhere, such as to power the governor's mansion.
25 percent of the island remains without running water, which was made more unbearable by heat indices in San Juan reaching 103 degrees Fahrenheit on Oct. 26.
Yet, according to the New York Times, 98 schools have reopened across Puerto Rico, despite the lack of electricity and access to water.
"Imagine if your son or daughter had to go to school indefinitely in an overheated building with no power or water. What would you do?" Meteorologist Eric Holthaus tweeted on Wednesday.
The largest power outage in recorded U.S. history continues to persist on the small island territory to the south.
The situation in Puerto Rico isn't just affecting those who live there, but those who live in the contiguous United States as well. One student at the University of North Carolina Wilmington, Dara Arroyo, hails from Puerto Rico and spoke on the circumstances unfolding on the island.
"My parents and grandparents are still in Puerto Rico. Everyone is good, they don't have power or water, but they are making it work," she said.
Arroyo also mentioned that the University of Puerto Rico had recently started classes again, giving another sense of normalcy back to Puerto Ricans. But many residents know that life on the island may never be truly "normal" again.
Many residents who live at the end of the line of the electrical grid will be the last to receive power, which is estimated to be as far away as next spring or summer.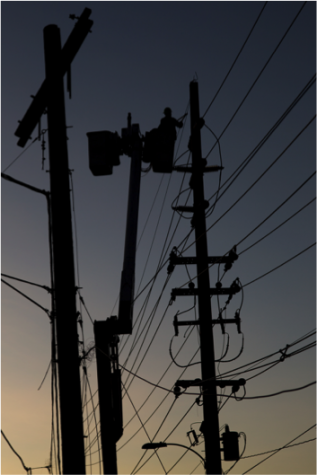 Nearly 62,000 electrical poles have to be brought in from the United States, shipped over the sea to reach the island, according to Lt. Gen. Todd Semonite of the U.S. Army Corps of Engineers. Many thousands of poles lay broken and shattered across roadways and in neighborhoods throughout Puerto Rico.
In Puerto Rico some areas are completely void of utility crews altogether. An estimated 6,100 miles of power lines need to be re-run to bring most of the island back online.
A lack of food, water, gasoline, power, running water, banks and ATMs are what the island's 3.4 million residents deal with on a daily basis. To many of them, the crisis has been largely forgotten about by many of the American population.
Flights in and out of Puerto Rico have become more difficult to book according to Arroyo, as many people are leaving the island but not many are returning. She said her family is hoping to visit her for Christmas to make things easier.
Recently, Puerto Rico Electric Power Authority awarded a $300 million contract to Whitefish Energy, a Montana-based holdings company whose portfolio of companies installs, maintains and repairs electrical grids.
On Oct. 29, Puerto Rico Governor Ricardo Rossello requested to the PREPA board of directors to cancel the contract with Whitefish Energy after allegations arose regarding the company's appropriateness for the job. After a few hours the request was satisfied by the board.
President Trump has made numerous remarks and tweets about Puerto Rico over the past month, claiming that the government cannot aid Puerto Rico "forever," praising the first responders and attacking San Juan mayor Carmen Yulin.
Some have criticized the U.S. Government's response to the crisis in Puerto Rico, including the United Nations.
"I definitely think that the government is not doing enough to handle this situation properly. I believe that Carmen Yulin has done a great job at working outside her jurisdiction to help Puerto Rico in ways that our governor isn't," Arroyo said.
The cleanup effort continues steadily across the island territory, but many aspects of the recovery remain a logistical nightmare for the U.S. on an unprecedented scale.
Arroyo also reflected on her time in the United States and any future plans to return home. "In light of everything that has happened, I do plan on staying in the states for the next couple years at least," she said, echoing the thoughts of some Puerto Rico residents that have decided to flee the island.
"Puerto Rico will always be my home, but it is time for me to understand that it will never be the same island I left three years ago."