Trump-Russia investigation deepens with charges of conspiracy, lying to FBI
On the morning of Oct. 30, 2017, Paul J. Manafort Jr. and his business associate, Richard Gates, surrendered to the Federal Bureau of Investigation following indictments from a federal grand jury in the ongoing Russia probe.
Robert S. Mueller III, head of the special counsel probe investigating possible collusion between Donald Trump's presidential campaign and Russia, revealed the charges on Monday.
Both men are charged with 12 counts related to business activities in Ukraine before the 2016 presidential election.
Some of those counts include conspiracy against the United States, engaging in a conspiracy to launder money and failing to file reports of foreign bank and financial accounts.
An estimated $75 million was stated to have flowed through offshore accounts related to the two men. Manafort was charged with laundering $18 million of it, which he concealed from the federal government.
Of that $18 million, Manafort wired $12 million to various vendors between 2008 and 2014 for personal expenses. Some of these expenses included $5.4 million for home improvements in the Hamptons, $934,350 to a rug store in Alexandria, Va. and $849,215 at a clothing store in New York.
Various other expenses were noted in the charges, including money spent on four personal vehicles: three Range Rovers and a Mercedes-Benz.
Multiple million-dollar homes from Manhattan to Virginia were also allegedly paid for using the laundered money, the most expensive being a brownstone in Brooklyn, costing upwards of $3 million.
In addition to Manafort and Gates, a third man pleaded guilty three weeks prior to the Oct. 30 indictment: George Papadopoulos.
Papadopoulos, who was a foreign policy advisor to Trump during the campaign, pleaded guilty to making false statements to the FBI. This information was according to Mueller's office at the Justice Department.
The false statement was involving Russian "dirt" on Hillary Clinton, which Papadopoulos claimed he had learned prior to joining the campaign.
In truth he had learned it while working for the campaign during an interaction with "the Professor," an unnamed figure in London who offered high-level connections to the Russian government.
The Professor appeared to have taken great interest in Papadopoulos after learning that the latter was working for the Trump campaign, according to the Statement of Offense released on Oct. 30 by the Justice Department.
Papadopoulos admitted to prosecutors that he had attempted to use these connections to set up a meeting between Trump and Russian President Vladimir Putin.
In April 2016, Papadopoulos was told by the Professor that the Russians had a cache of thousands of Hillary Clinton's emails.
These claims had come after Russian hackers successfully infiltrated the Democratic National Committee but a few months before the attack was made public knowledge in the United States.
Papadopoulos is the only known individual who has pleaded guilty in the Russia investigation at this time.
It has been noted by analysts at CNN and other news outlets that Papadopoulos also may have been cooperating with Mueller's investigation since July – when he was arrested – as part of a plea deal.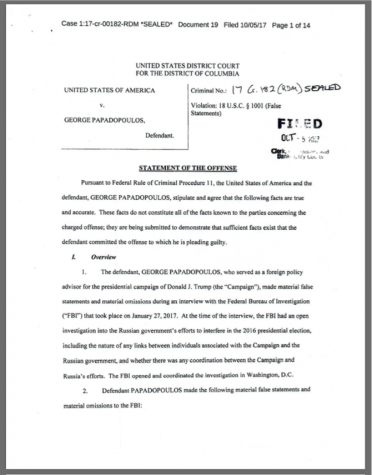 Jeff Sessions, the current Attorney General of the United States, was involved with foreign policy and national security during Trump's campaign and transition period.
Papadopoulos claimed in his statement that he had a meeting on or around March 31, 2016 with the foreign policy officials of the Trump campaign to discuss his interactions with the Professor and an unnamed Russian woman, claiming to be a relative of Vladimir Putin.
On March 3, 2016, Sessions was named chairman of the Trump team's National Security Advisory Committee, just weeks before the alleged meeting with Papadopoulos.
However, on June 13, 2017 Sessions testified before Congress, stating that the Russian collusion claim was a "detestable lie." Sessions also denied meeting with Russian Ambassador Sergey Kislyak at the Mayflower Hotel in Washington, D.C.
At the moment, however, many eyes still remain on Paul Manafort and Richard Gates, as the investigation deepens and moves into new territory.
A few sources told NBC News that the indictment does not rule out future charges against Manafort in the ongoing investigation. Manafort came on to work as Donald Trump's presidential campaign manager in March 2016.
In August 2016, Manafort resigned after coming under fire for his past lobbying efforts for pro-Russian Ukrainian oligarchs.
Inside a federal courtroom in Washington on Monday, both Manafort and Gates pleaded not guilty to the charges.
Manafort's lawyer Kevin M. Downing stated that the charges against his client were "ridiculous." Downing proclaimed Manafort's innocence during the same press statement.
At the White House on Monday, President Trump tweeted at 10:25 a.m., which read: "Sorry, but this was years ago, before Paul Manafort was part of the Trump campaign. But why aren't Crooked Hillary & the Dems the focus?????"
Three minutes later, he followed up with a second tweet, which read: "….Also, there is NO COLLUSION!"
According to a source speaking to the Washington Post, the President spent much of the day in the White House, watching cable news commentary on the indictments and calling his lawyers repeatedly.
All of these events come in the wake of President Trump's approval rating reaching an all-time low of 33 percent, according to a new Gallup survey.
The Justice Department has published the Manafort-Gates indictment online, which has also been distributed by the New York Times as of Monday morning.
Mueller's probe is currently ongoing at this time, and there have been no official words on an end date, despite many of Trump's backers calling for the investigation to end.
After their arraignment, Manafort and Gates were placed under house confinement, with a $10 million unsecured bond for Manafort and a $5 million unsecured bond for Gates.
Both men have surrendered their passports to the FBI and are awaiting the next hearing in the case, scheduled for Nov. 2 before U.S. District Judge Amy Berman Jackson in Washington.
Russian President Vladimir Putin and his aides have called the American investigation a political "witch hunt," denying any and all involvement in the 2016 presidential election.
---
To read the full Indictment of Paul Manafort and Richard Gates, as well as all of the documents related to George Papadopoulos, follow the link below to the Special Counsel's Office homepage, courtesy of the Justice Department: https://www.justice.gov/sco
Leave a Comment