Weekly update: News from the World Outside Wilmington
Quests for independence in Catalonia and Iraqi Kurdistan result in chaos, Bill Gates foundation donates $3 billion to eradicate polio, major candy companies reveal ties to rainforest destruction, deadly violence follows Kenyan presidential election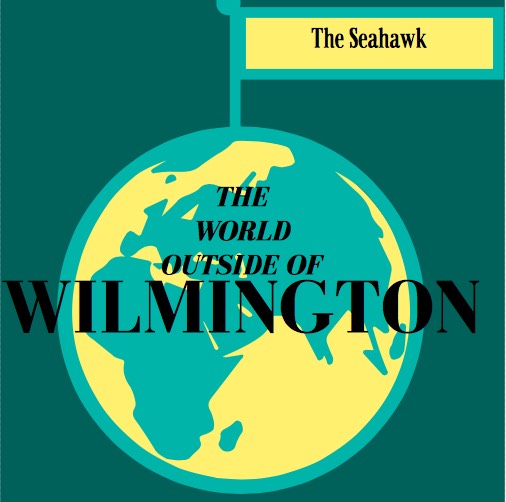 This article is one out of a weekly series by staff writer Tyler Newman titled World Outside Wilmington, which summarizes major events in international news.
---
Catalan parliament declares independence from Spain, Spain says "No"
On Oct. 27, the Catalan government in Spain declared independence in a parliament vote. Spain's constitutional courts ruled the vote illegal, despite the number who voted in favor of independence.
Of the 43 percent of Catalan citizens who voted in the September referendum, 90 percent were in favor of independence, according to reports from the BBC.
Following the parliament vote in Catalonia, the Spanish parliament took direct control over the region, dissolving the government and threatening to jail the ousted Catalan President, Carles Puigdemont.
On the afternoon of Oct. 29, hundreds of thousands of Catalans swarmed the streets of Barcelona, calling for Spanish unity. The anti-independence group who organized the event, Societat Civil Catalana, estimated crowd numbers at 1.3 million. However, Barcelona police only numbered the crowd at 300,000.
Catalonia regional elections are now set for Dec. 21, to replace the deposed President Puigdemont.
For reference, Catalonia as a Spanish province holds 19 percent of Spain's overall GDP, 25.6 percent of Spain's exports, 16 percent of Spain's population, and 20.7 percent of foreign investment, according to the Ministry of Economy, Industry, Competitiveness, the Eurostat and the Bank of Spain.
This situation is still ongoing.
---
Bill Gates foundation donates $3 billion to eradicate polio in the world
In a recent announcement at the fifth annual World Polio Day, Microsoft founder and billionaire philanthropist Bill Gates said "humanity will see its last case of polio this year."
The Bill and Melinda Gates Foundation has donated $3 billion toward eradicating polio by 2020, after joining the Global Polio Eradication Initiative.
With only 12 cases of polio known to man worldwide, in Nigeria, Afghanistan and Pakistan, Gates is optimistic for the future, saying that humanity is on track to eradicating the virus completely, approximately two years earlier than originally planned.
In 1988, polio was running rampant in over 125 countries, with 350,000 being reported paralyzed per year.
However, time is ticking, because if one child in the world remains infected, it could lead to a massive increase in polio once more, possibly spreading to 200,000 cases over the next ten years.
---
 Major confectionery giants accused of contributing to rainforest destruction
Confectionery giants Nestlé, Mars and Hershey have recently been accused of breaking pledges to stop using "conflict palm oil" from deforested Indonesian jungles. The news comes just days before the Halloween holiday when candy sales skyrocket.
The companies allegedly have not cleaned up their supply chains, which has been "deceiving" consumers, according to the Rainforest Action Network (RAN).
One of the last tracts of land in the Sumatran rainforest that is home to tigers, orangutans, elephants, rhinos, clouded leopards and sun bears is rapidly diminishing and ultimately disappearing, following deforestation by large palm oil plantations.
Palm oil is the most widely consumed vegetable oil on the planet and is in about half of all packaged products in a supermarket. Used in a wide variety of products ranging from lipstick to biodiesel, chocolate to shampoo and cookies to packaged bread, palm oil is grown only in the tropics.
Nestlé promised to end deforestation involvement in its supply chain by 2015 following a Greenpeace campaign in 2010. In early 2017, Nestlé reported to The Guardian that two-thirds of its palm oil supply could be traced back to the deforestation-causing plantations. In July, that number had decreased to 47 percent.
In September 2014, Hershey announced in a statement that they would source all palm oil directly back to the mill level instead of the plantation-level by 2015. They also stated to source all palm oil back to the plantation level by 2016. The latter goal has since been deferred till 2020.
Other major companies such as Pepsico, Unilever, McDonald's, Kellogg's and Procter & Gamble were reported to have been supplied palm oil from deforested land earlier this year.
PT Agra Bumi Niaga, the logging company responsible for much of the deforesting, has targeted a jungle region in Sumatra that was 420 hectares (a tad over 1000 acres) of protected Sumatran Elephant habitat in June 2016. In April 2017, that number was down to 88 hectares (217 acres).
The deforestation rate in Sumatra is among the world's highest. 
---
Iraqi Kurdistan president steps down after strong vote for independence from Iraq
Following an independence referendum on Sept. 25 in which many citizens voted in favor of independence, Iraqi Kurdistan President Massoud Barzani has stepped down.
Barzani claimed over three million votes were cast in favor of independence in September, but the region is still struggling against Baghdad to break free. Out of the 72 percent of citizens that voted, 92 percent voted in favor of independence.
Barzani had been a symbol of Kurdish nationalism for decades, according to the BBC.
Iraqi Kurdistan is the only autonomous region within Iraq, with Barzani helping to play a role in its creation in 2005 after the fall of Saddam Hussein in 2003.
Barzani supporters stormed the parliament building in Irbil, some waving Kurdish flags as they attacked members of parliament and journalists just outside.
The vote for Iraqi Kurdistan's independence was met with opposition from many world leaders, including those in Washington.
In the past few weeks, Kurdish fighters have suffered numerous defeats against overpowering Iraqi forces, which were dispatched as a consequence for the referendum. The Kurds have also lost oil fields and economic assets throughout the region.
This situation is still ongoing.
---
Kenyan presidential elections spark deadly violence
Deadly violence has broken out across some parts of Kenya following a repeat of the presidential elections.
In western Kenya, six people were killed, 13 injured and 86 arrested following demonstrators clashing with police. The demonstrators were supporting the opposition leader, Raila Odinga, who had withdrawn from the presidential race two weeks before the second vote.
In central Nairobi, the capital city, shops were burned in a neighborhood that was known as a stronghold for Odinga. Six people were injured there, including three with machete wounds.
The second presidential vote was held on Oct. 26, following the first Aug. 8 election.
Odinga had lost in the first election to President Uhuru Kenyatta, but challenged the validity of the votes. The first election was then annulled by the Kenyan Supreme Court, who cited irregularities and the possibility of a hack.
During the second election, about 10 percent of polling places were unable to open, although none of those polling places were in Kenyatta's areas, according to a report from Reuters.
Turnout to the October election fell to 35 percent, compared to 80 percent in August, harming Kenyatta's hopes for a decisive win to a second term.
At least 51 people have been killed so far in political violence across Kenya since August. However, most of those deaths occurred in clashes between protestors and the police.
Leave a Comment