Spanish Catalan independence movement makes history tangible to UNCW students abroad
Meredith Hoffman, Assistant News Editor
October 26, 2017
In Spain, a push for independence has persisted in the state of Catalonia, and there are many UNC Wilmington students studying abroad and seeing the Catalan independence movement firsthand, all experiencing different aspects of the complex political movement.
UNCW students studying all over Spain have seen different sides of the debate over Catalan independence. Much of Spain outside Catalonia remains largely against losing the Catalan region; these people have been protesting the choice for the Catalan government to host the referendum that held the decision for independence to a popular vote.
"I've only experienced one protest personally, but it was peaceful. There were some sirens to get people's attention, but the protesters themselves didn't seem too angry," said Makenzie Smith, a UNCW student studying abroad in Seville, a city in southern Spain.
Caroline Donlon is a junior at UNCW studying in Barcelona, the capital of Catalonia. Donlon lives in the city center of Barcelona and has experienced many of the protests, some of which occur just outside her window.
"[Protests in Barcelona] haven't affected my experience here in a negative way. I think it is really cool to actually be experiencing history right before me," said Donlon in an interview with The Seahawk.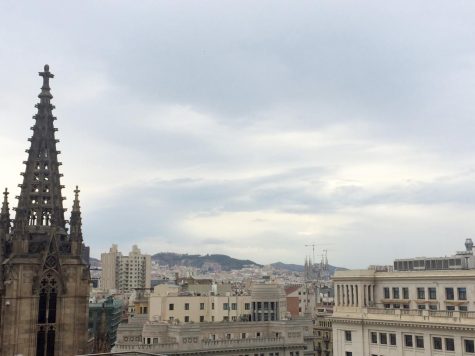 The Education Abroad Office on campus has been carefully monitoring the situation in Barcelona and is keeping in frequent contact with its students abroad, said the Director of Education Abroad, Kara Inman.
Catalonia is a region in northeast Spain with a history of separatist movements beginning with the fall of Francisco Franco's government in the 1970s.
The greater Catalan region has been a part of Spain dating back to the 15th century, but it has consistently maintained its status as a semi-autonomous state with its own flag, language and culture.
Beginning in 2008, Spain experienced a sharp economic downturn from the global recession, and the modern Catalan independence movement was then formed. Tensions in Catalonia grew largely from the frustration citizens felt that they were giving more than their fair share of resources to fund Spain as a whole.
In September 2017, the desire for independence grew into political action when protests in Barcelona gained international attention, and local Catalan officials began calling for a referendum to vote on whether or not Catalonia should secede from Spain.
Voting on the referendum began on Oct. 1, and 90 percent of the 2.26 million individuals who participated in the referendum voted to leave Spain.
The referendum was not approved by the national Spanish government but rather by the local Catalan government, and it was met with steep backlash in the form of violence against voters by national police and also by large public protests.
As many as 844 voters were injured by Spanish police at voting centers, reported The Guardian in the wake of the referendum.
The dichotomous nature of popular opinion regarding the referendum is based largely on region, but nevertheless it has resulted in similar experiences for UNCW students studying all over Spain.
The UNCW study abroad office advises students to "remain up-to-date on the news and current events and to be vigilant of their surroundings," said Inman.
At this time there has been no move by the study abroad office to bring UNCW students back to the United States early, and the United States Department of State has released no travel warning for citizens planning to travel to the Catalan region.