UNCW celebrates 70 years
Kyle Kissinger and Maddie Driggers
October 27, 2017
Wilmington College was established in September 1947, only accommodating 238 students when it opened. 70 years later, and after changing their name to the University of North Carolina at Wilmington in 1969, UNC Wilmington has grown and become the the home to over 16,000 students.
In partnership with the Association for Campus Entertainment (ACE), University Advancement put together a 70th Anniversary celebration in the Campus Commons on Tuesday, Oct. 25, featuring live music from Tumbleweed and The Hatch Brothers, cake, and refreshments. The event was originally scheduled for Sept. 12 but was postponed due to rain.
"We'll be celebrating the 70th anniversary all year long through different events on campus and the chancellor is really excited about the future and where everything's going," said Jordan Wilkins, Special Events Coordinator for University Advancement. "We're also encouraging current students to be involved in the 70th anniversary. They're gonna be future alumni, so they're starting to be the foundation of the university as well."
ACE, one of the largest organizations on campus, was asked to take part in the festivities to bring a student programming component to the event. Hannah Williams, concerts chair for ACE, says the celebration put a new spin on their monthly concert series.
"At the end of the previous school year, the office for University Advancement approached ACE to become a part of our Concert on the Commons series to get a band for them to celebrate the 70th year anniversary," Williams said. "The whole event is really just celebrating UNCW and the people that are a part of it."
The Hatch Brothers and Tumbleweed were both participants in last semester's Homecoming Battle of the Bands event. Paul Hatch of The Hatch Brothers is an alumni, and says his time at UNCW shaped who he is and where he's going.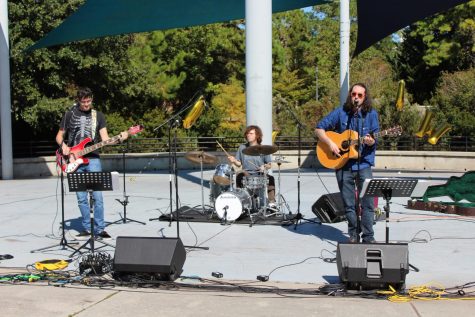 "I think UNCW has impacted our community," said Hatch. "What I loved about UNCW when I was going here was that it was community-driven. The internships and everything that I had here really impacted where I went and the path that I'm leading a little bit every day. It feels good to come back and play."
Alumni or not, those who come in contact with the university say they can feel how special it is and have a desire to give back. Lindsay LaRoy, Director of Alumni Relations and Executive Director of the UNCW Alumni Association, did not graduate from UNCW, but started working here in 2008. She describes how the Alumni Association decided to hand out free t-shirts to all faculty who are also graduates of UNCW and says giving back to alumni is one of her favorite parts of her job.
"Our role in the alumni office is to engage alumni back into the life of the university," she says "We have a little over 300 full-time alumni who work here at UNCW, so we wanted to find a way to honor them and their commitment back to UNCW."
With plenty more for current students and alumni alike to celebrate the 70th anniversary planned this year, LaRoy says she's excited to see the campus and the UNC Wilmington family grow.
"There have been so many stories that have come through and so many experiences that our alumni have had throughout their time at UNCW," LaRoy says. "That's truly the foundation on which this institution stands. So, every student who's walking around right now stands on the shoulders of those who have come before them. That's a pretty special story."