From cancer to Chi Omega: One student's uplifting journey
Every mother has a sixth sense. It's that gut feeling that something is not right; it's the badge of honor worn in the face of disaster; it's the defensive nature that enables moms to protect their young. And in Madison Schumacher's case, it's what saved her daughter's life.
_______________________
Elizabeth "Bizzy" Schumacher, Madison's oldest daughter, was rough-housing at a birthday party one wintry Saturday afternoon when she was tackled to the ground. While most 11-year-olds would act as a springboard, Bizzy, a spitfire by nature, instead felt paralyzed. Extreme pain wracked her body — from her shoulders to her lower back, Bizzy's joints were screaming.
She had complained of joint discomfort in the past, which had often been overlooked as growing pains. She was a competitive swimmer, and muscle soreness was typical of an athlete. A few months earlier, her family sought out a medical opinion on Bizzy's achiness, only to be told she had poor posture. But as Madison rushed to her daughter's side that day, all she could think was this isn't right, something's not right.
Bizzy arrived at Pediatric Associates in Florence, Kentucky on Tuesday for X-rays, in addition to PET scans, blood tests, and an MRI. As the results came in, pediatric physician Dr. Eric Bosley asked to speak with Madison — immediately. Abnormal blood work was the first worrisome test result, which led the physician to believe that Bizzy was suffering from a blood disorder or potential joint arthritis. But when the results of the PET scan came in, Dr. Bosley said that the scans could be hinting at a more extreme disease: cancer.
The PET scan showed activated sites on Bizzy's hip, spine and shoulders. However, the results were still uncertain. In order to confirm the disease that was lurking inside her body, a hip biopsy needed to be performed.
On December 23, 2010, the Pediatrician's office called the Schumachers with the biopsy results. With an optimistic heart and shaking hands, Madison answered the phone. It was on this day that her worst nightmare came true: Bizzy, at the age of 12, had cancer. Because of the holidays, Bizzy's parents did what they felt was best for the family and decided to keep the news private until Christmas had passed.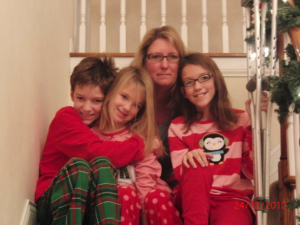 "Christmas wasn't Christmas," Madison said. "Every year I take pictures of the kids as they walk down the stairs, but that year, I jumped in the picture. I posted it on Facebook, and I remember a friend commented 'Madison, why do you look so grim?' And I remember thinking, you have no idea what's going on."
At the time of the first phone call, the doctors were still waiting to learn which type of cancer Bizzy had. On December 26, they confirmed that it was stage four non-Hodgkin's lymphoma.
Non-Hodgkin's lymphoma occurs when too many white blood cells are produced. Because of the stage her cancer was in, the results showed that it had spread all throughout her body, affecting her shoulders, back and hips. The same pain that a previous doctor claimed to be poor posture, was most likely the beginning stages of her cancer.
Within three days following Christmas, Bizzy's parents decided to break the news, especially now that they knew which type of cancer had invaded their baby's body.  Sitting on the couch in the living room one Monday afternoon, Madison grabbed her daughter's frail hands and told her that the doctor had called and the results were more intense than what was expected.
"We told her that she was going to the hospital and we didn't know how long we were going to be there," Madison said, wiping a tear from her cheek. "Her first question was, 'Am I going to lose my hair' and her second question was, 'Am I going to die?'"
Upon being told she was sick, Bizzy describes herself as empty. She went days without eating and speaking. But as more time passed and she had a chance to absorb what was going on, her emotions shifted.
"I started to get scared, and then I was just heartbroken," Bizzy said.  "And not even just for my own life, but for the way this was going to affect everyone around me."
_______________________
The family checked into Cincinnati's Children's Hospital on December 28. The hospital was among the top three programs for pediatric oncology and only a short ride from the family's home in Kentucky.
For the next nine months, Bizzy's room in the pediatric oncology wing would become her new home.
A5 South was Bizzy's room assignment. She was surrounded by white walls; a brown comforter lay across her bed and was covered with stuff animals; her visitors often sat in the tan rocking chair that sat within inches of her bed.
As the patient's time in the hospital grew longer, so did the clutter in her room. Postcards and notes lined the walls, her desk was covered with a variety of games and toys, and a nightstand filled with different sweets — and her favorite designer animal crackers.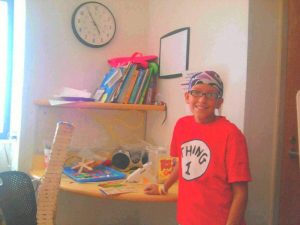 In an attempt to normalize her new world, Bizzy's middle school teachers accommodated her every step of the way. They agreed to Skype her into class to prevent her from falling behind. School work was delivered and she did her best to stay on top of assignments. And though her family appreciated their academic support, it was the community's outpouring love that meant the most to them. T-shirts were sold and fundraisers were held in Bizzy's honor. Over the span of the year, the community raised 18 thousand dollars to help the family with medical bills that would eventually amount to 2.1 million dollars.
Bizzy felt the support throughout it all. Between the love she received from her family and community and the relationships she built with her doctors, she was comforted every step of the way. The young patient was constantly praised for her courage and positive energy.
Madison beams with pride as she remembers a conversation she had with Bizzy's nurse: "I have been here for 15 years and I can count on one hand the kids that have made a real difference on this floor, and Bizzy is one of those kids," the nurse said. "It's a different place. The kids are happier. She makes a difference when she's here."
But nothing could have prepared the 11-year-old for chemotherapy.
_______________________
The first six months of treatment was vicious on her body. Bizzy underwent one month of chemo followed by one week of rest. Spurts of violent vomiting and bloody urine took a drastic toll on her body. But of all the side effects that tormented her, it was losing her hair that left Bizzy mentally defeated. She recalls waking up one morning and seeing clumps of hair on her pillow. She couldn't run her fingers through her hair without strands falling to her shoulders. In a society that capitalizes on outward beauty, the impressionable young girl felt ashamed of her appearance.
"It was hard to go visit my school [because] my friends could see that I was sick, that I was not normal," Bizzy said. "A lot of times people would be like 'oh, who's the boy?' I was in middle school, I was supposed to be growing into a young woman."
Though she felt helpless at certain points,  an unexpected opportunity presented itself and reignited that spark in the patient her family and nurses adored.
A representative from the Make-A-Wish Foundation visited Bizzy and her mom one day during treatment. Make-A-Wish grants wishes to children with life-threatening illness all over the world. Whether a child is in the beginning stages or nearing the end, he or she is eligible to be sponsored by the foundation.
Bizzy qualified to have a wish granted; all she had to do was pick something she wanted. Sitting in her hospital bed, staring at the two women, her first response came without thought: Bizzy wanted to sponsor a mission trip to Haiti.
Tears swelled in both her mom and the Make-A-Wish representative's eyes. Neither of them had ever heard someone so young respond so selflessly, and without the slightest hesitation.
Madison wrapped her daughter in her arms and told her that she had the opportunity to help people any day — this wish was all about her. For the next few days, Bizzy sat on it before ultimately making a decision: she desired adventure and wanted to see the world. And a few months before they set sail, her remission was confirmed.
_______________________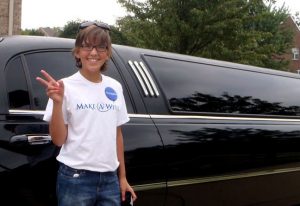 In July of 2012, the family set sail for a two-week Mediterranean cruise. Their adventures began when they flew out of Spain, and they explored parts of Italy, Greece, and Turkey by boat. In an article for Make-A-Wish, Bizzy shared that the cruise was an incentive and a huge motivator to get better and not give up.
Since entering remission, a lot has changed for the Schumachers. They now live in Chapel Hill, NC, which is only a short ride to Bizzy, who is now a first-year student at the University of North Carolina at Wilmington. She is pursuing a bachelor of science in chemistry and plans on attending medical school after graduation. She always knew she wanted to go into medicine, but after her time in the hospital and the relationships she built with her doctors, she is certain that becoming a pediatric oncologist is the path she is meant to take.
Bizzy plans on joining the rugby team, a sport she has never played before. And as if her 18 credit hour course load and a new spot on the rugby team didn't keep her "bizzy" enough, she recently accepted a bid to the sorority Chi Omega, an organization she deeply connects with.
Not only is Bizzy's mom alumnae from the University of Kentucky, but Chi Omega's philanthropy is the same one that helped save Bizzy's life: Make-A-Wish.
"I remember walking into philanthropy round and being so excited," Bizzy said.  "Make-A-Wish is my thing. I knew right away that this was the place I needed to be."
In 2002, Chi Omega established an alliance with Make-A-Wish and has donated millions of service hours and dollars to the foundation.
One Saturday in September, Chi Omega hosted their annual golf tournament, Wish Upon A Par. Later that evening, the members and their parents gathered at Shell Island Resort to socialize and celebrate the success of the golf tournament.
Bizzy sits with Madison and the rest of the Schumachers at Parent's Dinner. There's a happiness that washes over their table; conversation remains lively and constant the entire evening.
"There's a sweetness to it," Madison said. "I tried not to push her that way, but of course I was biased the whole time she was going through recruitment. My mom was a Chi O, too…it was just in her blood."
So until Bizzy can save other kids' lives as a doctor, she'll have to settle for granting wishes.