Weekly update: News from the World Outside Wilmington
Nuclear war coming from North Korea?, No more statutory marital rape in India, Somali bomb results in deaths of 100s, Chaotic European Hurricane Ophelia, Myanmar refugee crisis continues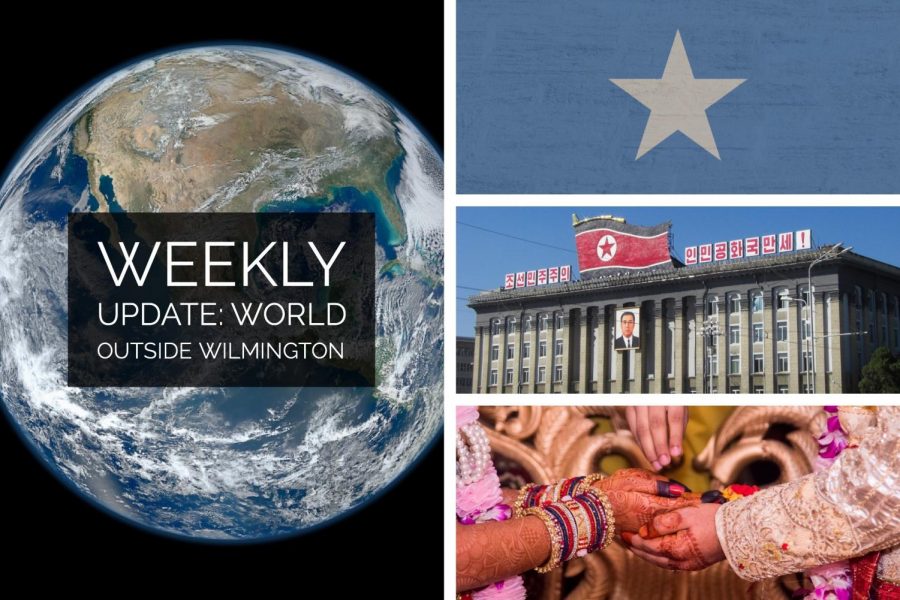 Tyler Newman, Staff Writer
October 19, 2017
This article is one out of a weekly series by staff writer Tyler Newman titled World Outside Wilmington, which summarizes major events in international news. 
North Korea's latest war of words: "The entire U.S. mainland is within our firing range"
North Korea's deputy U.N. ambassador issued a warning Monday that the current situation on the Korean Peninsula "has reached the touch-and-go point and a nuclear war may break out any moment."
Kim In-ryong spoke before the U.N. General Assembly's disarmament committee and said that North Korea is the only nation on Earth that has been subjected to "such an extreme and direct nuclear threat" from the United States, which dates as far back as the 1970s.
"The entire U.S. mainland is within our firing range," Ryong said, "and if the U.S. dares to invade our sacred territory even an inch it will not escape our severe punishment in any part of the globe."
On Monday, Russian President Vladimir Putin stated that his nation is reducing its economic and scientific ties with the rogue state, falling closely in line with United Nations sanctions.
The European Union also announced fresh sanctions on North Korea for developing weapons of mass destruction, including nuclear weapons.
U.S. Secretary of State Rex Tillerson stated Sunday that diplomatic efforts involving the North Korean crisis "will continue until the first bomb drops." This statement comes two weeks after President Donald Trump tweeted that Secretary Tillerson was "wasting his time" attempting to negotiate with North Korea leader Kim Jong-un.
---
Indian Supreme Court strikes down statutory marital rape
The Indian Supreme Court has struck down a law that allowed men to have sex with children as young as 15, as long as they were married.
Indian child protection laws prohibit adults from having sex with someone below the age of 18, but the criminal code previously included an exception for couples that were married.
Early marriage is an important part of the traditions of many Indian communities, though the "gauna" ceremony, when the wedding in consummated, is usually delayed until the girl reaches puberty.
According to a report published by the Times of India, rural Indian girls reach puberty at an average age of 15 to 16. However, in cities, girls can reach puberty as early as 8 years old.
In India, an average of 46 percent of women between the ages of 18 and 29 are married before reaching legal adulthood, according to a report from The Guardian.
Before the law was struck down, a 17-year-old-boy who had consensual sex with a girl his age would be charged with statutory rape, however a 50-year-old man who had sex his 15-year-old wife would be innocent.
"We are left with absolutely no other option but to harmonize the system of laws relating to children," Justice Madan Lokur said in his decision.
---
Bombing in Somalia leaves hundreds dead
At least 350 people have been reported dead and nearly 400 were injured after a truck bomb exploded in the center of Mogadishu, Somalia on Oct. 14. The bombing's blast generated heat so intense that bodies may not be found, and victims are continuing to be dug from the rubble.
The blast area covered hundreds of meters in the center of the city, which was down the street from the Ministry of Foreign Affairs.
International condemnation followed the bombing, Somali officials reported Oct. 17 that the attack was carried out by the extremist group al-Shabaab. No official claim has been made yet.
Al-Shabaab is a fundamentalist Jihadist group from around the Horn of Africa, loyal to Al-Qaeda, and has launched bomb attacks against civilian targets since 2011.
The attack is the worst terror attack in Somalia's history, and according to the Associated Press, it may be the deadliest attack in the entire Horn of Africa region.
"Al-Shabaab do not care about civilian deaths," said Rashid Abdi, an expert in Somalia with the International Crisis Group in Kenya, according to The Guardian.
"They see a population that is close to the government and think the more of them they can kill the better."
---
Hurricane Ophelia causes chaos in Europe
On Monday, post-tropical storm Ophelia struck Ireland and the United Kingdom, killing at least three people.
Hurricane-force gusts approaching 100 mph slammed the southern coast of the Republic of Ireland Monday morning, and two of the three killed died when trees fell on their cars. The third victim died in a chainsaw accident while attempting to remove a tree that had fallen during the storm.
360,000 homes throughout Ireland were reported without power, along with thousands of homes and businesses throughout Northern Ireland and Wales, both in the United Kingdom. 15,000 households in the province of Northern Ireland were told to prepare to spend Monday night without power.
The storm was then projected to cross Scotland and impact Dumfries and Galloway. Wind gusts were recorded to be up to 73 mph in Southwest Scotland. Police in Scotland and the Dumfries and Galloway Virtual Operations and Support Team have reported roofs blown off of homes, fallen trees and other damage since the storm has moved in.
Cork City FC's football stadium and a nearby school gym both had their roofs blown off, the latter being caught on video.
Ophelia, now the easternmost major hurricane in the Atlantic basin on record, has been pulling up air on its eastern side. This air has been drawn from southern Europe and North Africa, which fanned the flames of burning fires throughout Portugal and Spain. The fires were ignited by a dry landscape left behind from a hot summer.
In London, the dry air brought up from the south has included dust from the Sahara Desert, leaving the city and much of the United Kingdom under orange and sepia colored skies, while the sun shone red above. Iconic landmarks such as the Waterloo Bridge, Big Ben, the London Eye and the Palace of Westminster sat before a stunning backdrop of a dusty, apocalyptic sky throughout much of Monday.
The remnants of Ophelia are expected to drift towards Norway on Tuesday and dissipate over the North Sea. 
---
Myanmar genocide and subsequent refugee crisis continues
The Rohingya Muslim crisis in Myanmar has continued throughout the past few weeks, as new reports from the region are emerging.
More than 537,000 Rohingya refugees have fled to Bangladesh refugee camps over the past seven weeks, according to the United Nations [U.N.]. It is estimated that roughly 800,000 Rohingya in total are now living in Bangladesh.
According to a new report from the New York Times, survivors from the violence in Myanmar are saying that they have seen government soldiers killing and gang-raping children, and burning whole families alive.
The U.N. has called the Rohingya crisis the world's "fastest developing refugee emergency." But for Bangladesh, the large number refugees streaming across the nation's border has been allowed with unease.
At border camps in Bangladesh, Rohingyas now wait in line to receive temporary IDs. Their photographs are taken, biometrics are recorded, and all important information is put onto cards to make the refugees easier to identify. This process is not just for the new refugees but for all of the Rohingyas who have entered Bangladesh.
For the first time in their lives, many Rohingyas now have identities that are their own.
Meanwhile, some throughout Bangladesh have discussed other options. Whether it be arming the Rohingya or going to war with Myanmar, religious members in the south Asian nations prepared to fight.
For now, however, the Rohingya will remain in Bangladesh, the only nation that has offered to house the persecuted minority.