Seahawk snack: mac and cheese
Start to Finish: 30 minutes
Servings: 8
Difficulty level: Low
Effort required: Medium
Price point: Low
Good for: munchies, comfort, carb-loading, lazy Saturdays
Ingredients
3 cups uncooked pasta shells
2 ¾ cups shredded sharp cheddar, divided
2 ¼ cups milk
¼ cup flour
5 tablespoons butter or margarine, divided
½ tablespoon garlic or regular salt
Pepper to taste
1 cup plain bread crumbs
½ cup cooked bacon, crumbled (optional)
½ tablespoon mustard (optional)
Instructions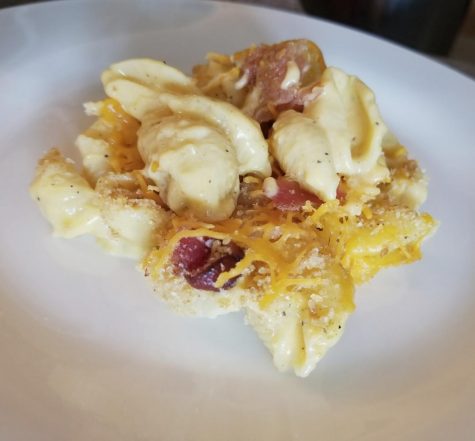 Preheat the oven to 500° F and lightly grease a glass baking dish.
Cook the pasta shells in boiling water according to package directions or for approximately 10 minutes. Drain and set aside.
In that same pot, melt 3 tablespoons of butter over low heat. Add in the flour and stir until smooth.
Gradually stir in the milk. Once added, turn the heat up to medium and cook until thickened. Add in the mustard, salt and pepper to taste.
Add in 2 cups of the cheddar and stir until nice and melty. Remove from heat.
Pour the cooked pasta into the prepared baking dish. Pour the cheese sauce over the pasta.
Sprinkle the crumbled bacon evenly on top of the casserole and sprinkle the reserved ¾ cup cheddar on top of that.
Melt the remaining 2 tablespoons of butter and add it to the breadcrumbs. Toss to coat, and sprinkle the crumbs on top of the casserole.
Bake the casserole for 10 minutes until golden brown and bubbly. Serve and enjoy.