UNCW SGA, Upperman holds discussion on Charlottesville and equality
Discussion aimed at helping students gain perspective, understand nationwide issues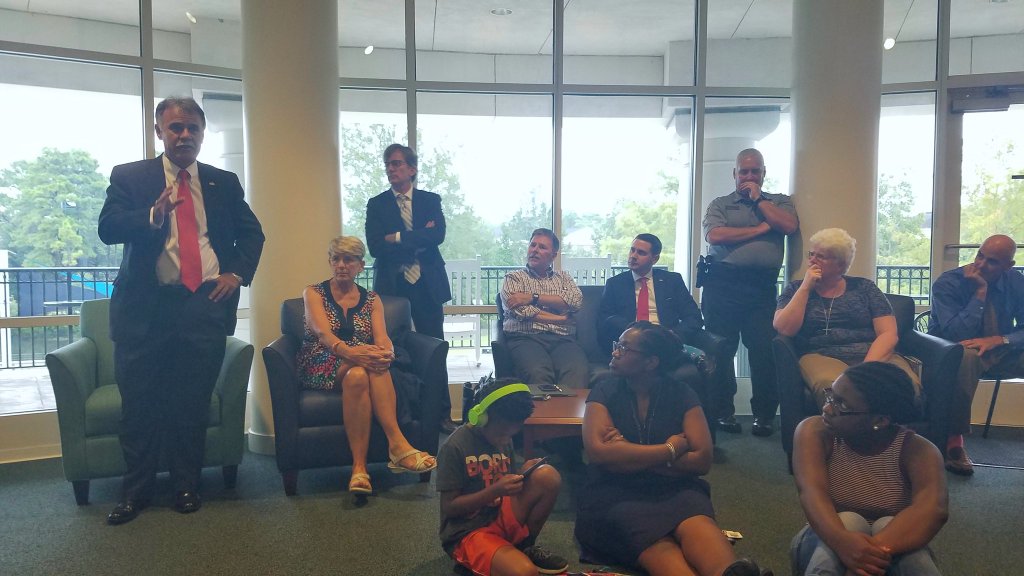 Noah Thomas, Sports Editor
August 17, 2017
Students and faculty of the UNC Wilmington community gathered Thursday evening in the Fisher Student Center to discuss last week's protests in Charlottesville, Va.
The protests, which originally began in response to the removal of Confederate monuments in the city, quickly evolved into what is being called the "Unite the Right" rally organized by white nationalists and neo-Nazis. Protesters were heard chanting anti-Semitic and racist phrases such as, "Jews will not replace us," and "White lives matter," while carrying torches and sporting swastikas on their clothing.
The protests and subsequent counter-protests soon became violent, resulting in the death of one civilian. Criticism from both sides of the political spectrum soon followed, including near-universal panning of President Donald Trump, who was initially reluctant to condemn white nationalism. He instead opted to blame all involved, saying there was fault to be found "on both sides."
UNCW Student Body President Ottillie Mensah organized Thursday's open discussion in collaboration with the university's Upperman African American Cultural Center. Mensah preceded the discussion with a letter to students on Wednesday that referred to the events in Charlottesville as "heinous acts of bigotry and racism that still permeate throughout our country."
Mensah and Upperman wanted to provide students and staff with an opportunity to discuss issues involving Charlottesville and how they relate to Wilmington and the surrounding area.
"The goal of tonight's meeting was to give students an outlet to discuss and come to an understanding of everything that happened surrounding Charlottesville," Mensah said. "The administrators hear these concerns, but they aren't aware of where it's coming from – so this allows them to empathize with us as students and know where to go from here."
Questions raised during the discussion included how the Wilmington community felt about what happened in Charlottesville, how UNCW would respond to similar protests if they were to occur on campus, and what it means for Americans to be truly equal.
Those in attendance tried their best to answer these questions. Contributions to the discussion came from throughout the university, including Chief of UNCW Campus Police David M. Donaldson, Chancellor Jose V. Sartarelli, students, and staff.
UNCW senior and education major Kendall Thompson said she attended Thursday's gathering to gain perspective from her classmates regarding the issues the discussion would be based around. She said she wants to use what she learned to help teach her students about equality and perspective when she becomes a teacher after graduation.
"As a future educator, I feel education is empowering," she said. "The position of influence that comes with being an educator – you're put into a position on many lives at one time and on a daily basis. I feel like there's no better way to have these conversations than to include them in lesson plans."
According to moderator and associate professor Glen Harris, the endgame of the discussion was to make sure Thursday would not be the last conversations held by UNCW on equality and other national issues.
Harris made sure students were given ample time to speak productively and get their points across. He ensured the discussion remained civil between all parties involved and that apologies for holding a differing opinion were not necessary.
"What I wasn't going to settle for was to have this turn into a talk fest," he said. "As long as we have some solutions about what we can do as a group or what we can do individually about changing ideas and changing perspectives by the time we got to the end of this, then I'm happy with that."
It was announced at the discussion's conclusion that similar meetings will be held throughout the school year. Students were reminded that UNCW faculty are always available if they need someone to speak with and were encouraged to reach out at any time.
Sports Editor Noah Thomas can be found on Twitter @iNoahT.  Any tips or suggestions should be forwarded via email to [email protected]