Assault on campus: Out in the open, in broad daylight
Casey McAnarney, Editor in Chief
April 20, 2017
Prior to 3 p.m. on Monday, April 17th on the sidewalks between Cameron and Dobo halls, a female student was assaulted by three male subjects according to an email sent out by the UNCW Campus Police via the Office of University Relations.
The mass email sent out to students stated, "Shortly before 3 p.m. today, three male subjects assaulted a female student who was walking on the sidewalk between Cameron and Dobo Halls. The student was not injured and the subjects fled immediately after the interaction."
Upon further interviewing, Assistant Chief Chris Bertram confirmed that the assault was physical in nature and, according to the UNCW crime log, the "Female subject reported being grabbed by 3 unknown male subjects while walking on sidewalk."
Asst. Chief Bertram also confirmed that, "We do not know if [the assailants] were students or not, they have not been identified."
Around this time, an individual on social media posted stating that allegedly five total assaults occurred on campus. According to Asst. Chief Bertram, that cannot be corroborated seeing as only the one incident was reported to the police.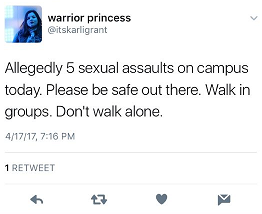 "There were no other assaults reported to the police," Asst. Chief Bertram said. "I do not know where that other information came from but there was only the one incident."
The Seahawk lifestyles editor, Elizabeth Heglar, first reached out to Karli Grant and asked where she got this number, to which Grant replied that she heard it from a coworker. The Seahawk's individual Twitter reached out to Grant for a name of the coworker that stated this allegation and are awaiting a response.

Ultimately, the UNCW police want to reiterate the importance of safety for students. Asst. Chief Bertram urged any student to try to be aware of their surroundings at all times.
"Too many walk with their heads down, looking at their phones or tablets which makes them susceptible to someone coming up on them without them being aware of it," Asst. Chief Bertram said. "As for bystanders, if they see something happening they need to call the police."