The WatchHawk: Week nine of Trump's administration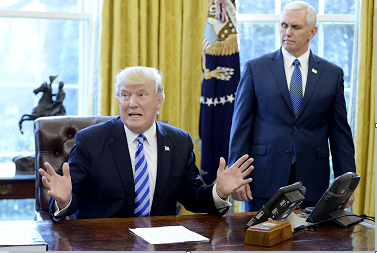 Hang on for a minute...we're trying to find some more stories you might like.
Healthcare Bill a Bust
The aftermath of the healthcare plan has many on the edge of their seats, questioning how President Donald Trump and his administration will handle the loss. According to CNN, Vice President Mike Pence defended the plan to repeal Obamacare by stating, "Congress was not ready to repeal Obamacare."
However, many are wondering if this bill was truly a better alternative to Obamacare. According to CNN, 10 key benefits would no longer be covered by the federal government. These health benefits at risk include the following: mental health/addiction, maternity, prescriptions, emergency services, hospitalization, rehabilitation, labs, ambulatory services, pediatric services and preventive care.
CNN also reported that Paul Ryan met with Trump and informed him that they do not "have the numbers" to support this bill. Despite the potentially grim outcome, Sean Spicer stated, however, that the vote was still on for 3:30. Spicer also stated that President Trump was aware that this was "not about negotiating" at this point, reported CNN.
However, Trump's confidence must have wavered. According to CNN, President Trump requested to pull the bill without a vote due to lack of Republican support.  While many are surprised by Trump's actions to pull the bill, others are questioning what his next actions towards health care will be.
Trump also seems to not be giving up the fight as he tweeted on Saturday, "ObamaCare will explode and we will all get together and piece together a great healthcare plan for THE PEOPLE. Do not worry!" No one is quite sure when the Trump administration will take another stab at healthcare.
An Unexpected Guest
White House security got an unpleasant surprise this week when a woman attempted to sneak in, claiming that she was there to speak to President Trump, reported CNN. The woman, identified as Marci Wahl, did not make it very far in her attempt to enter the White House.
According to CNN, the Secret Service reported seeing Wahl scope out the White House complex and walked the fence before jumping over it on the south side of the complex. When authorities responded, they found Wahl hanging inside the fence due to her shoelaces being caught.
CNN also reported that Wahl was arrested and taken to a nearby police station after refusing any medical treatment. She also was completely unarmed when she attempted to gain entry to the White House grounds. Wahl is the third person who has been reported for attempting to enter the White House unauthorized in the past month.
Let there be Oil
President Trump announced on Friday that the Keystone XL pipeline was approved by his administration. This approval will reverse former President Barack Obama's decision to not move forward with this oil project.
This announcement was made after the State Department issued TransCanada's Permit, making it so the Canadian company can construct a pipeline that funnels oil from Canada to Gulf Coast refineries, CNN said. In January of 2015, the State Department issued a statement claiming that this construction project would create roughly 42,000 jobs and provide 50 permanent jobs.
While Trump is making good on his promise to help provide jobs for American people, some are critical of this decision due to potential environment impacts. According to CNN, this pipeline supports the extraction of crude oil from oil sands, which creates 17 percent more greenhouse gases than standard crude oil extraction. CNN also reported that this pipeline will cut accord the Ogallala Aquifer, which is one of the world's largest underground deposits of fresh water, thus raising concerns in regards to potential leaks and clean fresh water.