The SheHawk: He's my best friend and I'm not sorry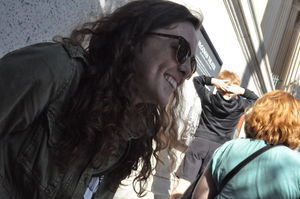 " class="catboxphoto" />
Hang on for a minute...we're trying to find some more stories you might like.
I will never understand the negativity surrounding being close to your significant other. I have been with my boyfriend for almost three years now and my gosh if I didn't call us close by now then we'd have a serious problem. You know that saying about marrying your best friend? Well, if you want my two cents, it's one hundred percent true. You should be with someone who understands you and makes you laugh uncontrollably.
I hate when people feel like they need to remind me that my "girlfriends" are important, too. Uh, hello, yes, I know that, but I am certainly not going to apologize for wanting to spend time with my boyfriend. He might be my boyfriend, but he is also my best friend. That is no slight to my other friends, I love them too, but I think it is fair to say that it is a different kind of love.
I love my friends like siblings. We can laugh together, have inside jokes and, of course, fight like all friends do, but I always know they'll have my back regardless. But, I love my boyfriend in a whole different way. I can't explain what it feels like to love someone like that. You have to feel it to understand it. They somehow just "know you" almost like that one person was made just for you. Loving someone the way I love him is something I cannot explain, and frankly, I am not going to try. But, trust me, you know. It might sound clique and corny, but you really do know when you've meet your other half.
How could you not be best friends with your other half? It is kind of weird to me when I hear people say that relationships are work. If they are really the person for you, it won't be work; it'll be hard some days for sure, but not a chore. It's something you wake up everyday wanting with every ounce of your being to be a part of, even when you fight or have bad days. But if they are really for you, you'll feel like they're the best friend you have been searching for your whole life.
I hate it when people say things like, "your friends will still be there when he isn't." I used to get so upset when people said that to me, but then I realized it is because they aren't dating their best friend. If they understood and felt the way I did, they obviously would have no reason to make that comment. Not to mention, friendships end, too. I can remember friendships in my past falling apart and feeling utterly heartbroken. Nothing is for sure, I get it, but that includes friendships.
All I am saying is enjoy being in the company of someone that makes you happy, even if it is truly temporary. If your girlfriends are real friends, they will understand that it is nothing against them. They will support you, listen when things get hard and be there if things do ultimately end. Of course, always make sure you have time for the ladies in your life, too. Balance is key, as it is in most aspects of life.
But, don't you dare apologize for being best friends with your boyfriend. Don't apologize for giving them your time and certainly don't apologize for wanting to spend time with them. The whole point of being in a relationship is wanting to be with each other through the good, the bad and the ugly. No one has the right to judge you for that, because let's face it, everyone wants to be loved like that. So, being best friends with your significant other is nothing to be ashamed of, it's something to celebrate.
I'm best friends with my boyfriend and not a day goes by that I am not grateful for that. He's supportive, loving and knows everything about me, even the things I don't realize about myself. He makes me a better, happier person. Ultimately, I could care less if someone judges me for that. I enjoy having him around and laughing with him. I am not going to be sorry for loving someone or wanting to be around them.
I have the right to call him my best friend, regardless of what others think. Don't be ashamed of being happy with someone else, just because others cannot appreciate it. Do what you want, with who you want, because at the end of the day, the only person you have to face is yourself. Make sure that when you do, you like the way you are living your life. Settle for nothing, whether that be in relationships or anything else.