Psychology professor Dr. Pond is the definition of passionate teaching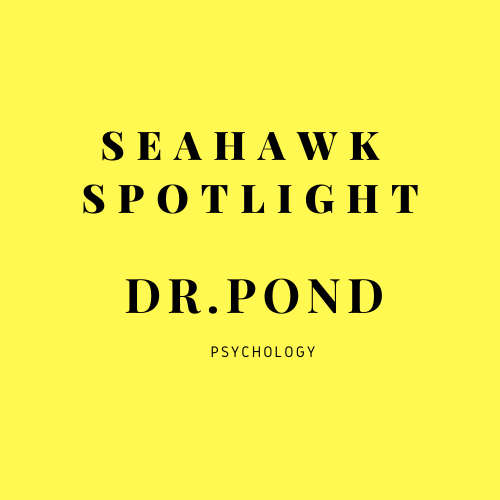 Alejandra Rodriguez-aguero, Contributing Writer
February 16, 2020
On top of raising chickens, beekeeping, defeating possums (long story) and raising a bright 7-year-old, Dr. Pond is an assistant professor for the UNCW Psychology Department.
Dr. Richard Pond has been at UNCW since August of 2013, this being his first teaching position outside of graduate school. He is married to Dr. Jamie Pond of the sociology department. When asked what he loves the most about teaching, without hesitation, he said his favorite thing is getting to know the students. This resembles what his former student, Tyler Fizer ('21), thinks of him.
"He was as down to earth and relatable as a professor can be. He made you feel like a part of the family every time he stepped into class," said Fizer. "You could really hear the passion he has for both teaching and statistics."
Dr. Pond says he especially gets excited when he encounters those that are eager to get the class going and are motivated to talk.
If Dr. Pond does not already seem like the foremost professor ever, the work he does in his lab will, without a doubt, sets him apart.
In his lab, Dr. Pond aims to understand violence and aggression from three different approaches. One, he wants to study emotion processes and how people's abilities to regulate can lead to less impulsivity. One trait he is really interested in looking at is emotion differentiation which is related to emotional intelligence and how well people talk about their emotions. The second approach is that of social, non-romantic relationships (i.e. strangers, acquaintances, and such). This approach mostly has to do with how people deal with social rejection. A focus is people's resilience to rejection and how people use humor to cope. Lastly, there is the self-control approach. This has to do with how having better self-control, in general, means one should be better at regulating.
An interesting finding, however, is that those who are better at regulating might not react impulsively but rather, plan these aggressive acts out. Evidently, his work is crucial to understanding society.
In the upcoming years, he hopes to get his community psychology course off the ground and to achieve full professorship. Both events would be monumental, but he does not seem to stress too much about the future because he is a "take every day as it goes" kind of person.
This all goes to prove that Dr. Pond is standard deviations (statistics humor alert!) above the rest.
Just so that one can get a better idea of the kind of professor Dr. Pond is, two of his former students were asked about what they liked about him as not only a professor but as an individual—they had nothing but kind words to offer.
"As a person, he is someone who always has a positive attitude. No matter what is going on, he continues to smile. I would have to say that my favorite thing about him as a professor was his willingness to make sure his students succeeded," said Brittney Crew-Hicks ('21).
Celeste Patino ('21) seemed to summarize Crew-Hicks and Fizer's words, "Entering as a transfer student was terrifying; I thought all professors were systematic. Dr. Pond proved me wrong. One word to describe Dr. Pond is charisMATHtic; he is passionate about the material, and he makes the class and the students feel like family."