CARE hosts Denim Day: "Show you care by what you wear"
All over the world, millions of women begin their day by putting on a pair of blue jeans. They expect that they will have a normal day and that they will be able to be safe and live without fear, but Denim Day reminds everyone why wearing denim is not only an everyday event, but a powerful statement for people who have experienced sexual assault.
Denim Day was hosted by UNC Wilmington's CARE Office on campus on April 24, 2019, and peer educators from the office passed out stickers to spread knowledge on consent and sexual assault. This year, CARE passed out ­­­­­400 stickers to students on campus. The stickers show a pair of blue jeans and the line "Show you care by what you wear."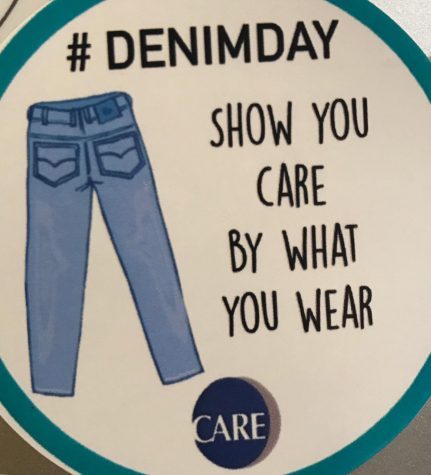 Denim Day originally began in 1992 after an 18-year-old student brought rape charges against her 45-year-old driving instructor. The case had a long history in court spanning several years, and the driving instructor was first charged with indecent exposure in a public place. This sentencing was appealed, for which the man was convicted on all charges, and then, the rape charge was overturned in 1998. The reasoning behind the overturn was that her jeans were too tight to have been taken off by another person, and that she would have needed to help him.
Denim Day started as an protest in Italy and quickly gained a worldwide following with women and and sexual violence prevention, education and intervention groups as well. Women in the Italian Parliament began wearing jeans as a form of silent protest against the ruling, and in 1999 a group of women in the California Senate and Assembly followed as well. After this, Peace Over Violence, which is a nonprofit based in Los Angeles, started "Denim Day" as a official day-long protest in April. UNCW's CARE office originally began sponsoring Denim Day in 2011.
It is also important for students to note that Denim Day is for all people who have experienced sexual assault or violence in some way. The reality for many women and men on college campuses can be grim and discouraging. According to the National Sexual Violence Resource Center, or NSVRC, "One in 5 women and one in 71 men will be raped at some point in their lives," and "More than 90% of sexual assault victims on college campuses do not report the assault."
The NSVRC also states that "In 8 out of 10 cases of rape, the victim knew the person who sexually assaulted them," and "In nearly 6 of 10 sexual assaults occur in the victim's home or the home of a friend, relative or neighbor."
Despite the statistics on sexual misconduct on campuses across the nation, CARE is a great resource for anyone has experienced sexual assault or violence. As stated on their website, CARE is "UNCW's program for the prevention of and response to interpersonal violence and the campus resource for healthy relationships." They are a resource to all students that is confidential, and one that doe not have to report cases of sexual misconduct. Students can go here for any type of counseling when looking for a safe place.
For anyone on campus that needs an emergency consult with the CARE office, the phone number for their after-hours line is 910-512-4821.