All Student Show winners highlight student life and anatomy
UNC Wilmington opened the annual All Student Show in the Ann Flack Boseman Gallery on Feb. 28, 2019. Over 50 students submitted their work to a jury that selected a wide variety of student art from drawings, sculptures, ceramics, paintings, photography and more. Some main themes found in the exhibition are marine life, colorful illustrations of nature and abstract designs.
Depictions of interesting women and the female body are also popular in the exhibition. Studio art major Loraine Scalamoni's pastel piece "Classic Repose" won the honor of best in show for its illustration of a nude woman faced away from the audience leaning on chair. The piece shows vulnerability and the beauty that lies within the female body from a non-sexualized perspective. Scalamoni has two other paintings displayed in the gallery, one of which, named "The Conversation," won the Purchase Award as well. That piece, as well as Scalamoni's third piece, "Wrightsville Beach Coquette," focuses on realistic women as well.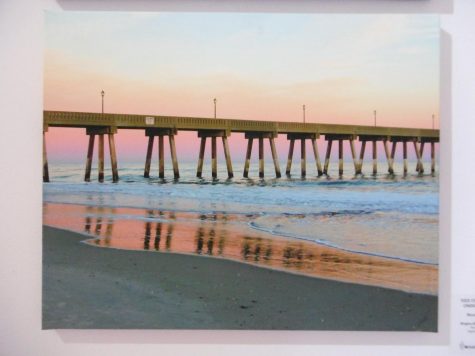 Another exhibition winner, Mindy Phillips, won one of the Vice Chancellor for Student Affairs Award for her photograph "Wrightsville Beach Sunset." Phillips is a digital arts major and staff member at UNCW. Her love of the beach inspired her photograph; she is often there from sunrise to early afternoon snapping pictures.
"To me [the photo] looks like a perfect day at the beach, so when I am not able to be there, I can look at my print, and it brings that feeling back," said Phillips.
Phillips remembered wanting her first camera at age seven. She loved nothing more than exploring and taking photos of wildlife in its natural habitat, which contributed to her winning photograph.
Lemuel Heida is another artist that incorporated nature and natural materials into his piece. His sculpture "Nested," made from reclaimed wood, steel and found objects, come together to form a bird's nest and won an honorable mention at the showing. Heida began taking photos and creating art as a means of expression and outlet to deal with depression and PTSD.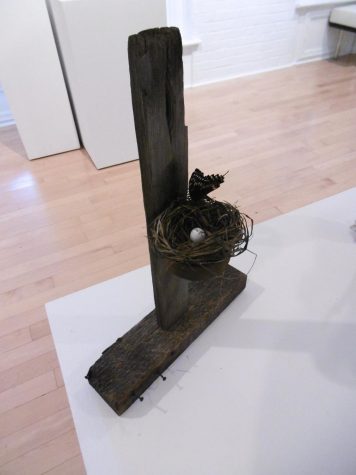 Another honorable mention award winner was French and nursing major Emma Dudding, artist of "Plantar Islands." Dudding used colored pencils to blend her love of anatomy with her love of drawing.
"I tend to do art for myself. Professional artists are good at bringing their communities together and raising awareness with their art, and I'm just better with my anatomy," said Dudding. She includes a small black silhouette of a biker in each of her pieces to represent someone exploring the human body.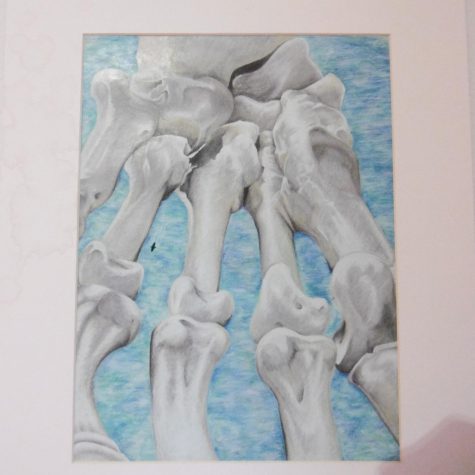 When asked to give advice for other students thinking about submitting their work to a showing like the All Student Show, all the artists had encouraging messages.
"I think any student who is currently making art should submit pieces to this show because it can really jump start you and get you interested again. It's fun to participate and meet other artists," said Heida.
"If art is your passion, don't let anyone tell you not to do what you love," said Phillips.
The All Student Show will be on display in the Ann Flack Boseman Gallery on the second floor of Fisher until April 5.