A complete survival guide to formal fall recruitment at UNCW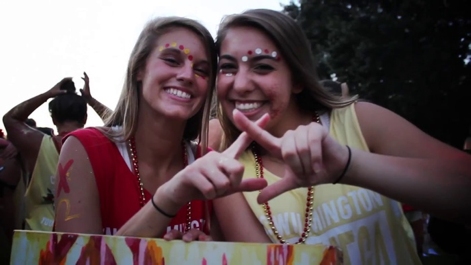 Amanda Hagy and Gabby Dionisio
August 31, 2018
For UNCW's sorority women, Labor Day is more than a long holiday weekend; it's a time to meet the new women who will continue to help shape their chapter and contribute to the legacy that each individual organization holds. In the Greek world, these four days hold a special place in our hearts. It's a time where we once found our home and now it serves as a chance for us to help others do the same. Here are ten tips, tricks and best practices by two Seahawk writers, showcasing their journey from PNM's to Panhellenic seniors!
Sororities want YOU as much as YOU want them
Amanda: Going through recruitment, more times than not I remember having to remind myself to follow what my Gamma Chi's had continually mentioned in adherence to trusting the system. I came to UNCW as an out of state transfer student who knew no one. I was so scared that I was never going to meet anyone, or worse, that I would get rejected after just merely philanthropy round. Within a culture of liking one another's Instagram photos and always trying to be the best, we tend to forget as a society that we are all confident women and are worth a bid. Every sorority that is participating in rush is looking for the best fit for their chapter. They want new girls as much as you are eager for a bid!
Prepare to be at Fisher ALL day every day for recruitment, even if you don't have rounds until later in the afternoon
Gabby: Before philanthropy rounds begin, you'll receive a slip of paper with the sororities who asked you back for the second day. Because you are fabulous and are going to crush it during rounds, let's just say that all of your top organizations asked you back. Yay! But, because there are so many of us, half of the organizations go in the morning and the other half go later in the day. Because of that, you may have one round at 8 am, one at 10, and then one at 6 pm. For confidential purposes (and so that your Gamma Chis' know where you are), you must remain in Fisher. So, bring snacks, blankets, mints, drinks, homework, Netflix – anything to keep you occupied! Long days are coming so make sure you have enough things to ride out those hours.
Be Yourself
A: During recruitment, it is so easy to try and fit a mold and attempt to be the epitome of a perfect PNM. You said all the right things, nodded enthusiastically at all the right answers and came out feeling more confident than ever. But was this truly you? Did you only do this because you heard from a friend or older college bestie that this was the way to ensure a bid? Were the girls you were talking to be the ones you could see yourself doing late night Insomnia cookie runs with or beach days on the weekends? Would they be the girls you could trust everything with? Currently, as a senior, this was advice I am thankful to my Gamma Chi for and I can testify to late night cookie runs making the best memories!
Ignore Greekrank.com
A:  If I am being 100% honest, I totally looked at sites like Greekrank out of pure curiosity. However, if I had listened to any of the advice on these social mediums I would not have been thinking for myself and I would have missed out on some of the influential women that I have had the pleasure of getting to know. There are so many people who troll on those sites that it's as accurate as a tabloid article. Every sorority has their own culture and will appeal to different girls or not appeal in different ways. Ignore the peanut gallery, the reviews, critics and any opinion from boys, and make your rush experience yours.
Go in with an open mind, and what's meant to happen will
A: I still remember one of my now best friends receiving her bid, bawling! She almost chose to decline her sisterhood that has now become such a wonderful part of her overall college experience. When I went through recruitment two years ago, I honestly did not fully know who I was at the time. In such a short two years, I have grown and gone outside my comfort zone, from studying abroad to various involvement at UNCW. When I initially rushed, I truly was not sure Greek life was for me. Both my parents had been in Greek life in college and I felt I owed it to them to keep the tradition going. In two years, I have experienced my fair share of ups and downs in Greek life. However, I can truly say that the friends and involvement opportunities have greatly and positively impacted both my best friends and my college experiences.
Go with your gut, not with what your friends think
G: After preference round, you'll rank your top sororities. This is the moment where you decide where you want to call home for the next four years. You'll know what you want, trust me. You may be torn, but there is going to be something in you telling you which organization you are meant to be part of. For me, it was the connection I had with one of the recruiters. I felt like I was talking to the big sister I never had, and lo and behold, she became my big three months later. Throughout this weekend, you will have vulnerable and real conversations with incredible women. If you can feel yourself relax in one room more than another, pay attention to that. If you think the girl you're talking to is fantastic, but you don't see yourself growing as a person with her in your life, listen to that even more.
Don't be afraid to ask the tough questions
G: Each sorority has something along the lines of a symphony that they stand by. Ask about it. These recruiters should be able to answer all your questions (within appropriate reason) about the organization. Many of us fell in love with our chapters because of what they stood for, and you will too. Don't be hesitant to go below surface level; we live for those conversations with PNMs. So, I encourage you to ask the questions about an organization's pillars, how that member applies them in her life and how she's grown because of her time as a sorority woman.
Be prepared to have chants stuck in your head 24/7
G: The beginnings of each round will be marked by one thing: chanting. We love it, and we hope you will too. At first, you may be terrified. I had absolutely no idea that, like clockwork, each organization would begin belting from behind closed doors and it wouldn't stop until each PNM was scooped. My freshman year, once I got over the initial shock, I came to love it and would go home with everyone's chants stuck in my head. As a recruiter, nothing gets us more excited than beginning each round by chanting. We have a blast with it! So please know, it's not meant to frighten you, but merely to get you as excited to enter our organization as we are to share it with you.
Befriend your Gamma Chi, and stay in touch with her after recruitment
G: I absolutely adored my Gamma Chi's, but there was one who always stuck out to me. She was incredibly kind, brilliant and so willing to get to know me and help me along the way. Even though we didn't become sisters, she was someone that I connected with regularly throughout the semester. She had a way of being that made you feel at ease and wanted nothing more than to be there for you. Even if you don't end up in the same sorority as any of your Gamma Chi's, know that it's completely okay, and encouraged, to stay in touch with them after that weekend.
None of us care about what you're wearing
G: Unless, of course, you completely miss the memo on what's appropriate. One of my favorite things about UNCW's Greek life is how not materialistic we are. Please don't stress about your outfits! We care about how you, as a person, will show up for this chapter, your sisters and yourself. We could care less about what you literally show up in. Wear what makes you feel confident and beautiful, and don't wear what you think fits the mold of a sorority woman.
While many girls will "go Greek" and will love their experiences from recruitment to graduation, there will also be girls that go through recruitment and after some time, find Greek life just wasn't for them. This happens, and it's okay! Greek life, like any organization, club or interest group, is not always for everyone. If you don't find your niche in the UNCW Greek system, you will have the opportunity to in any number of the other student organizations on campus. If you do go through recruitment, get a bid and you financially can continue, try it out for at least a semester, along with other clubs,  and you may find your experience enhances over the duration of the fall semester. We wish everyone a happy fall formal recruitment!
(G and A) Side note: We both own nothing Lily Pulitzer and are in different sororities. The UNCW Greek community values diversity and welcomes all PNMs here at UNCW!