12th annual Reel Teal Film Festival breaks submissions record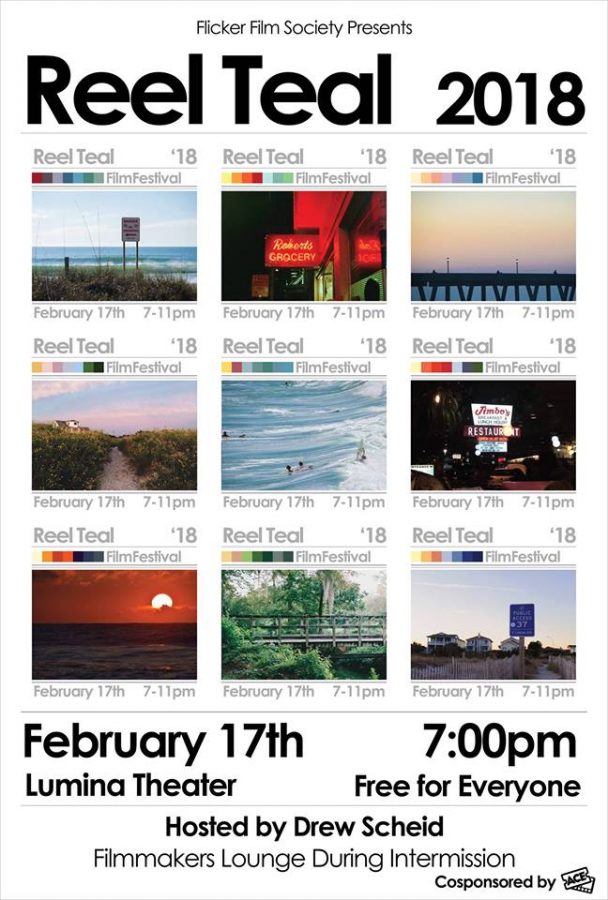 Jonathan Montague, Contributing Writer
February 23, 2018
This past weekend, UNC Wilmington's Flicker Film Society hosted its 12th annual Reel Teal Film Festival, one of two film festivals that happen on the UNCW campus. Every year, thousands of short films are submitted from across the globe with the hopes of their work being shown before an eager audience. This year's proceedings were organized and helmed by film students Kate Wise and Riggan Cope, and hosted by local actor Drew Scheid, (who thankfully avoided jokes about Hugh Jackman vehicle "Reel Steel" this year).
The ceremony was divided into two blocks with the Filmmakers' Lounge serving as an intermission where the guests can mingle with the actors and the crew members who attended, such as director Noah Campagna and local actress Heather Costello. The first hour-long block consisted of three sub-blocks: music, animation and local; this was followed by the two-hour block which featured three more sub-blocks: narrative, experimental, and documentary.
Both Wise and Cope have been Flicker members for years and had worked on the events before being elected this year's chairs.
"I started just as a committee member the year that Nick Watson and Sean Froeb ran it," Wise recounted. "That was two years ago. And last year, I was Operations Coordinator for Hadley Rollins and Lizzie Lovett. But, yeah, Riggan and I have been in it for the long haul and we work really well together. We figured it would be a really good time to be in charge of it and do some new things with the festival and work together."
Some of the new things that they did included "Thank You" boards to showcase the selected films during the Filmmakers' Lounge and innovating the Reel Teal brand, creating multiple posters and pushing social media more.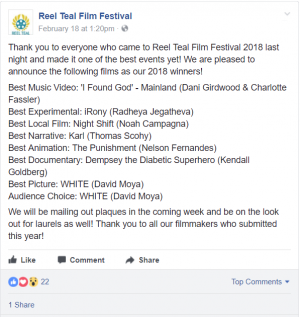 This year set a Reel Teal record for the most amount of films submitted in the history of the event, totaling 3,072. These films came from local filmmakers in Wilmington as well as filmmakers across the globe from countries such as Spain, Germany, and the United Kingdom. Every single film was screened and judged by multiple members of Flicker Film Society who divided the work among themselves. Some films had to be watched multiple times and despite this, only 26 films made the cut, including five films from Wilmington. This year also set the record for most local films submitted at 60 films.
"[It was] very stressful," Wise remarked. "There was some contention on what films should get in. If the best should get in, the most different or the one that had a good message. There's a lot to take into account and a lot to debate and a lot to watch. There's a lot of different opinions." Cope recalled that she watched over 26 hours of films by herself, with each film being under 15 minutes.
Wise and Cope also have very unique aspirations among their fellow film majors. Wise, who will be graduating this spring, is an avid film academic and wishes to spend some time off before studying under UNCW's new film studies graduate program to obtain her master's degree.
"I am one of those freaky people in the Film department who likes writing research papers so I spend my whole life in the library, looking through old paper periodicals," Wise said.
Riggan, as opposed to wanting a spot on a set, aspires to be an editor after graduating next year. She elaborated, "I want to go back to Raleigh to be closer to my younger sister before I go somewhere big like New York, California, or Georgia. Film sets are so stresses out and crazy. I just like to be by myself with a computer. It's like a puzzle. You put the pieces together."
Flicker Film Society hope to top the efforts of its current members at next year's Reel Teal film festival. If this year is a standard to judge by, then that will be quite the feat.