UNCW senior Ali Sottile crowned winner of Dub Idol Season 12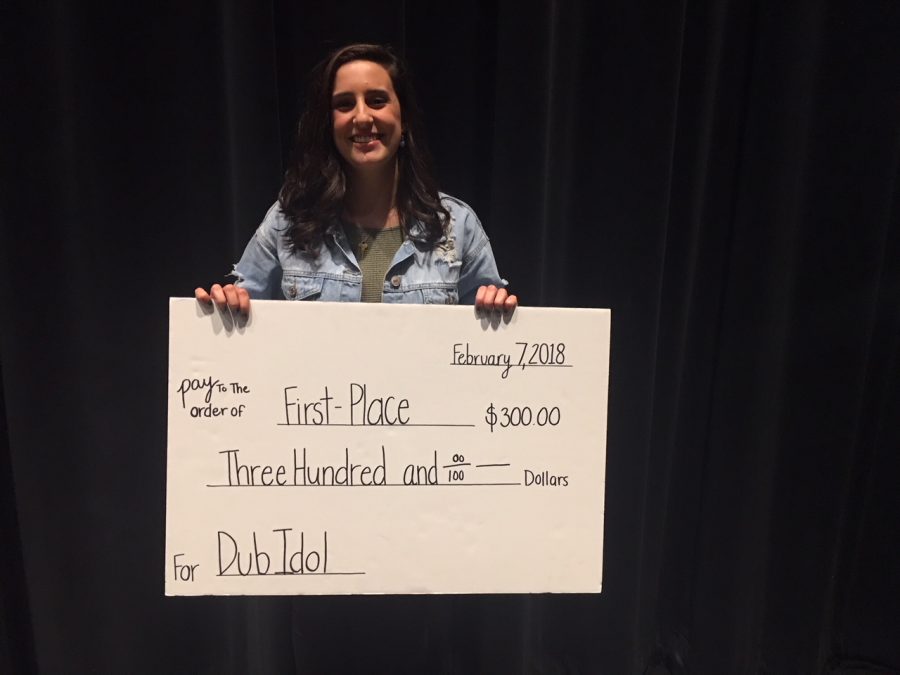 Carey Shook, Contributing Writer
February 8, 2018
Season 12 of UNC-Wilmington's Dub Idol came back with a bang on Feb. 7, 2018, declaring Ali Sottile, a senior from New Jersey, the newest winner.
After months of auditioning and practicing, nine UNCW student contestants competed against each other for the $300, $200 and $100 prize for first, second, and third place respectively. The contestants were freshmen Bailey Page, Alexis Jessup, Lilly Triolo, Jules Miller, Issie Wallin, Adian Wells and Luke Pratapas, and seniors Bri Ross and Sottile.
Round One consisted of songs by Adele (Jessup), Shawn James (Pratapas), Demi Lovato (Ross), and Stevie Wonder (Triolo); an original song by Wells; Broadway musical numbers for Page and Miller, and "Hallelujah" by Leonard Cohen (Sottile). The crowd loved each of them, as did the judges. The judges (Mackenzie Sirmans, Resident Coordinator of Graham-Hewlet; Joseph Brown, Dub Idol Contestant in 2016; Dominic Talanca, Director of Bands at UNCW) loved each person's soul, stage presence, and personality.
For the first round, the judges chose four contestants to go to the final round and the crowd saved their fan favorite. While the judges deliberated, UNCW's a capella groups the Seabelles and Seahawkapellas performed.
Pratapas, Ross, Jessup and Sottile were chosen by the judges and the fan favorite save was Miller.
The second round consisted of a slowed-down version of LMFAO's "Sexy and I Know It" from Pratapas; "Latch" by Sam Smith from Ross; "Glitter in the Rain" by P!nk from Jessup; "I'm Gonna Find Another You" by John Mayer from Sottile; and "Crazy" by "Gnarls Barkley" from Miller. Each contestant once again rocked the crowd.
While the crowd voted for their 2018 Dub Idol, Dub Idol 2017 contestants Grey Oakes and Moe Homes surprised the audience with a performance. Oakes, who is a Golden Ticket holder from the American Idol reboot, sang his signature "Ain't No Sunshine" by Bill Withers, with Homes rapping and singing with him. The two served as mentors for this year's contestants.
"I had more fun coaching this year compared to competing," Oakes said. "I enjoyed watching all the songs the contestant picked, and how they've gotten better over the past three months."
"It feels really good to give back to the competitors this year," Homes said. "I know their nervousness and anxiousness and I can comfort them. I had good mentors last year when I was in their shoes, and I like that I can do the same for them this year."
In the end, Miller was declared the third place winner, and Pratapas second.
"It feels amazing to have had the opportunity to sing in the first place, and to see that people responded that way to me," Pratapas said.
"This is wild. I'm so glad I was able to participate. I'm just so glad people liked me," Miller said.
"I thought I was going to be really nervous," Sottile said. "Once I got up there, I was like, 'It's time to go.' Dub Idol was an awesome experience, and it pushed me out of my comfort zone."
Hosts Chris Livernois and Lauren Deane believe this is the best year Dub Idol has had in a long time.
"It was a tough competition this year," Livernois said. "I'm not surprised at all about the winner. Ali killed it."
Next year will bring the thirteenth year of Dub Idol. Be on the lookout for more information about auditioning.