McCabe out at FBI
FISA memo looms, investigations continue.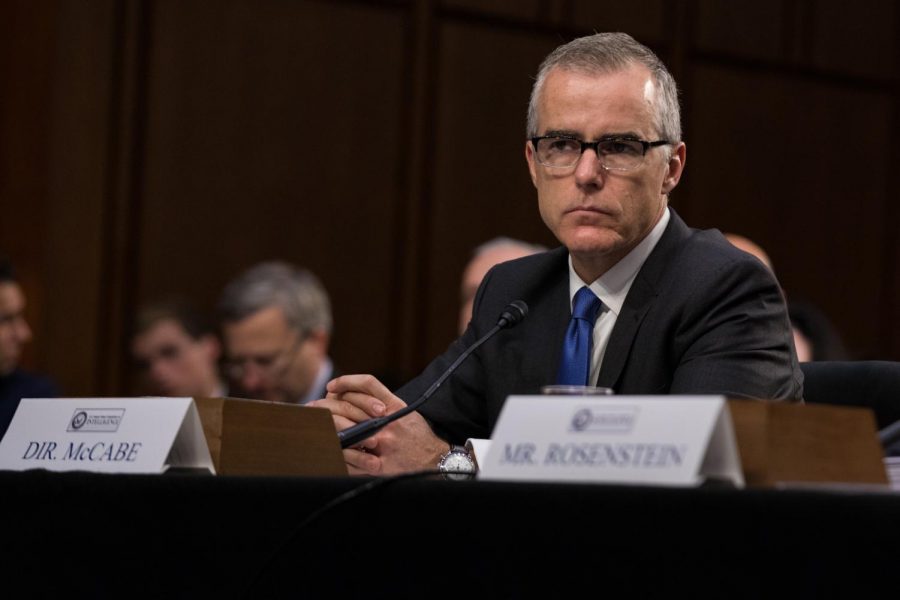 Jack DeVries, Copy Editor
February 1, 2018
Andrew McCabe, Deputy Director of the Federal Bureau of Investigations is stepping down.
"One source said McCabe was exercising his retirement eligibility and characterized his decision as 'stepping aside'" reported NBC News. 
Sources claimed that McCabe has accumulated enough time off to be on "terminal leave". This leave will last until his official retirement in March.
A Duke graduate, McCabe joined the FBI in 1996 and has since served in many positions. On Jan. 29 2016, FBI Director James Comey appointed McCabe as Deputy Director.
After Donald Trump dismissed Director Comey in May 2017, McCabe became the acting Director. Trump nominated Christopher Wray for FBI Director shortly after.
Questions were raised as to whether the leave is due to outside pressure by the Trump administration. Most pundits, however, expected McCabe's eventual retirement.
President Donald Trump has lambasted McCabe in the past.
On Dec. 23, Trump tweeted: "FBI Deputy Director Andrew McCabe is racing the clock to retire with full benefits
. 90 days to go?!!!"
"The president wasn't part of this decision-making process." Claimed White House Press Secretary Sarah Sanders on Monday.
McCabe was previously under fire from congressional Republicans, and s
kepticism arose after McCabe's wife, Jill, received political donations from Clinton friend then-Gov. Terry McAuliffe
.
Jill McCabe's Senate run was unsuccessful, and a
ccording to the FBI, Andrew McCabe joined the Clinton investigation months after his wife's campaign ended
.
Trump also sounded off his opinion on the matter back in Dec. of 2017.
"How can FBI Deputy Director Andrew McCabe, the man in charge, along with leakin' James Comey, of the Phony Hillary Clinton investigation (including her 33,000
illegally
deleted emails)
be given
$700,000 for wife's campaign by Clinton Puppets during investigation
?"
McCabe's retirement comes as Republican chairman Devin Nunes hopes to release his FISA memo to the public
. Allegedly, this memo goes into detail about FBI surveillance on the Trump campaign.
In an FBI email on Monday, Director Wray reportedly insinuated that the FISA memo was a reason for McCabe's exit
.
"'Wray hints to FBI staff that coming IG report played role in McCabe departure," reported CNN.
"[Director] Wray said in the message he could not comment on the coming inspector general report about the FBI's conduct during the 2016 election and defended himself as not
being swayed by
politics"
Wray went on to deny that McCabes step down was due to political pressure.
FBI's number three official, David Bowdich has
been named
acting deputy director.