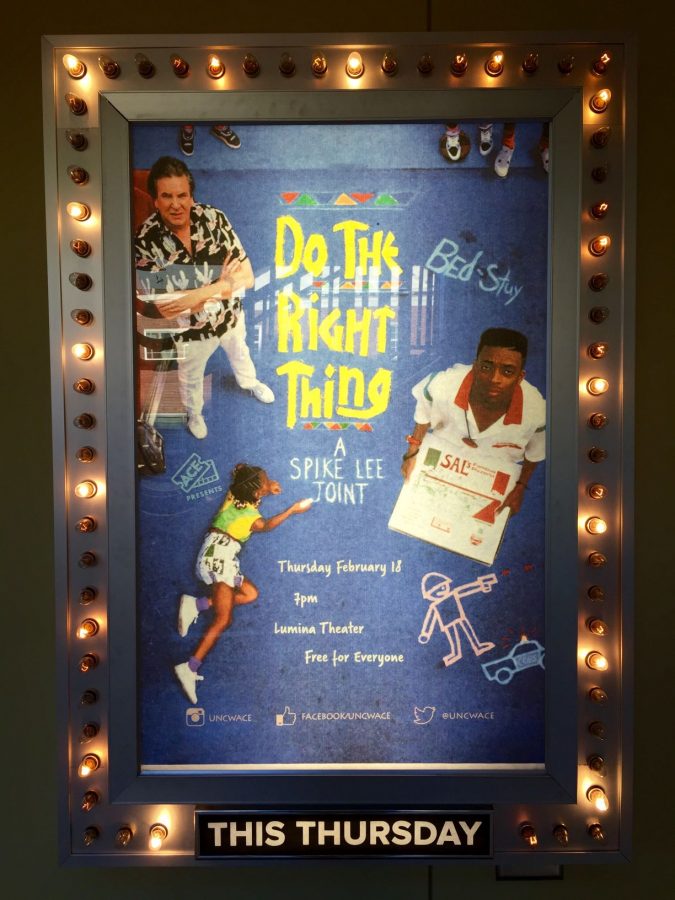 On Feb. 18, UNC Wilmington's African American Upperman Center showed the Spike Lee film "Do the Right Thing" at Lumina Theater for free, encouraging students and members of the community to reflect on the film in part with the Upperman's Black History Month events.
The film, which was produced in 1989, covered the struggles of racial tension within inner cities.
The Upperman's Excellence Project Coordinator, Brandon Bell, noted that the reason this film was chosen to be part of their Black History Month agenda was to give students an understanding of past cultural strains and struggles.
Those who were a part of the crowd during the showing found the film to resonate deeply with issues today, even if it was a relatively older film.
Many of the audience members, like junior and leading peer mentor of the Excellence Project Ashley Hinds, confirmed the effectiveness of the film being chosen. "The first part of awareness of social justice issues is learning the historical context," said Hinds.
Hinds was not the only one glad with the Upperman's decision to show the film. Another UNCW student, Alexus McGriff, commented, "It just blew my mind how relevant all of those issues still are today."
The film encompassed many civil issues that appear in news sources found today. The controversy over community racial territory, prejudices and police brutality were some of the matters brought up in the film.
Lee's ending was even found to be quite realistic and relatable to today by many of its viewers. Hinds noted that the message of the film was "blunt and unapologetic about the real situations." 
Hinds is a native to the Brooklyn, New York area, which contributed to the film leaving a personal impact upon her. She found the portrayal of the film to be "unbelievably accurate," hitting on many of the issues people criticize today.
According to the Upperman's website, their primary goals include providing education, support and advocacy for students through their programs and existence. In terms of these principles, students found overall satisfaction with the Upperman's efforts to incorporate Black History Month into planned campus occasions.
"The Upperman does so many events in efforts to start these hard conversations," said McGriff, "I just hope that more people take advantage of the opportunity to have the open discussion."
Hinds added to this by mentioning that the Upperman had succeeded in "creating a space where students of all knowledge levels can feel comfortable to discuss and learn."
As a predominately white institute, students like Hinds feel that more efforts to bring inclusiveness and education should be put forth year-round. Although the film was a great contribution to Black History Month, Hinds would like to see more of these films shown outside of the month of February.
As students and faculty continue to embrace Black History Month celebrations on campus, it is vital to remember the importance of inclusiveness all of the time.