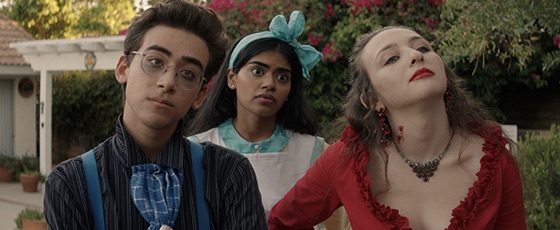 Image courtesy of Cucalorus
Films concerning the relationships and struggles of modern American high schoolers are a dime a dozen—but very few high school movies attempt to display the nuances and three-dimensional traits of their characters. For "Dramarama," the dynamics and connections of its central ragtag friend ensemble is the beating heart of the entire story. Cleverly combining the tropes of high school comedies with the rich dialogue and interplay of dramatic ensemble pieces, "Dramarama" attempts to forge its own path ahead in a competitive genre and, by doing so, effectively communicates its messages of friendship and unconditional love to the audience.
         "Dramarama" takes place during the summer of 1994 and spends an entire day with five longtime friends—stage actress Rose (Anna Grace Barlow), opera singer Ally (Danielle Kay), aspiring film actor Oscar (Nico Greetham), strict religious devotee Claire (Megan Suri) and Gene (Nick Pugliese), a closeted gay wishing to come out to the others. Rose invites everyone to her house for a murder mystery slumber party on the day before many of them will leave for college—but the chance arrival of the enigmatic high school dropout JD (Zak Henri) throws the group's grasp on their futures into question as well as what their friendship means to all of them.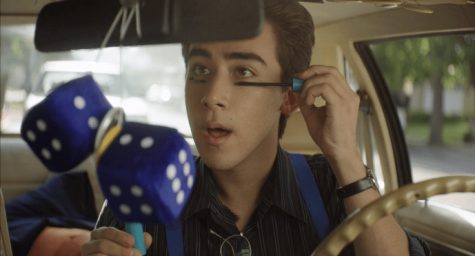 "Dramarama" is the debut feature film by writer/director Jonathan Wysocki, who implements a sharp sense of wit within the dialogue—all of the characters' lines feel like a natural statement that blends into the moment. The editing choices are bold, as Wysocki isn't afraid to place lingering long shots and medium shots into the film as if harkening back to the framing techniques of classic Hollywood cinema. In terms of the artistic approaches utilized by Wysocki, "Dramarama" comes across as daring, especially in terms of high school comedies.
         The work put into the ensemble's narrative dynamic is impressive as well. There may be five characters in the focal friends group, but by the time the credits roll, viewers will have gained a sense of how each member views each of the others in the group. The film is also careful to focus solely on these five central characters. All of the parents in the film say their lines offscreen, and JD, more or less the antagonist, only appears during two pivotal scenes, as he's oftentimes simply a topic of the central ensemble's dialogue. Of course, the emotional performances by all of the young actors in the film connect the audience with their characters and their situations.
         "Dramarama" may not surprise all of its viewers—the melodramatic plot points of the average young adult film will only shock and surprise so many times—but with its rich, layered character dynamics and purposeful directorial decisions, "Dramarama" achieves more than enough to leave a lasting impact. The film ultimately inspires its viewers to appreciate those around you and to love them unconditionally—as well as accept the unconditional love they lend to you.