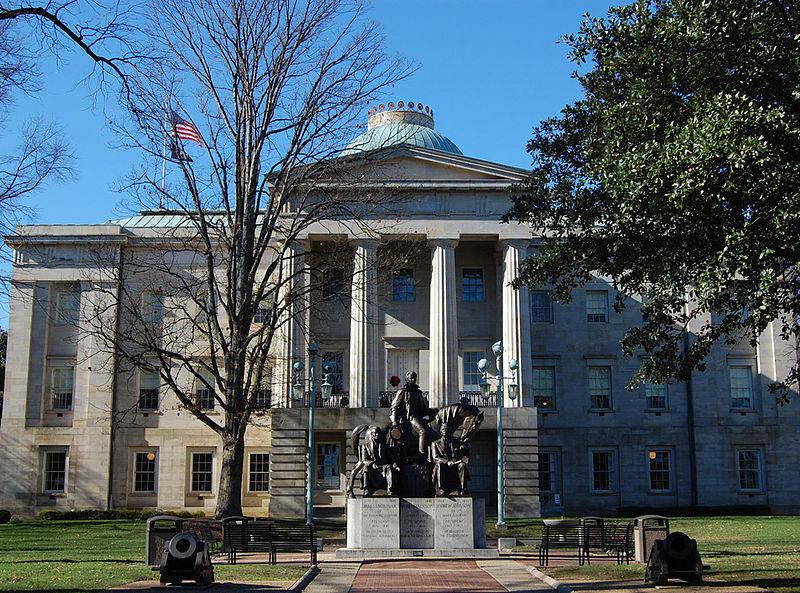 Courtesy of User: (WT-shared) Bz3rk at wts wikivoyage
This is a developing story and will be updated as more information becomes available. Check back for updates. 
This article was updated on Nov. 20 to reflect the updated numbers and wins. 
As of Nov. 6 at 1:40 pm, the North Carolina State Board of Election unofficial 2020 general election results have reported 100% of the state's precincts, however, only 74.56% (5,487,734 out of 7,359,798) of the ballots casts have been counted.
According to reports from WECT, local boards of elections are set to meet between Nov. 10 and 13 to approve the remaining provisional and absentee ballots. Official election results are expected to be reported following those meetings. 
North Carolina was seen as a battleground state this election given the close makeup of republicans and democrats residing in the state and its most populous counties. Due to this several of the races have yet to be called due to the number of remaining ballots left to be counted and how close some of the races are, within one or less of a percentage point. 
The local elections are the ones that will more directly affect Wilmington and the county. You can view the unofficial New Hanover County election results here.
 FEDERAL OFFICES
US Senate
Thom Tillis
REP
2,665,604
48.69%
Cal Cunningham
DEM
2,569,968
46.94%
Shannon W. Bray
LIB
171,570
3.13%
Kevin E. Hayes
CST
67,817
1.24%
This is a tight race and one that most of the county has been watching. Tillis was seeking re-election for a second term and his win would help the republican party maintain their majority in the Senate. Meanwhile, Cunningham, a former state senator and Army reserve officer, ran for his first term who is Both campaigns came under the eye of the county when Tillis tested positive for the coronavirus (COVID-19) after attending the supreme court nomination of Amy Coney Barret and when Cunningham was revealed to have had an affair.  
On Nov. 10 Cunningham conceded to Tillis.
US House of Representatives District 7
David Rouzer
REP
272,446
60.25%
Christopher M. Ward
DEM
179,051
39.59%
Write-In (Miscellaneous)
426
0.09%
Theresa (Terri) Everett (Write-In)
294
0.07%
STATE OFFICES
NC Governor
Roy Cooper
DEM
2,834,797
51.52%
Dan Forest
REP
2,586,607
47.01%
Steven J. DiFiore
LIB
60,448
1.10%
Al Pisano
CST
20,933
0.38%
This was another key race for the state as Cooper was running for re-election against his current lieutenant governor and Republican Dan Forest who often criticized Cooper for his handling of COVID-19 in the state. 
NC Lieutenant Governor
Mark Robinson
REP
2,800,657
51.63%
Yvonne Lewis Holley
DEM
2,623,463
48.37%
NC Attorney General
Josh Stein
DEM
2,713,404
50.13%
Jim O'Neill
REP
2,699,781
49.87%
NC Auditor
*This race has not been called.
Beth A. Wood
DEM
2,730,181
50.88%
Anthony Wayne (Tony) Street
REP
2,635,826
49.12%
NC Commissioner of Agriculture
Steve Troxler
REP
2,901,851
53.86%
Jenna Wadsworth
DEM
2,485,727
46.14%
NC Commissioner of Insurance
Mike Causey
REP
2,775,490
51.76%
Wayne Goodwin
DEM
2,586,469
48.24%
NC Commissioner of Labor
Josh Dobson
REP
2,726,623
50.83%
Jessica Holmes
DEM
2,637,530
49.17%
NC Secretary of State
Elaine Marshall
DEM
2,755,577
51.16%
E.C. Sykes
REP
2,630,561
48.84%
NC Superintendent of Public Instruction
Catherine Truitt
REP
2,753,222
51.38%
Jen Mangrum
DEM
2,605,174
48.62%
NC Treasurer
Dale R. Folwell
REP
2,812,801
52.58%
Ronnie Chatterji
DEM
2,537,023
47.42%
NC Supreme Court Chief Justice Seat 1
*This race has not been called and is currently in a recount. 
Paul Newby (R) with 50.03% or 2,671,422 votes
Cheri Beasley (D) with 49.97% or 2,667,947 votes
NC Supreme Court Associate Justice Seat 2
Phil Berger, Jr.
REP
2,723,706
50.67%
Lucy Inman
DEM
2,652,192
49.33%
NC Supreme Court Associate Justice Seat 4
Tamara Barringer
REP
2,746,364
51.21%
Mark Davis
DEM
2,616,270
48.79%
NC Court of Appeals Judge Seat 4
April C. Wood
REP
2,767,471
51.78%
Tricia Shields
DEM
2,577,018
48.22%
NC Court of Appeals Judge Seat 5
Fred Gore
REP
2,735,955
51.27%
Lora Christine Cubbage
DEM
2,600,636
48.73%
NC Court of Appeals Judge Seat 6
Chris Dillon
REP
2,769,023
51.95%
Gray Styers
DEM
2,561,094
48.05%
NC Court of Appeals Judge Seat 7
Jeff Carpenter
REP
2,747,112
51.59%
Reuben F. Young
DEM
2,578,039
48.41%
NC Court of Appeals Judge Seat 13
Jefferson G. Griffin
REP
2,720,504
51.16%
Chris Brook
DEM
2,597,577
48.84%
NC State Senate District 9
Michael Lee
REP
63,259
50.51%
Harper Peterson
DEM
61,991
49.49%
This was another tight race in the state as Lee served in the state senate before Peterson won his seat in 2018. In its current standings, a recount would not be allowed since the margin is greater than 1%, a recount affirmed Peterson's win in 2018.
Peterson conceded to Lee the week of Nov. 15.
NC House of Representatives District 20
Ted Davis, Jr.
REP
28,119
55.32%
Adam Ericson
DEM
22,707
44.68%
DISTRICT OFFICES
*All district offices candidates ran unopposed 
NC District Court Judge District 5 Seat 5
J.H. Corpening II (D)
NC District Court Judge District 5 Seat 6
Richard Russell Davis (D)
NC District Court Judge District 5 Seat 7
Jeffrey Evan Noecker (D)
NC District Court Judge District 5 Seat 8
Sandra Alice Ray (R)
NC District Court Judge District 5 Seat 9
Robin Wicks Robinson (D)