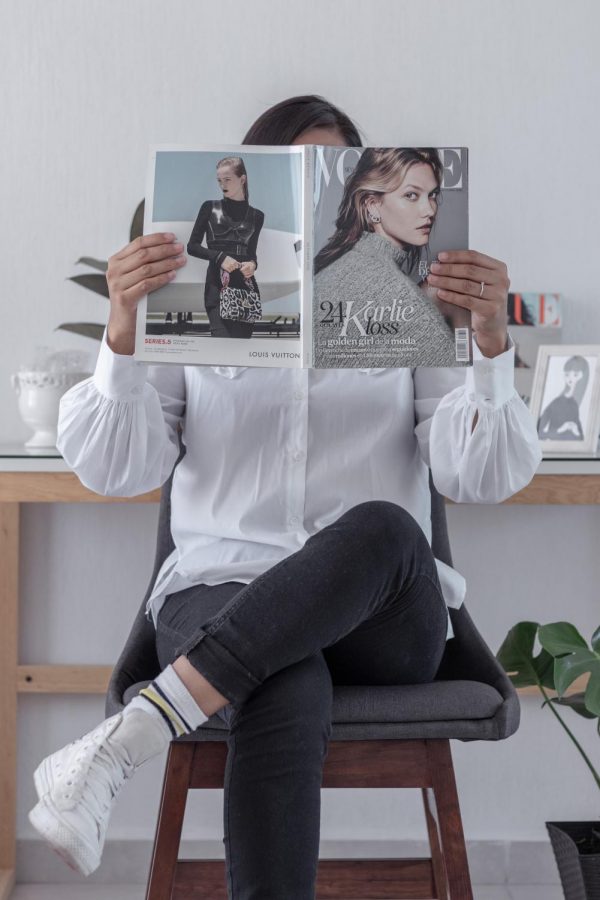 Photo by Alex Quezada
Following the outrage sparked by the killing of George Floyd by Minneapolis police officers, social media flooded with tremendous support for Black individuals and people of color. Celebrities, corporations and people of influence used platforms to highlight and discuss the systemic racism implemented into industries across America.
On May 29, four days after Floyd's death, Nike released a campaign on Instagram flipping their famous "Just Do It" tagline and bringing attention to the issues of race.
"For once, don't do it. Don't pretend there's not a problem in America. Don't turn your back on racism." 
View this post on Instagram
Let's all be part of the change. ⠀ ⠀ #UntilWeAllWin
While Nike has a history of standing up against bigotry and inequality, other corporations do not. Anna Wintour, editor-in-chief of Vogue, manages a leading fashion magazine that strictly promotes standards favoring white and European ideas of beauty. In an email to her staff, Wintour wrote, "Vogue has not found enough ways to elevate and give space to Black editors, writers, photographers, designers and other creators."
Those who work alongside Wintour found her message hypocritical, tone-deaf, and calculated. Speaking about Wintour to Sandra Bernhard on SiriusXM, former colleague André Leon Talley stated, "I do not think she will ever let anything get in the way of her white privilege."
The poor representation and inclusivity of people of color, especially of Black people, can be observed at any level of the fashion industry. Few people of color hold positions of leadership or influence in the fashion industry. On the shop floor, microaggressions are common toward people of color, both customers and workers, by their white peers.
The influence of black culture in fashion has been historically erased or reimagined and marketed for white counterparts: beauty is measured through the lens of western fashion ideals, and Black models are typically diversity token on the runway.
The cultural dress is typically appropriated through various trends to appease the western world of fashion. Victoria's Secret fashion shows have been called out on multiple occasions for their issues with appropriation, starting in 2010 with a theme of lingerie titled "Wild Things", inspired by the attire of Indigenous people and Black culture. In 2012, Victoria Secret Angel Karlie Kloss strutted down the runway wearing a Native American headdress. In 2016, Chinese patterns were incorporated into the wings of Kendall Jenner, and model Elsa Hosk walked the Victoria Secret runway with a Chinese dragon wrapped around her body.
High fashion doesn't shy away from appropriation either. In 2019, Gucci sold an "Indy Turban" inspired by the Sikh heritage, where headwear is considered sacred. Within the same year, Carolina Herrera was under heat after Mexico's Cultural Secretary Alejandra Frausto accused the brand of plagiarising designs of people within indigenous Mexican communities.
Off the runway, race and culture still face battles in the eyes of fashion. Up until 1974, there was never a black model on the cover of Vogue. After Beverly Johnson was the first, she became the token black model. Model Grace Jones writes in her autobiography, titled I'll Never Write Memoirs, "Beverly was one of the reasons I left the States. I knew that as long as she was in place she would get everything. One black model was all they needed and I would pick up the crumbs. They didn't need two tokens."
In an ideal world, and hopefully, a world to call ours, there is still much that needs to change. There would be no such thing as a token of diversity. People of color would be granted the opportunity to hold positions of leadership or influence. Cultural appropriation would be reimagined as cultural appreciation, where pieces would represent the roots of their origin, and be manufactured by people that understand the significance of different motifs. The fashion industry would change from the inside out—and the fashion industry is just the start.