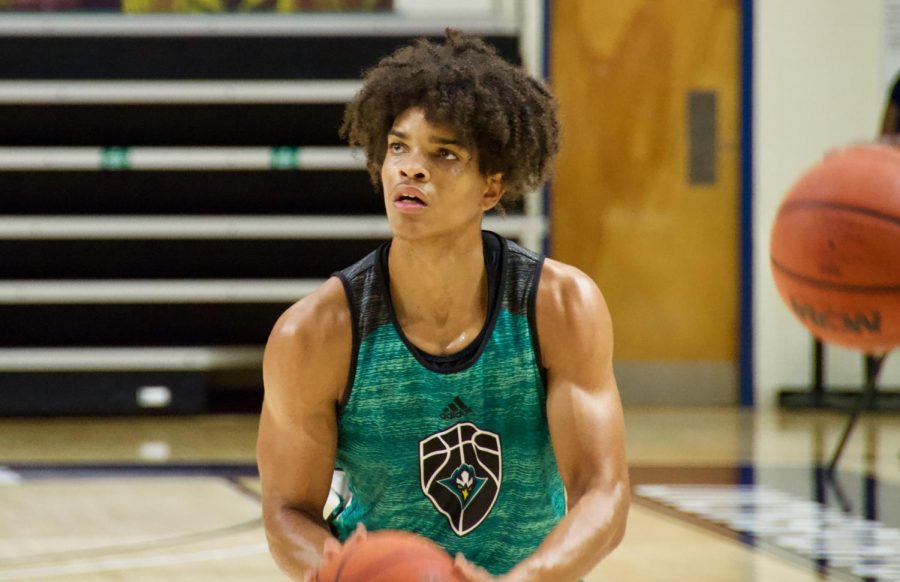 Noah Powers/The Seahawk
WILMINGTON – With college hoops season approaching, UNC Wilmington's (UNCW) men's basketball held its 2020 Media Day on Oct. 8 via Zoom. Needless to say, it was a new experience for everyone who participated, but at the same time gave a sense of excitement for the Seahawks' first season under new head coach Takayo Siddle.
"Win the Day"
Coach Siddle decided to make the transition from NC State earlier this year on March 13, 2020. The move brought Siddle back to the Port City for the first time since 2016-17 when he served as an assistant coach under Kevin Keatts.
"This program is special to me," said Siddle. "We had some really good years here when I was an assistant…I kept my eyes on UNCW when I was in Raleigh…I didn't expect any change, I was just watching as a fan and pulling for a university that I hold dear to my heart."
Siddle will look to improve on a subpar 2019-20 season when the Seahawks finished with a 10-22 overall record.
"I'm just focused on getting our guys better today," said Siddle. "That's how we are going to approach the season and I feel like if we do that well enough then we will be successful."
Coach Siddle will inherit a roster that is bringing in five new players, four of whom are Freshmen. With so many new faces, coach Siddle gave some insight on the players' roles this upcoming season.
"It's too early to put them on a leash and put them in a box right now," says Siddle. "I want their roles to develop organically throughout the season."
Fast Pace
With a new head coach comes a new style of play. Coach Siddle will bring an up-tempo, fast pace style of play that will display a lot of full-court presses and three-point shots.
"I feel like I fit very well in this system because my style of play is very fast and I like to get up and down the court…I've been doing that since high school," says first-year freshman Ja'Juan Carr.
Carr joins the Seahawks after averaging 21.5 points at Pender High School. The Rocky Point native was also named Wilmington Star-News Player of the Year and led Pender to a 20-8 record last year.
Familiar Faces
A player that every UNCW fan will be happy to see returning to Trask Coliseum is sophomore point guard Shykeim Phillips. The former freshman standout comes off an astounding rookie season where he was named to CAA's All-Rookie Team and will look to build off an already impressive resume. But what made the young man want to stay at after a disappointing first year?
"My teammates," Phillips stated confidently. "I love Wilmington and UNCW is a great school…I liked what the new coaches had to offer, so I just wanted to stay aboard and get this thing rolling."
Phillips will be one of the leaders on this Seahawk team which is a bit of a change to his role last year.
"I think I'm ready for it," says Phillips. "I'm ready for that role and to be the next guy up…there's a point when you have to be the second coach on the floor."
Jake Boggs is another returning sophomore that appears to be on pace for a breakout 2020-21 campaign.
"Jake Boggs is really sticking out to me," says Coach Siddle. "He's my type of guy…he's extremely versatile to where I can move him almost everywhere."
Boggs also had some teammates throw some love his way including this quote from Brian Tolefree:
"Jake Boggs, y'all are in for a treat with him."
The Ultimate Goal
"The expectation this year is to win a championship," says Jaylen Sims. "We have the 2016 championship picture in our locker room and it just reminds us of our goal."
A big part of that 2016 championship was coach Siddle. When asked about his expectations and goals for the upcoming season, he had this to say:
"I think it's a little unfair to assume that a championship is going to happen right away, but our mentality is to compete for championships."
UNCW's schedule has still not been released, however, today's Media Day displayed the anxiety and excitement that all of the players, coaches, and media members have for the 2020-21 season.