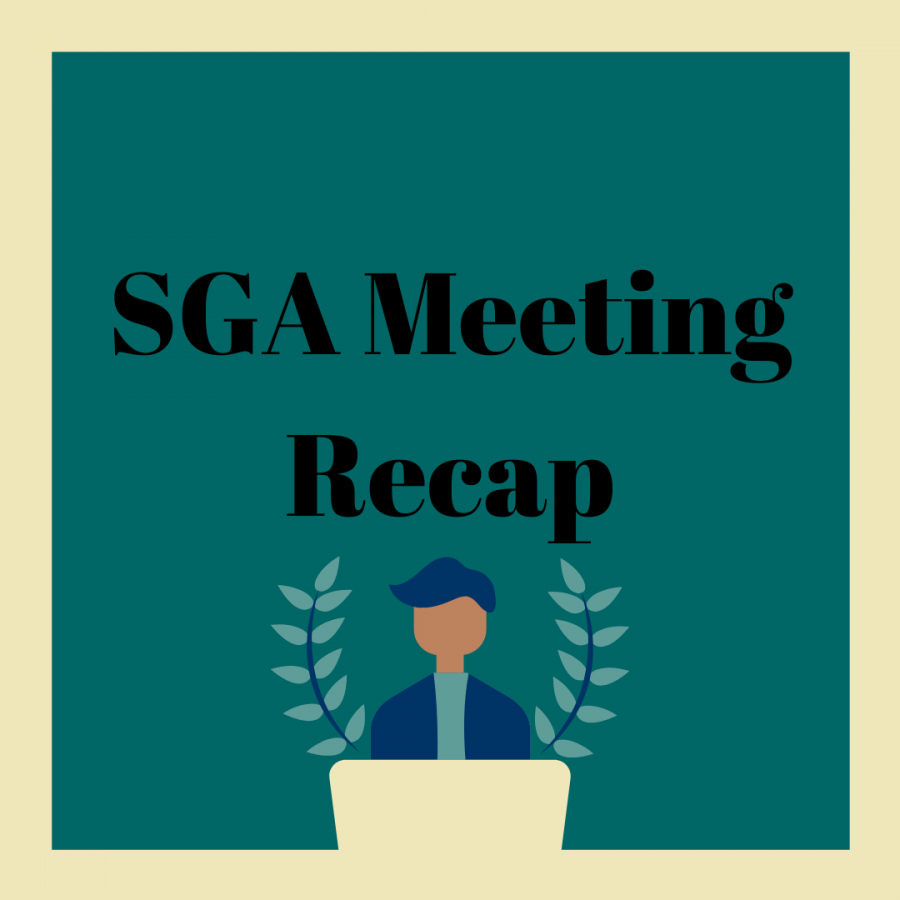 Lauren Wessell
At this week's Student Government Association's (SGA) meeting, Sharon Boyd, Associate Vice Chancellor of Business Services, and Chief David Donaldson, campus police, joined as guest speakers.
Boyd talked about the new dining hall opening up in fall 2021 which will have a view of the Bluethenthal Preserve, the coronavirus (COVID-19) safety measures that have been taken across spaces on campus like a partnership with Grubhub, the contactless parcel lockers in the Fisher Student Union, new sustainability efforts by campus, the library construction project and how SGA and Business Affairs can continue working together in the future. 
"We have done all of these things to make business services safe for you this year," said Boyd. "The six-foot seating you've seen in the dining halls for densification. We're still using compostable to-go containers and paper bags so that they are recyclable, contactless ordering payment, beverage services obviously served to you, and you don't self serve at a salad bar, and we have package selections."
Boyd also said sanitization is one of the highest standards on campus.
"Every 30 minutes if not between uses for tables, it may be more often but at least every 30 minutes all frequently used hard surfaces are clean," said Boyd. "And we're just reviewing all of our services for capacity and making sure that we can still provide the service that you expect."
Following Boyd's presentation, Donaldson took some time to discuss campus police updates. The prevailing theme of his message was what campus police are doing in response to recent outcries of racial injustice across our country. 
"I have watched with horror some of the things have played out across our great nation recently," said Donaldson. "I find myself at times mourning my own profession, because some of the things that you've seen play out, do not represent any means what I wanted to be a part of. There are some good stories, but I'm not the chief that wants to tell you that most of them we get right. We really have a duty to work on those that we get wrong and prevent there from being more wrong. I am monitoring these events. I have learned some things from these national and even local headlines. We have reviewed our policy and we have updated some of our training."
Policies like Eight Can't Wait, which are policies that police departments should have to decrease the likelihood of serious use of force. Prior to this, campus police already had seven of the policies in place and in July they added the eighth. 
"So as I look across this coming year, I know that I'm facing with some of our community members and uphill battle of earning, maintaining or building that trust, I want you to know that we're dedicated to it," said Donaldson. "We had been doing cultural awareness, or sensitivity or implicit bias, the names of the training change year to year, but we've been doing that since the mid-90s or so. And we have nine who completed a fair and impartial policing very recently, it's a program being rolled out across the state by the community college system. We have four more officers scheduled to go next in October. So we will have at that point about 50% of our police officers who have completed that training." 
Donaldson also touched on-campus police's new app Live Safe to report issues, their partnership with the Wilmington Police Department for operations like "party patrol" to disperse large gatherings in guidance with COVID-19 safety measures and that the department is in the process of becoming an accredited department. Donaldson also talked about some of the challenges they face like getting to know the community and how important community feedback is. 
Following both speaker's presentations, SGA picked up with their regular agenda. 
Senate members voted to appoint four new freshman senators; Brayden Roberge, Joey Conte, Erin Tinerella and Nathan Chambers. The motion passed with an approval of 26 votes.
Members then approved last week's minutes which included the passing of the updated SGA 2020-2021 fiscal year budget and a constitutional amendment.
Their meeting ended with reports from executive and committee members Matt Talone, President; Sabrina Balent, Vice President; Robby Fensom, Chief of Staff; Kyle Glover, treasurer; Brianna Ramirez, Director of Diversity and Inclusion; Sergey Osmirko, Director of Marketing; Courtney Bodenheimer, Director of Communications; Maria Garcia-Ortega, President Pro Tempore; Peter Brucia, Senior Class President; Jake Linker, Student Services Chair; Jack Casterella, Campus Services Chair; Thomas Wilson, Academic Affairs Chair; Chris Harris, Sustaininbily Chair; Nolan Byrd, External Affairs Committee and Jon Kapell,  Faculty Advisor. 
Talone encouraged senators to fill out the survey sent out by the UNC System's Racial Equity Task Force regarding the perceptions of diversity, equity and inclusion across the system and on each campus. 
Glover introduced an appropriations bill for a vote; the bill was regarding a request by the UNCW Gardening Club for an operational budget for gardening supplies to grow and harvest produce. The appropriations committee voted to deny the request and the motion was passed in agreement with the committee's decision by the senators. 
Ramirez discussed how the first of five Emotionally Intelligent Leadership (EIL) sessions in partnership with the Office of Student Leadership and Engagement (OLE) went. According to Ramirez about 30 students and faculty joined the live session and 10 students are doing the asynchronous version. The second session, Don't Stand so Close to Me: How Proximity in Relationships Impacts Racial Bias, takes place on Oct. 8 and students and faculty can RSVP for the zoom here. 
Ramirez and her committee are also trying to get copies of the Upperman African American Cultural Center's Greenbook (a resource for Black students to learn about all the Black faculty and staff on campus, Black-owned business in Wilmington and similar items) more widespread on campus. 
Brucia mentioned that there are still three freshmen senator positions vacant and interested freshmen can apply on the SGA WaveLink page. 
Wilson brought up that his committee is meeting with Dr. Nathan Grove, the Faculty Senate Chair, soon to discuss the possibility of offering pass/fail this semester. They are also looking into available spaces for study and test taking on campus. 
SGA meets every Tuesday from 6:30 PM to 8 PM.