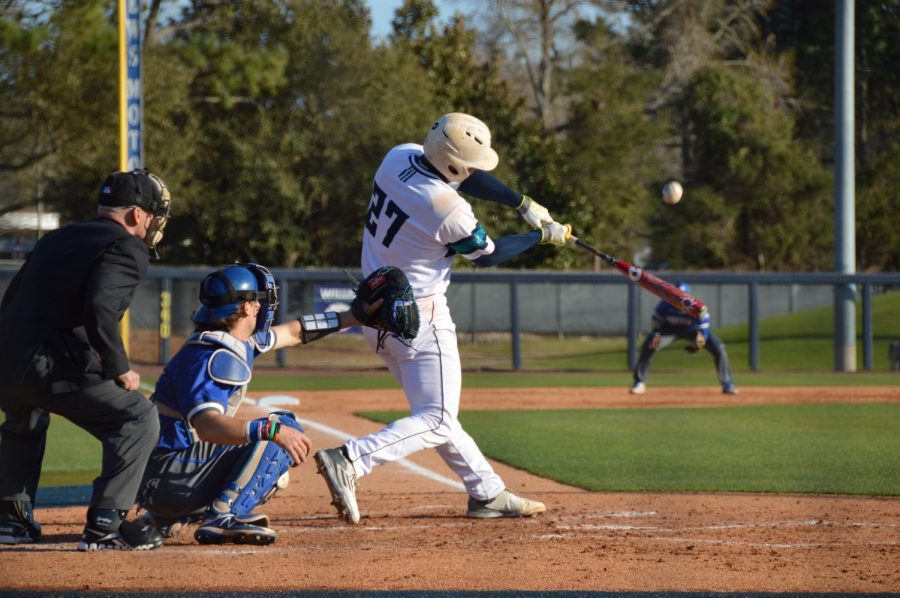 Noah Powers/The Seahawk
WILMINGTON – "Groundball base hit!" echoed the Minnesota Twins' announcer. "And Jeffers, in his first big-league at-bat gets an RBI single."
Ryan Jeffers' predecessor, Mitch Garver, was the one who called for the ball to be thrown into the dugout so the rookie could keep, surely to be encased and remembered by the youngster for the rest of his lifetime.
Former UNC Wilmington standout catcher, Ryan Jeffers, made his big-league debut last night, August 20, against the Milwaukee Brewers. The rookie collected his first base knock in the bottom of the third inning against Brewers' pitcher Brandon Woodruff. Jeffers' single also drove in a run from third to give the Twinkies an early 1-0 lead.
The Raleigh native finished the night 2-3 with an RBI and HBP. Jeffers caught a masterful game behind the dish from Twins ace, Jos Berrios. Berrios pitched six shutout innings and struck out nine, leading the Twins to a 7-1 victory over the Brewers.
After making his debut, Jeffers becomes the 11th Seahawk to reach the major league level. Jeffers was drafted by the Twins in the second round of the 2018 MLB draft. He finished 2019 with Pensacola, the Twins' Double-A affiliate. In his two seasons at the minor league level, Jeffers had a batting average of .296 with 21 home runs and 82 RBIs in his 167 games played.
Jeffers, 23, is one of the top prospects in the Minnesota Twins' organization. After an impressive debut, it will be intriguing to see what the 17-9 Twins do with the talented catcher. The Twins currently possess a half-game lead over the Cleveland Indians in the American League Central division. With only 34 games left to play in the shortened 60 game MLB season due to COVID, it will be interesting to see what Jeffers and the Twins can do moving forward.