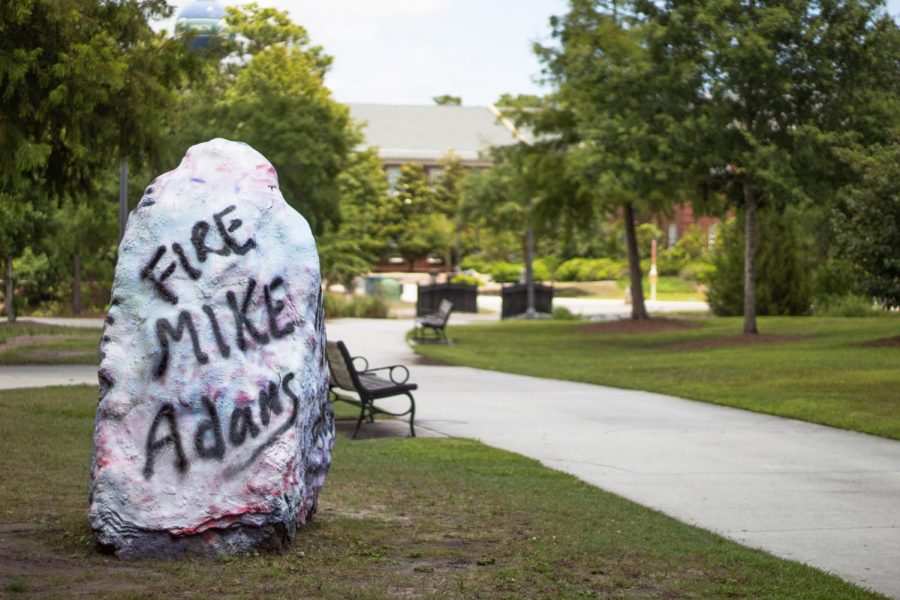 Lauren
Dr. Mike Adams, the soon to be former UNCW criminology professor — yippee time to ring the bells — will be retiring on Aug 1, according to a short announcement made by UNCW on June 29. 
"We will have no further comment on this matter at this time, but we plan to share an update later this week regarding how we hope to move forward as a university community," the announcement stated.
This initial announcement seems typical of all the messages the university sends out, lacking any substantial and detailed information. Given the high profile nature of this case and since money and other benefits are involved, UNCW students, faculty and alumni should be allowed to know how exactly this issue was resolved.
In an email UNCW sent out later on July 2, they went into more detail on the agreement reached between the university and Adams. UNCW announced that both parties reached a settlement agreement once Adams mentioned an interest in retiring. 
"Ultimately, after extensive negotiation, the parties reached a total settlement amount of $504,702.76, for lost salary and lost retirement benefits, which was approved by the North Carolina Attorney General and the UNC Board of Governors. UNCW agreed to pay the amount to Dr. Adams over a five-year period with all payments coming from discretionary trust dollars, i.e., savings from previous years, and not state-budgeted funds," the statement read. 
According to the official settlement document, the amount Adams will be receiving represents "the difference in pay between early retirement and his annual salary for the next four years; and (2) the difference in full and early retirement benefits from 2024 to 2044."
The UNC Systems database, available to view through The News and Observer, listed Adams's total yearly salary as $89,132 — the database was last updated March 3, 2020. So, Adams will be receiving $100,852.55 each year for the next five years which is $11,720.55 more each of the five years than he has previously made. 
Adams tweeted in Aug 2019 about completing his five-year tenure review in which he alluded the next five years before his retirement would be "painful" for some. Which meant until 2024 he would have been able to continue harassing UNCW students and faculty. 
Adams is essentially getting off scot-free by getting to retire early and still taking half a million dollars with him — and maybe even more money than he would have gotten had he stayed until 2024 like he originally planned. 
While I am sure many are happy to see Adams leaving UNCW, especially since he will no longer be harassing and manipulating UNCW students in the criminology department, there is still frustration in how far this issue went before it was resolved and how it was resolved. 
And let us not be too quick to congratulate UNCW and the administration on this resolution. Frankly, UNCW took the easy way out by putting pressure on Adams to retire and not taking further legal action which would have had more definite consequences for Adams, all because they were too scared of the legal costs that could have accumulated.  
It feels like UNCW had no problem giving a half million dollars to a man who overtly harassed and told his followers to continue harassing UNCW students and faculty and ignored the pain he caused them. 
Let us instead congratulate the efforts of all the students, faculty, alumni and countless others who reignited this movement, put in the effort and put pressure on UNCW to get rid of Adams.  
Instead of facing any real consequences, Adams will receive his settlement money in addition to partial retirement benefits. Per UNCW's human resources (HR) page, "participation in a retirement plan is mandatory for permanent employees working 75% time (30 hours) or more" — which Adams was. 
There are four different types of retirement plans available depending on how long the faculty member has been working at UNCW and whether they are tenured or not. 
The available options include Teachers and State Employees Retirement Plan (TSERS), Optional Retirement Program (ORP), Teachers' and State Employees' Retirement System For State Law Enforcement Officers (LEO) and a phased retirement program for tenured faculty.
After reaching out to University Relations (OUR) on July 2 to clarify which benefits Adams would be receiving, The Seahawk was informed that "[Adams] is receiving retirement benefits from North Carolina, but we are unable to indicate the amount or the type of plan due to the confidentiality of personnel records." This was verified further through an email sent to UNCW's HR Associate Vice Chancellor, Liz Grimes. 
Given that Adams worked at UNCW for 26 years, has been tenured since 1998, per OUR, and is only 55 years old (according to his Townhall bio) and is ineligible to receive his state pension for another five years — notice that UNCW is paying him his settlement for those next five years — the only two retirement plans Adams could have enrolled in would be TSERS or ORP, since he was not a permanent full-time law enforcement officer and did not meet the age requirement to enroll in the phased tenured plan.  
More than likely, Adams will be receiving a reduced retirement plan through TSERS since he meets the requirements of "20 years of service and age 50." 
Since his retirement plan and benefits are not public records the exact amount Adams will receive is unknown, but the TSERS Handbook provides a few pages of how to calculate benefits and how early retirement affects that number.
While it is very disappointing UNCW let this situation drag on for so many years and after various complaints in addition to the fact that Adams is basically leaving on his own terms and receiving retirement benefits, I am glad to see him gone. 
Hopefully, UNCW can learn something from this whole mess and become better when it comes to the treatment of its students, specifically that actions and behavior like Adams and the like should not and will not be tolerated.