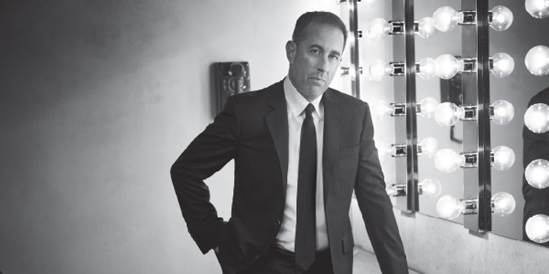 Playhouse Square / JS Touring
The majority of people have some kind of familiarity with Jerry Seinfeld. Whether it be from the aptly titled "Seinfeld" show he created with Larry David which became one of the most popular sitcoms of all time, his observational stand-up comedy which was so remarkable that Comedy Central named him the 12th greatest stand-up comedian of all time (behind legendary names such as George Carlin, Richard Pryor, Chris Rock, and Eddie Murphy), or even for just this infamous bass line (yes, you know the one), Seinfeld's presence and popularity is indisputable.
However, it's been over 20 years since the final episode of "Seinfeld" aired. Comedians such as Dave Chappelle, Bill Burr, Zach Galifianakis, Joe Rogan, Seth Rogen, John Mulaney and Eric Andre have become centerpieces to the modern comedy scene. When Netflix announced it would premiere Jerry Seinfeld's first original comedy special in 22 years, it became apparent that Seinfeld would be competing against every other stand-up comedian on the streaming service.
Despite a rather over-the-top intro to the special where Seinfeld leaps from a helicopter into the ocean to make his entrance, "23 Hours To Kill" is anything but over the top. There are no absurd yet hilarious musical numbers or light shows in the style of Bo Burnham, there's none of Bill Burr's intense anger or vulgarity, there's none of the surrealist goofy humor from Zach Galifianakis, there's nothing like Will Ferrel's "man-child" routine and it doesn't rely on swearing or use sex and fart jokes as a crutch. Jerry Seinfeld's set is minimalistic, intimate, and all-too-relatable. He has a style of comedy that is a set of observations about the world. His relevancy falls in the fact that he doesn't feel as though he needs to reinvent the wheel, but instead, he does something un-embellished and gives an "everyman" approach to comedy. 
The focus seems to mostly lie in the mundane, much of which has been inaccessible during the COVID-19 lockdown. Seinfeld rants about restaurants, pop-tarts, how annoying texting is, how much life sucks for everybody and how the two ratings in life are "great" and "sucks." It can't help but make one reminisce about being able to go outside and experience the world. Despite this laid-back familiarity, the show falls flat in the second half where Seinfeld focuses on the troubles in his marriage– a worn-out subject material in stand-up comedy. 
All in all, "23 Hours To Kill" is enjoyable enough. There's nothing here that hasn't been done before, but Jerry Seinfeld proves that his everyman approach is enough to captivate almost any audience. Even if he doesn't always prompt a belly laugh, he is certainly relatable.