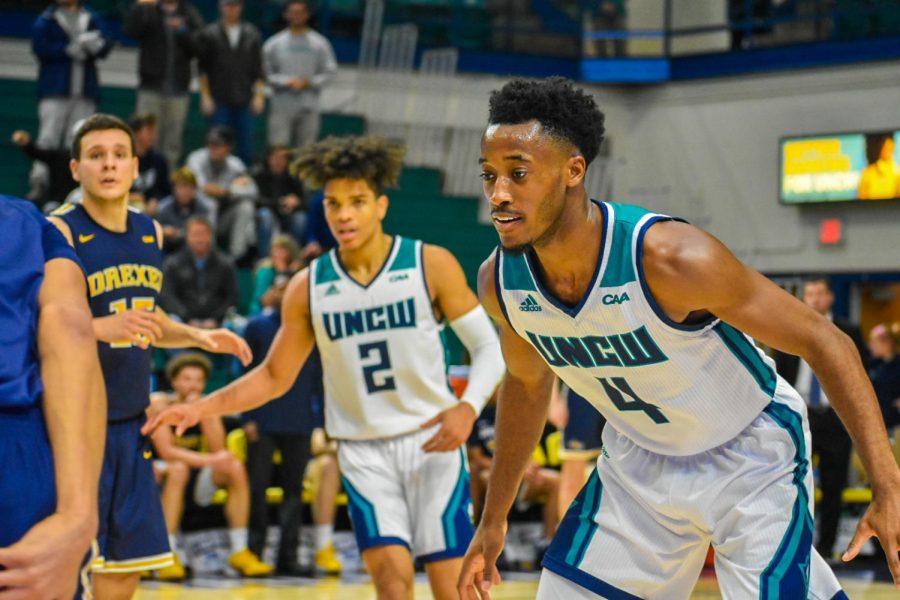 Zachary Kilby/The Seahawk
WILMINGTON – "Hire Burke" chants echoed through Trask Coliseum as UNC Wilmington (10-20, 5-12 Colonial Athletic Association) racked up a 76-65 win over Drexel (13-17, 6-11 CAA) on Thursday night. 
"Burke is the coach that everyone wants to play for right now," said freshman Shykeim Phillips. The freshman led the Seahawks in scoring with 20 points and had a career-high four steals. 
UNCW came out of the gate strong with a high intensity and defensive mindset. Drexel ended the game with 18 turnovers which were cause for 18 Seahawk points. 
"We are not a grind-it-out offensive team right now," said head coach Rob Burke. "Our defense is what is leading to our offense on the other end of the court." 
One area UNCW can look to improve upon is on the glass. The Seahawks were led in rebounding by their 6'3'' guard Mike Okauru.
"I know if I get this job, I have to go out and recruit a guy that can get us rebounds," said Burke. 
Needless to say, the inside presence of Imajae Dodd was missed tonight. The former CAA Rookie of the Week sat out tonight's game with an undisclosed injury.
"It has been something that has been going on for a while, so we need to start monitoring it," said Burke. Dodd is expected to be available for the start of the CAA tournament. 
The Seahawks will host the final game of the season on Saturday night when they face off against Delaware (20-10, 10-7 CAA). The Blue Hens are currently third in the CAA and will offer a test for the Seahawks that will measure just how far this team has come this season. 
"Saturday is our championship game," said Burke. "We are going to make sure that we send a message and let them know that this isn't the same ball team that they played earlier in the year…we have nothing to lose."