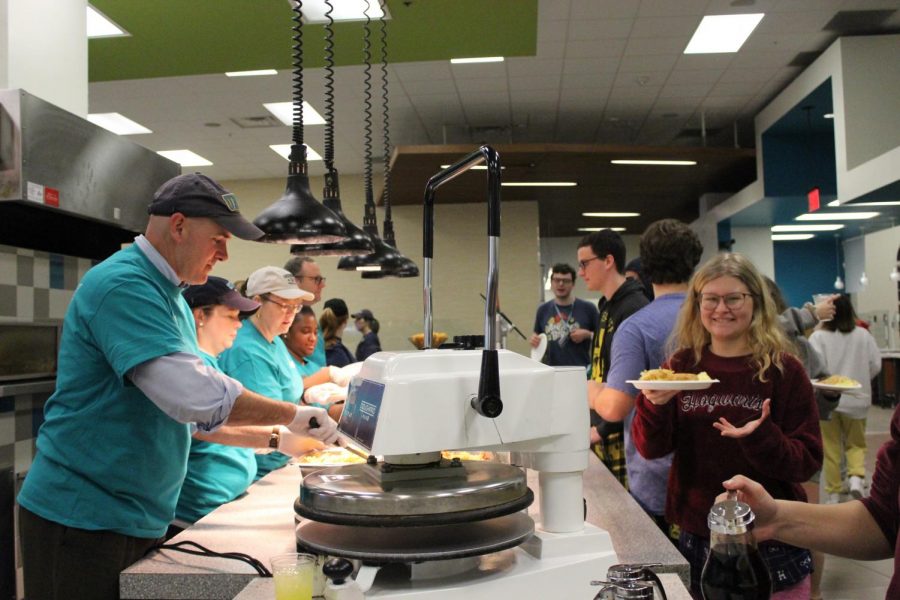 2020. The new decade and a new start to  UNC Wilmington's homecoming traditions. This year's theme, "Celebrating Decades of Tradition," brings an overall feeling of embracing the old and beginning with the new. While many look at and focus on the homecoming nominees this past week, the real eyes in the center of it all are sophomore Courtney Busick and senior Shannon Hardy.
Who are they? They are the ones in charge.
Serving as spirit co-chairs for the Association for Campus Entertainment (ACE) this school year, Hardy and Busick started their school year off with preliminary plans for homecoming and its festivities. Sitting on the sidelines of the basketball tournament event on Thursday afternoon, they talked about what students did not know about the process.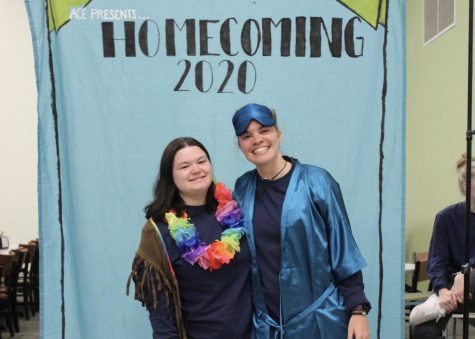 "There is a lot of collaboration with other people that we have to go to make it all happen. We meet with alumni; we meet with athletics for all the events that we have to do. We have to check power grids and landscaping," said Hardy as she overlooks the two games happening on the court.
The week really kicked off at Late Night Breakfast on Monday night. ACE members filled up all of Wagner Hall preparing for the event. Though they continue to keep light spirits as they assembled together to build the final piece to the event… a piped photo backdrop. "We booked Wag in September," said ACE graduate assistant, Lauren Cromie. With attendance at around 1,000 students in total that night, it was deemed a successful night for the organization. The crowd was lively as the homecoming court members filled up the stage to open the lip-sync event. Busick has enjoyed working with this year's court members a lot.
"…It's really nice to like even have a nice court and there are like really connected with one another. And just like we are, they are really passionate about their spirit and the campaigns that they have. It was really nice to have people specifically coming for them and coming to events and stuff. I love getting to know them," said Busick.
The court showed up and out this past week with a variety of different social media campaigns and plenty of appearances at the various events. At every event, the majority of court members showed up and participated. Whether or not it was Ricki's choreographed dance routine to Beyoncé's "Formation" at Late Night Breakfast, Ben's love for the smores at the Teal Tuesday After Dark or Cara-Benet's love of crafts, they took the week and made their own. Multiple members of ACE expressed appreciation for them and the energy they brought.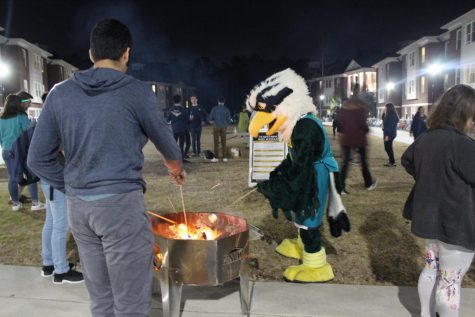 While the nominees had a week of appearances, so did Busick and Hardy. They both expressed their hardest moments during the homecoming process.
"Just planning seven events within six days and just the collaboration that goes into that and there are so many details that go into just one event," said Hardy.
"I would say that and also as we are like collaborating with a lot of people. There are a lot of communication issues," Busick added. She said they had trouble with people not responding in a timely manner as well and the overall idea of changing aspects of homecoming.
"There are a lot of things about homecoming that are still really traditional. We really try to kind of like break it out and make it different this year," said Busick.
That does not stop them from appreciating the good moments though. Hardy shares a sweet memory about a student's excitement.
"The other day I was sitting in Fisher (University Union) and I was just eating lunch or something, and I saw somebody walk by our schedule, do a double-take, stop what she was doing, saw 'The Great Gatsby' was playing for Teal Tuesday After Dark and was super pumped and really excited and took a picture of it," said Busick.
The end of homecoming hits bittersweet to both co-chairs because they enjoyed the experience very much. Hardy suffered a sickness throughout the week and Busick had to balance classwork causing them to both miss one of their events.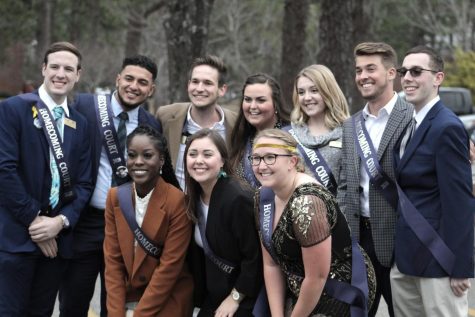 "The bitter part is because it's so much planning and programming and at the same time of going to class and internships and everything. It's very exhausting like I'm [currently] sick," said Hardy.
Busick added about the more of the sweet side.
"At the beginning of it, I was like I can't wait for this week to be over because I felt stressed out, but I felt so excited for it. Now, I'm kind of like I don't want it to end. Like it feels like it went by really fast."
For Busick, spirit chair wasn't her plan in ACE but she is glad that she did it and will miss the position. She describes when she knew the job was first doing their application process.
"We were writing down event ideas and stuff and things we had planned for our committees. A lot of them for the spirt one was like coming to me. So, I already felt that it would click then I got the call."
On the other hand, Hardy was surer of this position.
"I joined ACE. It was like finding my people and so I really found a way to be more involved in the organization just to hang out with the people more and get closer to them and I love school spirit. So, I was like this makes sense this fits for me."
What is next for them? Finding and training their replacements for next year. They start the process with interviews next week. But for now, there are thanking those who helped them along the way.
Hardy adds this at the end of our interview.
"We have some awesome volunteers with ACE and some awesome pro-staff that work with us. There is literally no way that Courtney and I could do this. I appreciate all of our ACE family that comes out. And even all the members of the court and their organizations and the organizations signed up for Spirit Sweepstakes. A lot goes into Homecoming. We appreciate all of it."
"The whole point of this too is not only have fun but remember why you are here," Busick adds.
For closing things to remember, Busick has this to say.
"Remember why you're a Seahawk."