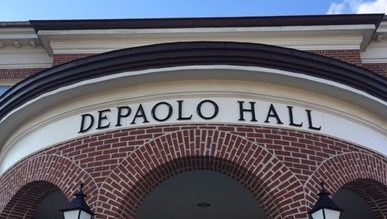 Cierra Noffke
The Writing Center, UNC Wilmington's student-friendly writing lab, has moved its location to just across the hall from its former location on the first floor of DePaolo Hall. The new space combines all the amenities the University Learning Center offers and gathers it in one central place for students to access with ease.
Will Wilkinson, the director of the Learning Center, says this new location is representative of both the rising population of students at UNCW and their need for helpful resources
The Writing Center was first informally established in 1977 just 30 years after the conception of UNCW itself.
"It was started originally by faculty who wanted to provide support for their students outside of the classroom," says Wilkinson.
According to Wilkinson, the faculty eventually outsourced to students, and in the early 2000s, the Learning Center and the Writing Center were brought together in DePaolo Hall.
Before this, however, the Writing Center jumped from various locations throughout the campus. It has been situated in Morton Hall, DePaolo Hall—formerly known as Westside Hall— Randall Library, and back to Morton, until now. For the first time, the Writing Center and the Learning Center have joined spaces.
"It's a trend nationwide to bring various tutoring services together under one roof," says Wilkinson. "What we have found is that when students come in for one service and see students utilizing other services that seems to be increasing their likelihood for using other services."
The immersion of the two centers allows for more rooms for tutoring, new office spaces, and a connection to all the components and resources the Learning Center holds—including math labs and 1-1 tutoring.
Despite adjustments made to the Writing Center, the central premise behind its creation remains: to provide students with a comfortable service that helps them with their studies–much like the trusted friend we turn to for proofreading our papers.
Jules Miller is a Creative Writing major and a tutor at the Writing Center who earnestly loves to offer his assistance with papers, questions and messy drafts.
"My favorite part about working at the Writing Center is giving people the tools to empower themselves in writing," says Miller. "Writing is such a personal thing. If someone feels they're good at writing, they become more confident overall with how they portray their thoughts comfortably."
The students who wander into the Writing Center, according to Miller, often illicit the use of the Center because a professor required it.
"It doesn't have to be a chore," said Miller. Instead of dragging oneself to the Center as a duty, Miller hopes students will view it as a collaborative and friendly opportunity for self-improvement.
This spirit defines the conglomerate Learning Center as a whole: a place filled with students who are not only able to give constructive tutoring advice, but also offer truthful morsels of knowledge on the campus itself–including classes they have taken, majors they have studied, and professors who have helped them. Their primary concern, in every tutoring session, is the student.
Vasilios Moschouris, a Creative Writing and French double major and a keen writing tutor, embraces this concept.
"Our perspective is, we're trying to make this experience as good for you as we can. So, there's zero pressure," says Moschouris. "We're just trying to spend the 50 minutes we have helping you improve and helping your writing improve and helping your paper get a better grade if it needs it."
It is this earnest, collaborative spirit that gives the Writing Center its essence. It exists as a symbiotic place where, in the words of Jules Miller, "you don't have to write alone."