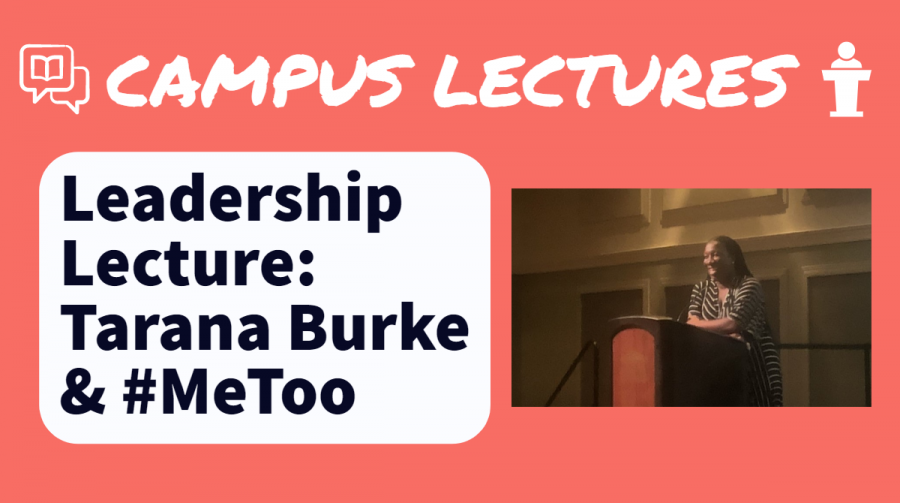 On Tuesday Night, Tarana Burke gave an emotional lecture to a sold-out crowd at the Burney Center on UNC Wilmington's campus as part of the university's Leadership Lecture Series. Every word of her nearly hour long lecture prompted cheers, head-nods and rounds of applause from the audience.
Tarana Burke is known for being one of the founders of the "Me Too" movement, senior director of programs at Girls for Gender Equity and the TIME Person of the Year. On October 15th of 2017, actress Alyssa Milano posted the infamous tweet that seemed to spotlight the movement.
"I'm gonna jump right in. We got a lot to talk about. How are you doing Wilmington?"  Tarana Burke began her lecture, prompting a cheer from the audience. Even as she spoke about the most disturbing examples of rape and sexual assault, she was calm, composed and delivered striking points. One of the dominating ideas of the night was that the hashtag has prompted a "cultural shift."
"For millions of people- MILLIONS of people, the 'Me Too' hashtag marked the first time in their lives that they had the space to share some of the deepest and darkest secrets. For hundreds of thousands, it was the start of a new, much-needed conversation about safety in our workplace and institutions and communities. And for a few hundred, it meant a disruption in the harmful, toxic behavior they were engaged in using the various seats of power that they have. Of these three groups: the millions of survivors who shared their stories, or the hundreds of thousands of employees who came forward, or the few hundred who lost power, who do you think we hear about the most?" she asked the audience. 
She went on to explain that that single tweet from Alyssa Milano generated 850,000 responses in twelve hours. In addition, there were twelve million responses on Facebook in 24 hours, but that number grew to 19 million in the first year. The national rape crisis hotline also saw a 400 percent increase in calls in the first two months after "Me Too" went viral. 
"Reports of rape and sexual assault more than doubled, and 425 powerful men were accused of sexual misconduct. 201 of them saw some kind of consequences to their lives or careers," she continued. 
One of the more interesting moments of the lecture came when she bet the audience that they could list at least ten of the powerful men who had seen any form of consequence. At first, the audience responded with names like Bill Cosby, J.K. Simmons, Matt Lauer, Charlie Rose, but eventually, a group of people started shouting out, "Donald Trump!"  Burke responded, "nah, he ain't get no consequences yet."  
Despite these numbers and names, one of the important distinctions that Burke made was that the names the audience shouted out are not what the "Me Too" movement is about, but instead, it is about the victims. The movement is not about these people who have been exposed, but instead, it is about forming a community, a movement.
Burke gave an example by recalling having a program at a junior high school in Selma, Alabama. She explained that she would often find herself staying late after school and she found one of her students standing outside.
"What are you doing here?" Tarana Burke asked the girl.
"I'm waiting for my boyfriend to pick me up," the girl replied, who was 12. Burke was horrified when a car pulled up and a grown man pulled the window down.
"Who is that?" Burke asked.
"That's my boyfriend," she replied. Allegedly, Tarana had talked to the girl's "boyfriend." The next day, the girl was angry with her, for Burke had "stepped in her business." No one had ever explained to the girl how adult men manipulate children or what statutory rape was. In their community, it was not clear that there was any problem. Tarana explained that the problem extended to rape and sexual violence in the community.
"Community problems deserve a community solution," Burke summarized, "and that solution, that response, for me was the 'Me Too' movement." 
Burke concluded the lecture by saying, "when we say we interrupt sexual violence, that means helping people who have experienced it to heal, to be whole, to feel like they have community. It's an enormous undertaking:  Yes, I get that. It can seem scary: yes, I get that, too, but that's where your courage kicks in. I have an elder that always said, 'if you're not scared, then it's not really courage.' So I'm asking you, fearful or not, to take two steps forward, join me; let's heal together, let's heal ourselves, let's heal our communities, and if you're ready to do that, if you're ready to take that commitment, I can only leave you with these two words: me too."