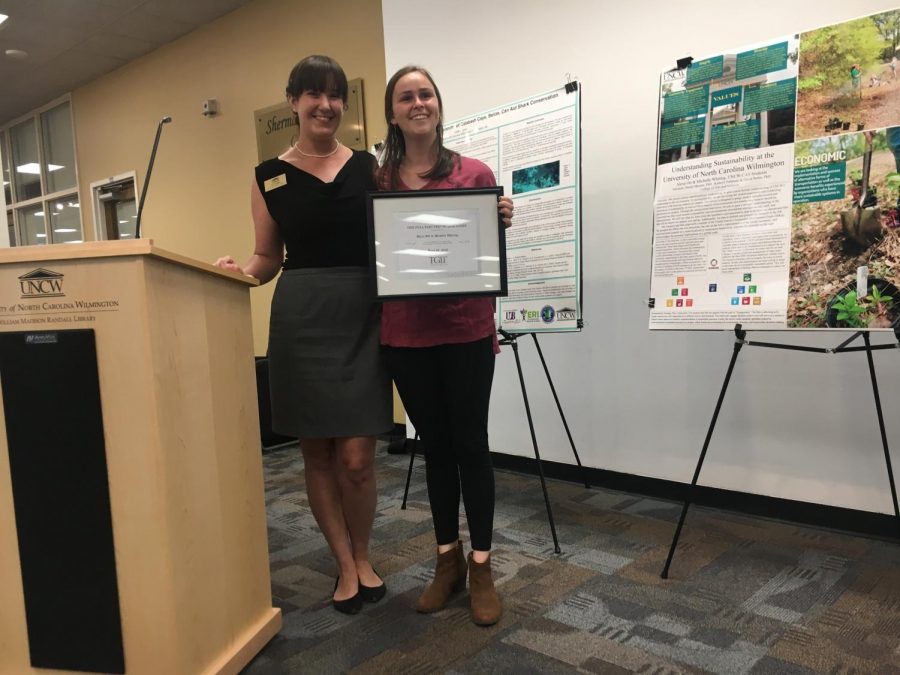 UNC Wilmington's Sustainability hosted an end of year celebration Tuesday night at Randall Library in recognition of the sustainable efforts the university has made on campus and in the larger Wilmington community.  
According to UNCW's website, sustainability is "the individual efforts made by the community to ensure the unique resources and benefits of today's world – economically, environmentally, and socially – will be available for future generations to inherit."
This encompasses a large range of areas released to conserving resources, such as recycling more items, growing and consuming more locally-produced food, and providing public transportation to reduce emissions. 
Kathryn Pohlman, the sustainability captain of UNCW's Environmental Health Safety department, spoke of the efforts UNCW staff, faculty, and students have made to ensure the campus is more sustainable through the efforts of students, faculty, and staff and gave them recognition for their efforts.
Recently, Dubs' Café became UNCW and Wilmington's first Certified Green Restaurant through the national Green Restaurant Association (http://www.dinegreen.com/) due to its focus on serving locally-produced food, composting and recycling, and conserving water and electricity. Results on the website reveal that the efforts have saved the university approximately $8,880 in energy and water bills and reduced the amount of waste on campus by 80 percent.  
The school also has a Sustainability Peer Educator Program, in which students educate the campus on sustainability efforts through "environmental stewardship, social equity, and economic vitality." Students do not need to have extensive knowledge on sustainability to be peer educators but driven and passionate to learn more about sustainability.  
Many of the university's sustainability efforts were shown through projects researched by students under direct independent studies or other researching fields alongside professors and staff members. One of the projects, in particular, "Understanding Sustainability at the University of North Carolina Wilmington", highlighted UNCW's efforts and was crafted by College of Arts and Sciences students Alexa Ott and Michelle Wayne. The research also showed how many students on campus were passionate about sustainability, and was awarded for its research.
Pohlman reiterated UNCW's commitment to sustainability and how it has contributed to the community.
"We've experienced many hardships this year," Pohlman said, speaking of Hurricane Florence. "But, not only have we risen to the occasion, we have improved ourselves and our community." 
More information can be found on UNCW's sustainability website at https://uncw.edu/sustainability/index.html.