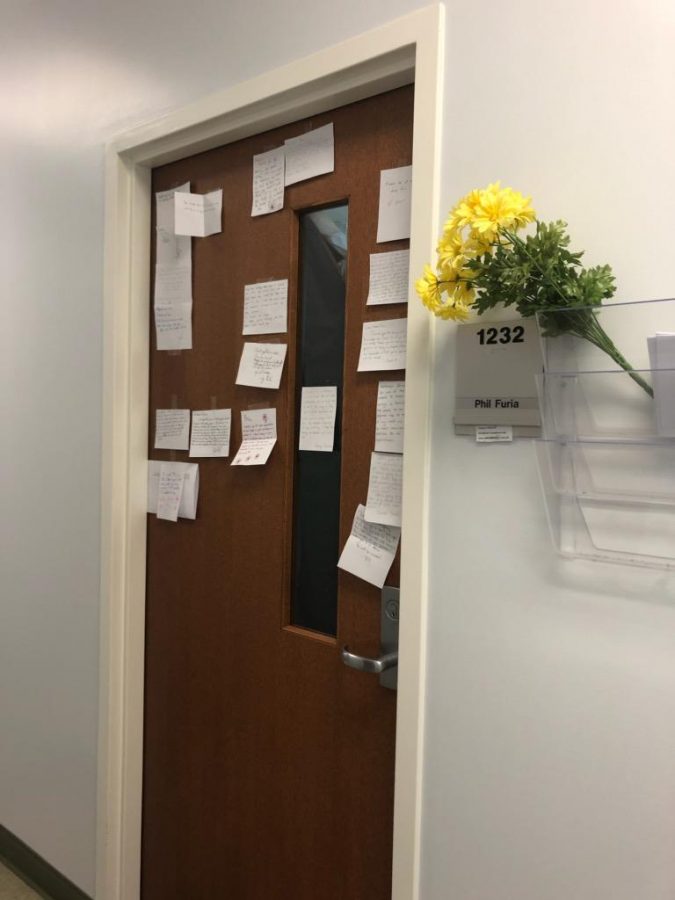 Jonny Berrios
Phil Furia, a prolific writer and astounding teacher, passed away on the morning of Wednesday, April 3 at age 75. Teachers and students mourn the loss of this beloved faculty member and reflect on his highly interesting life and his impact at UNCW.
Phil's obituary can be found here.
"He was always great to work with. He was gentle. He didn't get ruffled. He seemed so steady about the work, even when the work was ridiculously chaotic and hectic," said Tim Bass, B.F.A. program coordinator and senior lecturer at UNCW.
"He was always on point with administrative issues, and this is something that students don't see in the classroom because he's a professor," Bass said. "But behind the scenes he kept the department moving—he got the department moving first of all because there was no department."
Bass stressed Phil's dedication behind the scenes in the creative writing department and his hand in building the department from the ground up. Phil helped create the structure of the M.F.A. program, and then the B.F.A. program.
Kenan Hall, the creative writing building that students have come to know and love, was being renovated during Phil's time as chair of the department. Phil made some of the interior decorative choices.
"He was part of the crowd who really developed this department," Bass said.
Phil is known for the "Great American Songbook." He was featured on the radio, and also performed live concerts where audiences observed his gentle and memorable voice.
"He wrote about these great American songwriters, and he would tell the story of songs and then tell the story of the songwriter behind the songs," Bass said.
Bass stated that his nonfiction niche was biography.
"We don't have other people who do biography on our staff. That is what he built the later part of his career doing," Bass said.
His other publications include, "Pound's Cantos Declassified" (1984), "The Poets of Tin Pan Alley: A History of America's Great Lyricists" (1992), "Ira Gershwin: The Act of the Lyricist" (1996), "Irving Berlin: A Life in Song" (1997), "Skylark: The Life and Times of Johnny Mercer" (2004), "America's Songs: The Stories Behind the Songs of Broadway," "Hollywood," and "Tin Pan Alley" (2006), with Michael Lasser, host of Peabody Award-winning public radio program "Fascinatin' Rhythm," "The Songs of Hollywood," with Laurie J. Patterson (2010), and "The American Song Book: The Tin Pan Alley Era," with Laurie J. Patterson (2015).
Students and faculty remember Phil's intelligence, wit, soothing voice, and sly sense of humor. A professor who was able to read "The Canterbury Tales" and quote Geoffrey Chaucer in middle English. Absolutely brilliant. A true scholar. After retirement, Phil was planning to learn ancient Greek so he could read the ancient classics in the language that they had been written.
"Isn't that just like him," Bass said. "And he would do it."
Upon Phil's passing, Bass took over a creative nonfiction class Phil was teaching this semester.
"He was older, so I wondered if students got him," Bass said. "They loved him. They said he was nurturing with them and never had a bad thing to say."
Students have placed notes on the door to Phil's office that express their gratitude and love for him.
"He was always willing to go for the deeper question and the deeper meaning of what you were researching," said Cody Martin, senior and B.F.A. undergraduate. "He was so driven."
"When I think about Phil Furia, I think about him in four ways. One is as a professor, that's how the students know him. Second is as an administrator who helped behind the scenes set things up and get things going and keep them going over the years. The fourth is just as a person who was easy going, gentle, low key, and very smart — always very sharp," Bass said.
Phil is survived by his wife, three children, two grandchildren, and two great-grandchildren. Two memorial services are planned for later in the year.
For more info on the memorial service see: https://www.andrewsmortuary.com/obituary/philip-furia