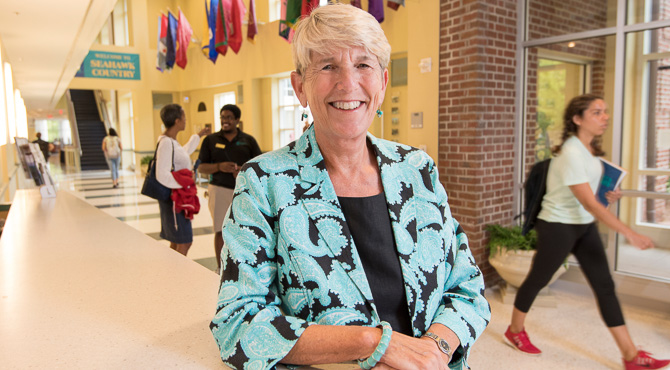 PHOTO BY: JEFF JANOWSKI/UNCW
Patricia Leonard, Vice Chancellor for Student Affairs at UNC Wilmington, was recently appointed to a position on the North Carolina State Health Coordinating Council (NCSHCC) by Governor Roy Cooper, as part of a larger group of statewide appointees.
"These appointees bring years of experience to serving communities across our state," said Gov. Cooper in a press release. "I'm thankful for their dedication and their willingness to serve the people of North Carolina."
"I am honored to have Governor Cooper appoint me to this board and look forward to serving for the betterment of our state," said Vice Chancellor Leonard, in a press release from UNCW.
One of the five newly appointed members-at-large, out of 11 total, Leonard will have her orientation and initial meeting with the council on Mar. 6.
While on the council, she will be part of a body of specialized members and members-at-large that preside over issues related to hospital and hospice care, ranging from acute care beds, operating rooms, open heart surgery services, psychiatric inpatient facilities, expansion of radiation oncology services and additions regarding magnetic resonance imaging (MRI) scanners.
Her term will last for three years, expiring in 2022.
During her term, she may be appointed to one of the three existing committees: Acute Care Services Committee, Long-Term and Behavioral Health Committee and the Technology and Equipment Committee.
In a sit-down with "The Seahawk," Leonard said that she believes her background as a member of the board of trustees at New Hanover Regional Medical Center (NHRMC) has helped her a great deal.
"Absolutely," Leonard said – speaking on her experience preparing her for her new role – "because I have a better knowledge of how the health community [overall] works."
Leonard previously served three three-year terms on the NHRMC board, her final year being 2016.
"What I liked about being on the hospital board, it's a way of having checks and balances, because I am a member of the public. So for me, it gave me an opportunity to see how the hospital works, how the doctors go through credentialing and how they go through quality control," Leonard said.
The New Hanover Regional Medical Center, the only Level 2 Trauma Center in southeastern North Carolina, consists of 12 at-large board members and five ex-officio members.
"It [the board] helped me understand how they work their technology, it helped me understand how they handled emergencies and crises, things people wouldn't typically think about," she said. "It's an organization just like the university is, when you think about it."
Before being appointed by the Governor, Leonard stated that she had no prior professional relationship with him.
"I did not. I think what happened was, having my experience with the hospital, my name got put out there," Leonard said.
"I was asked to do this, someone asked if I'd be interested, it's a form of public service, and I've always been involved in public service one way or another."
What is Vice Chancellor Leonard's attitude going into her new role?
"I'm curious," she said.
"Because I'm in higher education, and have been my whole professional career, what this does is it exposes that the health field is a huge entity and all-encompassing in so many different ways," Leonard said.
"Given my experience at the hospital, I opened my eyes, learned a whole lot of things there, and now, at the state level, my guess will be that I am going to have the opportunity to see how things operate on a much larger level."
Leonard also includes her nearly 36-year-background at UNCW with her vast experience in public service, thus preparing her for the NCSHCC.
First beginning her career in higher education in 1979 at UNC Charlotte and Miami University in Ohio, Leonard has been with UNCW since July 1983.
In 1996, she became the first female vice chancellor at UNCW. She has worked with the university under the administration of six different chancellors and is to her knowledge, the longest-serving administrative official at UNCW.
In 2013, Leonard received The John Jones Award for Outstanding Performance as a Senior Student Affairs Officer. The award is given annually by the NASPA Foundation, the leading association for the advancement, health and sustainability of the student affairs profession.
"I have a tremendous commitment in this university, and I believe very strongly in who we are, what we are about," Leonard said.
"When I speak to student groups, I tell them, this is my 36thyear, I've been here about half of the life of the university, see all of my hard hats from all of the different construction projects I've done?" She motioned over to her cabinets, adorned with mementos from her three-and-a-half decade tenure at UNCW, hard hats stacked atop each other and photos both new and old.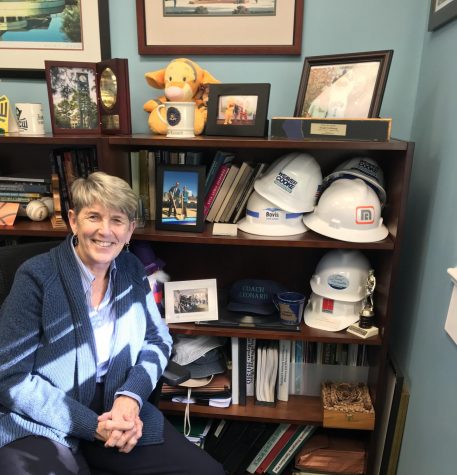 She reflected on the year 1999 when Shane Fernando — senior class president at the time — first sat in her office and discussed the gifting of a clock tower to the university. She listened to his proposal, and she backed it one hundred percent, never questioning the ability and determination of her students, according to Fernando in a previous story from "The Seahawk." The clock tower eventually became a gift from the Class of 2000, spearheaded by Fernando and now a symbol on campus to new and returning students alike.
Leonard mentioned her involvement in the construction of the Fisher Student Center, renovation of Fisher University Union, Burney, DePaolo and Warwick halls, the development and expansion of the Student Recreation Center and recreational fields and the new student village under construction on the south side of campus.
She emphasized the importance of those buildings to the student experience at UNCW, and how she has always focused on the students.
"I really believe that we're about helping students be successful here, making sure their experience here is a good one," Leonard said.
"Over time, you learn to listen more, to see the bigger picture. You learn there are always many, many sides to different issues. As you get older and get more experience, it broadens your outlook."
Leonard hopes to apply her outlook, gained from both experiences at NHRMC and UNCW, to benefit the entire state.
Assistant News Editor Tyler Newman can be found on Twitter @tnewman39.