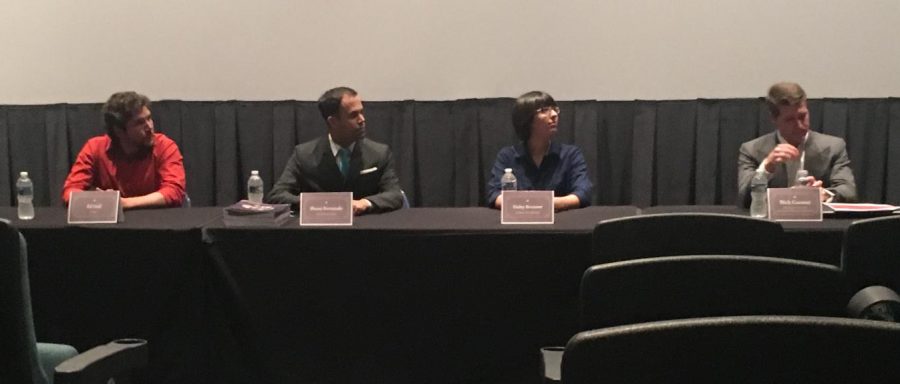 Fairley Lloyd
"Keep working at your craft. It will help you build your portfolio."
"Be transparent. People want to work with real people."
"Intern, intern, intern. I can trace every job I had back to an internship."
"If you're the smartest person in the room, you're probably in the wrong room."
These were just some of the words of advice offered by panelists at Thursday night's HawkTalks, the second school-to-career forum hosted by several UNC Wilmington organizations such as Student Ambassadors, SGA, and ACE.
This semester's panel, which took place at Lumina Theater, discussed jobs in the liberal arts field with panelists being exclusively UNCW alumni.
Participants included Nick Cannon, transportation demand management coordinator at Wilmington Urban Area Metropolitan Planning Organization; Haley Branner, education coordinator for the Cameron Arts Museum; Shane Fernando, executive assistant director at the Wilson Center at Cape Fear Community College; and Ed Hall, CEO of Petrics (a health-based program for pets.)
The panel was moderated by Kelly Arnold, the chair of Student Ambassadors. Alumni shared a snippet of their personal journeys from starting at UNCW to joining the work field. After their introductions, Arnold opened the floor to a Q&A session with the audience.
Moses Eshiet, a junior communication studies major who attended the panel discussion, asked a question that the panelists admitted was a particularly "challenging" question to answer.
"When it comes to marketing yourself, would you say creativity or ambition drives you more?" he asked.
Cannon and Branner said that creativity was a big drive for them, while Fernando and Hall answered that both played an important role in their lives.
After the Q&A session ended, students were given an opportunity to network casually with the career panelists in the Clocktower Lounge. Refreshments were also provided.
The next HawkTalks panel is scheduled for April 3, in which panelists will discuss career paths related to the public health field.